Department of Biochemistry Faculty & Students Recognized at Society for Glycobiology Annual Meeting
At the recent Society for Glycobiology Annual Meeting, held November 7-10 in San Diego, the Department of Biochemistry had several faculty and students who represented MCW and were recognized for their efforts.
Dr. Nancy Dahms served as the President of the Society and Chair of the Annual Meeting, while Drs. Karin Hoffmeister and Stephanie Olivier-Van Stichelen served as Session Chairs during the meeting.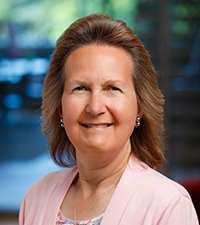 Nancy Dahms, PhD
Drs. Stephanie Olivier-Van Stichelen and Dawn Wenzel, as well as graduate students Logan Massman and Eugenia Wulff-Fuentes presented posters during the meeting.
Congratulations to Eugenia Wulff-Fuentes for being one of the Poster Award recipients!

Eugenia Wulff-Fuentes
Visit the Glycobiology Annual Meeting website for more information.