Milwaukee Public Schools Cancer Prevention Health Fairs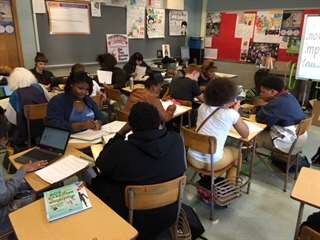 The Medical College of Wisconsin Cancer Center (MCWCC) and Milwaukee High School of the Arts (MHSA) are engaged in a project that helps high school students understand how healthy food and activity choices will impact cancer risk for them and their families in the years to come.
MHSA is a public high school in Milwaukee's central city and the only arts high school in the state of Wisconsin. Mr. Dakota Berg, the health teacher at MHSA, has partnered with Dr. Melinda Stolley, Director of Cancer Prevention and Control at MCWCC, to develop a cancer prevention program for all health students at MHSA. This curriculum educates students on cancer biology, screening, and treatment, social determinants of health, cancer disparities and in particular, how a healthy lifestyle – better nutrition and regular physical activity - can reduce their risk for cancer now and in the future.

So far, over 1,000 students have participated in the healthy living and cancer prevention program. MHSA students study cancer and related racial disparities in Milwaukee, and hear from MCW guest speakers. The students' experience culminates in the health fair, which features everything from detailed scientific presentations to spoken word about cancer disparities.

This project is repeated each semester in the health classes. The health fair increases the impact of this project on students' families and neighborhoods, and is a great platform to engage with the community on wellness, healthy choices and a better understanding of cancer prevention.

We are grateful to Kohl's Healthy Families, the American Cancer Society and MCW Cancer Center board member Lili Friedman for the generous contributions that make this project possible.
Download student health fair books that contain the reports from student projects:
May 2018 MHSA Student Cancer Health Fair Book (PDF)
June 2017 MHSA Student Cancer Health Fair Book (PDF)
January 2017 MHSA Student Cancer Health Fair Book (PDF)
May 2016 MHSA Student Cancer Health Fair Book (PDF)