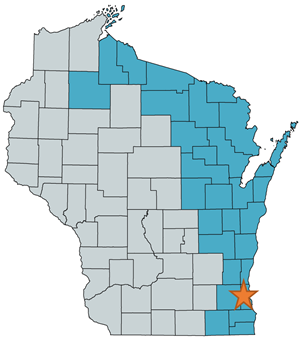 Our services reach 29 counties and 3.4M residents, more than half (58.6%) of Wisconsin's total population. The MCW Cancer Center is home to a distinct region that includes large and underrepresented populations who experience significant disparities in cancer rates and outcomes.
High rates of cancer among these populations are exacerbated by ingrained social and economic challenges. While 14% of all residents in our area are below the poverty line, the rate is much higher in the city of Milwaukee (29%), and even higher for Hispanics (32%) and African Americans (40%).
Demographic insights
74% of the state's total racial and ethnic population
85% of the state's African American population
74% of the state's Hispanic population
73% of the state's American Indian or Alaska Native population
30% of the state's rural population
Community Concerns Impacting Cancer Burden
Community Outreach and Engagement efforts are focused on helping our researchers, clinicians, and community members to better understand and intervene in the social determinants that influence cancer disparities.
High rates of obesity and related cancers
Hyper-segregation
Lack of access to healthcare, insurance
Poverty
Lack of safe housing, neighborhoods, and green space
Food deserts
High rates of incarceration
High rates of tobacco, alcohol, and drug use
Low health literacy
Exposure to Radon