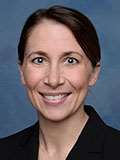 Julie Freed, MD, PhD
Assistant Professor, Department of Anesthesiology
jfreed@mcw.edu
Dr. Freed's research primarily focuses on the role that sphingolipids have in the development of endothelial dysfunction in the human microcirculation. Elevated plasma levels of ceramide, a prototypical sphingolipid, is now considered an independent risk factor for major adverse cardiovascular events in otherwise healthy people. The Freed lab is currently investigating how these bioactive lipids are regulated in human endothelial cells.
As a cardiac anesthesiologist, Dr. Freed is also interested in intraoperative blood pressure control including mechanisms and treatments of vasoplegia. Other interests include translating her work in the lab to improve outcomes for surgical patients.
Lab Members
Mary Schulz
Research Technologist II
maschulz@mcw.edu

Her primary responsibility is to analyze vascular reactivity of human coronary arterioles and adipose microvessels to help elucidate differences in healthy vs. diseased vasculature. Specifically, she is investigating mediators that control the switch from a healthy vascular dilation response (nitric oxide) to a pro-inflammatory vascular dilation response (hydrogen peroxide). Mary is also studying novel treatments for bacterial-induced vasoplegia. Additionally, she manages the purchasing and budgeting, among other administrative responsibilities.
Kelsey Walters
Medical Student
kwalters@mcw.edu

Kelsey graduated from the University of California, Davis with a Bachelor's degree in Genetics in 2013. Prior to starting at MCW she spent a year in India doing public health research with the Center for Disease Dynamics Economics and Policy, and spent two years coordinating clinical trials for lymphoma treatments at Stanford's Medical Center. She is currently a medical student in the class of 2020 at MCW.

In the Freed lab she is studying the mechanism behind hydroxocobalamin's (Vitamin B12) treatment of vasoplegia, a state of refractory hypotension despite normal or high cardiac output. She is passionate about her work in Dr. Freed's lab because of its direct application to clinical practice.