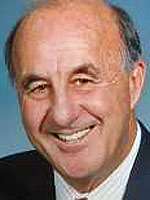 Max McGee, the famous Green Bay Packer, was most remembered for scoring the first touchdown in Super Bowl History during Super Bowl I. He played in two Pro Bowls and on five World Championship teams.
He was also known for his color commentary on the Green Bay Packers Radio Network. However Max would prefer to be known for his contribution to finding a cure for juvenile diabetes and providing a better quality of life. He started The Maxi Fund after his youngest son, Dallas, was diagnosed with type 1 diabetes at the age of two.
Max McGee and his wife Denise intimately knew the challenges of living with diabetes. Their hope was to secure support for the creation of a new state-of-the-art diabetes research center.
Director's Welcome
The objectives of the scientists and clinicians affiliated with this Center are to improve the quality of life of type 1 diabetes patients through:
Understanding the genetic basis of Type 1 Diabetes
Understanding the immunological processes underlying autoimmunity against the insulin-producing beta cells of the pancreas
Learning what factors make the beta cell a target
Defining better biomarkers for type 1 diabetes to identify those at risk and monitor those undergoing therapeutic intervention
We pursue these objectives with the conviction that our efforts will improve patient care and contribute to curing juvenile diabetes. We invite you to learn more about our benefactor, our research and clinical endeavors and welcome your support and involvement.
Our website provides an overview to both the public and the scientific community of our investigators, research, publications, current events and educational links. Whether you are a patient, family member, diabetes researcher, clinician, patient advocate, or a contributor, we welcome you to The Max McGee National Research Center for Juvenile Diabetes at The Medical College of Wisconsin and Children's Wisconsin.
Martin J. Hessner, PhD, Professor, Department of Pediatrics
Director, The Max McGee National Research Center for Juvenile Diabetes
More Information
The Max McGee National Research Center for Juvenile Diabetes
Diabetes is prevalent in Max's family. His brother fought diabetes in his lifetime, and today Max and Denise's younger son Dallas, diagnosed with Type 1 diabetes at the age of two, lives every day with this life-threatening disease. The McGees wanted to make a difference. They wanted a cure not just for their own son, but for the 1.6 million American people living today with Type 1 diabetes. Their hope was to secure support for the creation of a new, state-of-the-art diabetes research center. The Maxi Fund, named after Dallas, provided the means to establish and sustain a state of the art research center dedicated to helping children with diabetes. The Max McGee Research Center is associated with Children's Wisconsin. Together they are committed to establishing an internationally recognized center for diabetes research. There are many different areas of diabetes research; however, the main focus of this research center will be to find why and how type 1 diabetes occurs.
An Ideal Location
When looking for a home for a research center, the McGees considered several locations before lending their name and affixing their personal seal of approval. The Milwaukee location at Children's Wisconsin offered some distinct advantages: Children's Wisconsin is home to one of the largest diabetes treatment programs in the nation, currently following more than 1,200 children with diabetes. This patient volume provides the breadth of data necessary for the type of research the McGees envisioned. Collaborative efforts would be a natural between the diabetes research center, clinical diabetes researchers at Children's Wisconsin, and the various research staff at the neighboring Medical College of Wisconsin and Versiti Blood Research Institute. A nucleus of research activity and a significant collection of experts already were in place on the Milwaukee Regional Medical Center campus.
The McGees' dream became a reality in 1999 when the Max McGee National Research Center for Juvenile Diabetes opened its doors at Children's Wisconsin.
The Search for the Cause
Doctors and scientists do not yet understand the cause of Type 1 diabetes. Without understanding the cause, there can be no cure. We know that like cancer, high blood pressure and other diseases, there is a genetic component to Type 1 diabetes. Genetic does not necessarily mean hereditary. While diabetes is prevalent in some families, like the McGees, only 10 percent of newly diagnosed cases occur in families where that history exists. In the vast majority of cases, the diagnosis of Type 1 diabetes is a family first. In this case, genetic refers to how genes are "switched on" and "switched off" throughout a person's life. Genes are activated and deactivated at different times, and for different reasons. The questions are:
Which genes play a role in diabetes?
How do those genes function in a person without diabetes?
How do those genes function in a person with diabetes?
What makes the genes function differently in each case?
These are the questions posed by scientists at the Max McGee National Research Center for Juvenile Diabetes.
Living with Type 1 Diabetes
Life is not normal for children with Type 1 or juvenile diabetes. Finger pokes to monitor blood sugar and insulin injections or implanted pumps to control it are daily facts of life. What they eat or fail to eat always will be a concern. Down the road, children with Type 1 diabetes may face complications that include blindness, kidney disease, heart disease, stroke and arterial disease that can lead to amputation. For more than a century, doctors have used insulin to treat the most dangerous symptom of Type 1 diabetes: erratic blood sugar levels that, uncorrected, lead to coma and eventual death. After more than 100 years, we still are treating the symptoms of diabetes, rather than the disease itself, because the cause of the disease is still unknown. Before we can develop new treatments and even a cure for diabetes, laboratory research is needed to understand the mechanics and genetic triggers of juvenile diabetes.