A Letter from the Adult Residency Program Director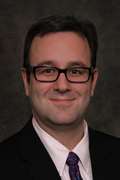 Thank you for your interest in the Neurology Residency Program at the Medical College of Wisconsin (MCW). Our mission is to provide every resident with comprehensive training in neurology to prepare them for a successful career whether that involves subspecialty fellowship training at a major academic institution or private practice in a rural setting.
The program at MCW involves training in three hospital environments. The primary teaching hospital is Froedtert Hospital, a tertiary-care academic medical center with a large and diverse patient population. You will also train at the Children's Hospital of Wisconsin and the Clement J. Zablocki VA Medical Center. As a categorical residency program, we offer guaranteed PGY-1 positions at our institution through an agreement with the Department of Internal Medicine.
Our Department of Neurology includes clinical faculty from virtually all subspecialties of Neurology. Training for residents involves both inpatient and outpatient experiences. For inpatient experiences at Froedtert, residents will work with faculty on the inpatient Neurology ward service, on the inpatient Neurology consult service, in the Epilepsy Monitoring Unit, and in the newly-renovated neurological intensive care unit. At Children's Hospital of Wisconsin and the VA, residents will work on the inpatient consultation services. For outpatient experience, subspecialty clinic rotations begin at the end of the intern (PGY1) year and the continuity of care clinic in Neurology also begins in the intern year. Additional clinic rotations occur at both the VA and at Children's Hospital of Wisconsin.
The Neurology Resident Program has restructured the didactic teaching into an Academic Half Day that occurs every Friday from 12:00 pm-3:00 pm. A three-year curriculum cycle is utilized to ensure all residents have formal didactic exposure to al topics. This curriculum includes two primary groups of topics: the Neuro-emergencies/Neurological Fundamentals which will repeat every year and the Core Neurology topics which will occur twice in the three year curriculum cycle. Our Department's Grand Rounds (Friday mornings at 8:00 am) allow residents and faculty insight into the latest research and clinical practice within Neurology from experts here at MCW and elsewhere.
Unless you have spent time in the Upper Midwest, the idea of living in Wisconsin typically conjures fears of 10 feet of snow lasting well into July. To be certain, Wisconsin has four distinct seasons and is no stranger to snow (Milwaukee's average annual snowfall is around 40-50 inches). These distinct seasons give rise to a wide range of outdoor sports and activities that are available year round. Having lived in a number of communities including New York City, I can truly say Milwaukee is a great place to live. Milwaukee is the largest city in Wisconsin (with a metro-area population around 1.5 million) and is located on the shores of Lake Michigan. It is home to Summerfest, the world's largest music festival, as well as a multitude of other festivals on weekends throughout the summer. Whether you want to experience old world charm or modern culture, you can find it all downtown. Milwaukee has a vibrant, world-renown symphony orchestra and regular theater events (both local and national tours). Milwaukee is home to major professional sports with Brewers baseball, Bucks basketball, Wave soccer, and Admirals hockey. Of course, let's not forget that the Green Bay Packers are just up the road! If a walk in the woods is what you are looking for, there are park lands and hiking nearby and the largest freshwater cattail marsh in the United States (Horicon Marsh) is about 60 miles away. And when one craves the traffic of a larger city, Chicago is about 90 minutes away by car or Amtrak.
Our interview season begins in October and runs through January. Prospective candidates arrive for a two-day visit that includes dinner with the neurology residents, attendance at our Grand Rounds followed by faculty interviews. We are able to provide one night's lodging and transportation to and from the medical center on the interview day.
Our program requires:
Application materials be submitted through the Electronic Residency Application Service (ERAS)


Our program participates in the National Resident Matching Program
Our program complement alternates between five (5) and six (6) positions.


For even Match years (e.g. the Match for 2018 with interns beginning July 2018), we have five positions.
For odd Match years (e.g. the Match for 2019 with interns beginning July 2019), we have six positions.

All positions are filled through the National Match.
Applicants must have either:
Graduated from an LCME-accredited US or Canadian Medical School
Graduated from an AOA-accredited Osteopathic School
Graduated from a Medical School outside of the United States or Canada and have one of the following:


Have a valid certificate from the Educational Commission on Foreign Medical Graduates (ECFMG)
Hold a full and unrestricted Wisconsin medical license in your specialty program area (this would typically be applicable to candidates for fellowship)
Have completed a Fifth Pathway program provided by an LCME-accredited Medical School

We sponsor J1 and H1b visas.
Thank you once again for your interest in our residency program. Feel free to contact me with any questions.
Sincerely,
Chad Carlson, MD
Professor of Neurology
Program Director, Neurology Residency
Program Director, Clinical Neurophysiology and Epilepsy Fellowships
Medical College of Wisconsin