Patient Care
The doctors and personnel working in the Midtown Clinic, a Children's Wisconsin clinic, are employed by the Medical College of Wisconsin.
In addition to caring for your child, we are committed to training pediatric doctors of the future. Faculty and staff from the Department of Pediatrics provide this training to the Medical College of Wisconsin medical students and residents as well as provide pediatric primary care for children from the community at the Midtown Clinic.
As the Midtown Clinic works closely with Children's Wisconsin, if your child needs to be hospitalized at Children's Wisconsin, a doctor from our group will care for your child and keep your doctor informed.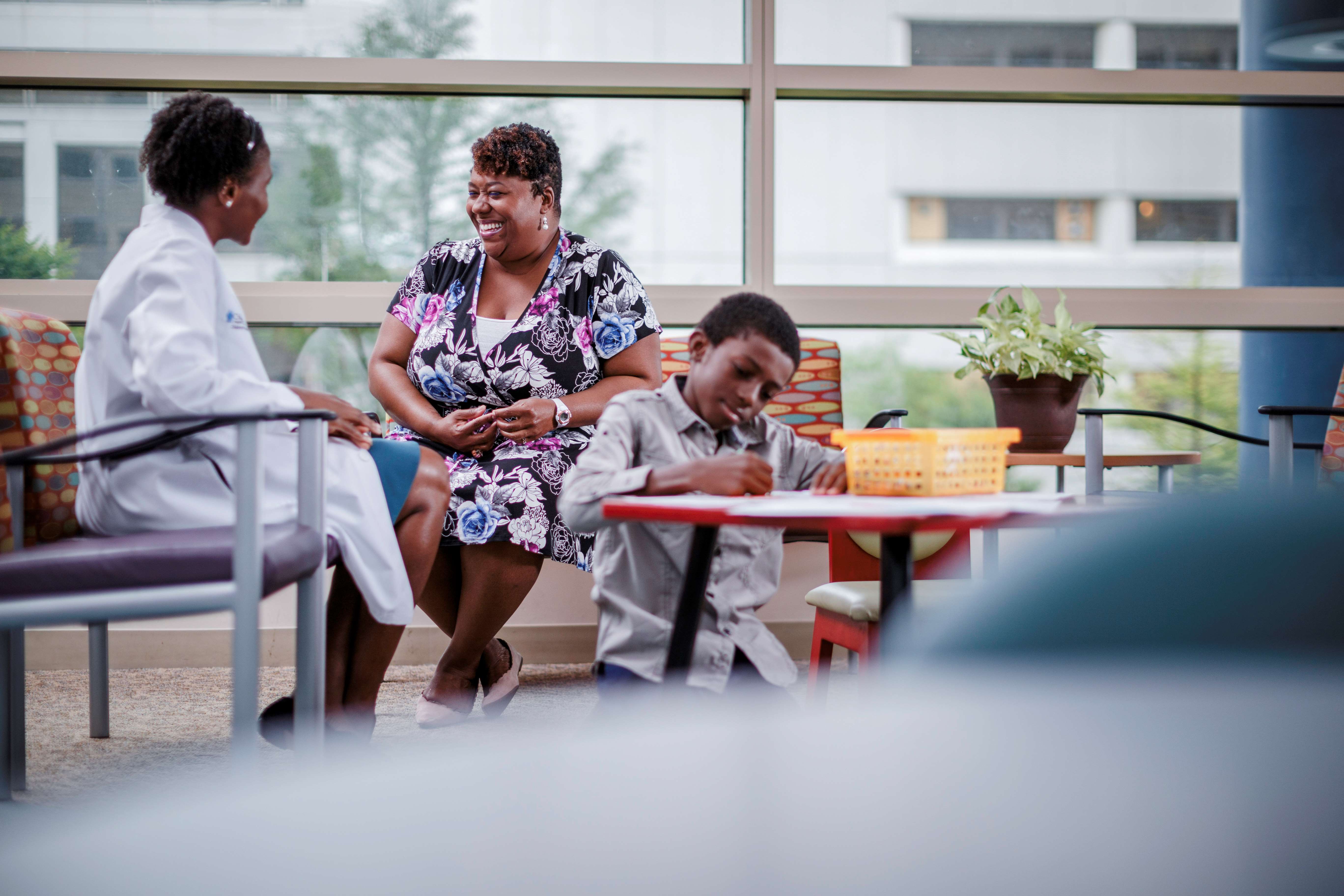 Medical Legal Partnership for Children
LAMP's Goal
The goal is to augment traditional preventive pediatrics, enhance healthcare practitioners' understanding of social and environmental health factors and engage in preventive law to address root causes of low-income children's health at the Midtown Clinic and Martin Luther King Heritage Health Center.
Basis for Partnership
It has been well documented that lawyers and medical providers working collaboratively can address the full continuum of children's needs to prevent illnesses. The article, "Revisiting the Social History for Child Health", highlights the deficiency of pediatric practices that deny and ignore the social history and environmental setting in effectively evaluating child health. This article is the first step in understanding the importance of a medical legal partnership for children's health. "Why Pediatricians Need Lawyers to Keep Children Healthy" continues to emphasize the benefits of this partnership. They posit that a lawyer should be a part of a pediatric team in order to ensure comprehensive and preventive care. Since some social and environmental health factors are outside doctors' realm of care, a lawyer is necessary to augment the diagnosis and delivery of pediatric treatment in collaboration with a clinic social worker.
Currently, there are over 80 partnerships operating and or in development in the United States and Canada.
Endorsements
American Bar Association
Resolved, that the AMA encourages lawyers, law firms, legal service agencies, law schools and bar associations to develop medical-legal partnerships with hospitals, community-based healthcare providers and social services organizations to help identify and resolve diverse legal issues that affect patients' health and well-being.
American Academy of Pediatrics
Resolved, that the Academy encourages closer and more frequent collaboration between legal service and medical professionals, and be it further resolved, that the Academy promote "medical-legal partnerships," in which lawyers work with members to identify and resolve legal issues affecting the health and well-being of children.
Milwaukee Need
The success of other national partnerships has drawn attention to the need for a similar collaboration in Milwaukee. Through the collaboration of the partnering institutions, a staff attorney will partner with medical professionals to develop a self-advocacy curriculum, screening tool, and advocacy and referral techniques to lawyers in order to reduce social barriers for health improvement.
Targeted audiences for the curriculum and direct services are pediatric residents, medical and law students. Qualitative and quantitative assessment of processes, practices and child health outcomes will hopefully demonstrate the benefits of this collaboration for the improvement of children's health in Wisconsin.
Preventive legal advocacy services embedded within the MTC will provide an enhanced collaborative model to advance the health of its patients. Early legal interventions and on-going advocacy for basic needs can ensure long-term health improvements. The unique relationship between the patients and the providers at the MTC is favorable to realizing positive health outcomes from legal screening and connection to legal services.
Contact Us
Please contact Elizabeth Nelson at (414) 955-4609 for further information on the development of our medical legal partnership. Please visit the The National Center for Medical-Legal Partnership for additional lessons learned and best practices nationwide.