Clinical Training
Clinical training in Pediatric Hematology/Oncology/Blood and Marrow Transplant Fellowship centers on a multidisciplinary approach to the care of patients with hematological, oncological, and immunological diseases in the MACC Fund Center for Cancer and Blood Disorders at Children's Wisconsin. Children's is an award-winning health care system dedicated solely to the health and well-being of children.

Multidisciplinary teams of physicians, nurses and many other health care professionals specializing in pediatrics are available to meet the full range of patient-care needs. The Pediatric Hematology/Oncology/Blood and Marrow Transplant services see over 4,000 patients in outpatient clinics and admit over 400 children per year.

During the three-year training program, time is distributed to ensure that fellows develop clinical expertise. Clinical time will be split between outpatient clinics, inpatient ward, procedures, and the corresponding service related conferences. Fellows will spend one half day per week in continuity clinic for the duration of their training.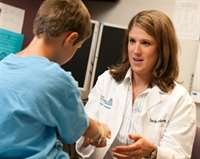 About
Year 1
The focus of the first year of the fellowship is to develop the clinical skills and abilities to provide optimal patient care for children with blood disorders and cancer. The program provides approximately 11 months of clinical experience, both inpatient and outpatient, the first year.

During their clinical rotation the fellow will be on first call from 8:00 am-5:00 pm and call will also be taken one weekend per month and one night per week on the assigned clinical service. Continuity Clinic will focus on oncology patients one half day per week throughout the first year. Each subspecialty has a variety of daily clinics to give the fellow full exposure to hematology, oncology, and blood and marrow transplant related diagnoses.

During the first year, the fellow will devote his/her efforts to the following rotations.

Hematology
The fellow will spend 12 weeks on the hematology service during the first year. At the end of the first year the fellow will have a diversity of experiences with children with hematologic disorders and develop the clinical skills needed to function as a clinician. The Hematology Program sees over 650 new patients annually.

The Hematology Inpatient Unit has more than 340 admission per year with 70 new patients admitted annually.

Benign Hematology Clinics are held weekly. More than 645 new hematology patients are seen per year with various hematological disorders.

The Comprehensive Center for Bleeding Disorders holds weekly clinics. The Center actively follows more than 300 patients with bleeding and clotting disorders per year.

Hemophilia Clinics are held weekly. Over 60 patients with hemophilia were followed over the last year.

The Sickle Cell Disease Center holds a variety of clinics on a weekly and monthly basis including Hydroxyurea clinics and Neuro-Heme clinics. The center actively follows more than 350 children and 100 adults with Sickle Cell disease and it's variants.

Responsibilities include:
Caring for both hospitalized and clinic patients with sickle cell disease, hemoglobinopathies, anemia, white cell disorders, abnormalities of hemostasis, hemophilia, disorders of platelet function and thrombosis plus a variety of other acute and chronic hematological disorders
Reviewing peripheral blood smears, bone marrow slides, coagulation studies, and immunologic testing
Attending service appropriate patient care conference and presenting patients seen with those respective problems
The fellow will spend 12 weeks on inpatient oncology service and 4 weeks on outpatient oncology service during the first year. The Oncology Program sees approximately 160 new patients annually.

The Oncology Inpatient Unit has over 890 admissions per year with 130 new patients admitted annually.

Brain Tumor Clinic is held weekly and provides comprehensive interdisciplinary care in a single setting to children and young adults with brain tumors.

The General Oncology Clinic sees patients daily. More than 150 newly diagnosed oncology patients are seen each year and the program actively manages more than 600 patients.

Musculoskeletal Oncology Clinic is held weekly and provides interdisciplinary treatment for children and young adults with primary bone and soft tissue tumors.

Responsibilities include:
Caring for patients with leukemia, lymphomas, brain tumors, and other solid tumors in both an inpatient and outpatient setting
Performing bone marrow aspirations, biopsies, and lumbar puncture with administration of intrathecal chemotherapy
Reviewing peripheral blood, bone marrow aspirations and biopsies, samples of cerebrospinal fluid and flow cytometric results from patients with oncological disorders
Attending, participating, and presenting at multi-disciplinary conferences

Following pediatric patients with representative oncological disease for the duration of the fellowship in a continuity care clinic
The fellow will rotate in the blood and marrow transplant service for 10 weeks. During this rotation the fellow will develop an understanding of the indications for hematopoietic progenitor cell (HPC) transplantation, histocompatibility biology, and pre-transplant typing procedures.

Blood and Marrow Transplant Clinics are held daily. The BMT program performs 40 transplants and follows over 80 patients per year. Our experienced program focuses on translational research to provide a solid foundation for the most advanced care.

Responsibilities include:
Participating in the care of patients receiving autologous and allogeneic donor transplants
Identifying and managing complications of blood and marrow transplantation including graft failure, graft versus host disease, organ dysfunction, and disease relapse post HPC transplantation
Working with the multidisciplinary team to learn and appreciate the medical and psychosocial issues unique to HPC transplantation
Attending and presenting at weekly conferences where potential new patients and the status of current HPC transplant patients are discussed
Transfusion Medicine/Hematopathology
The fellow will do a 2-week rotation in transfusion medicine and 2 weeks in hematopathology. This rotation offers a laboratory approach to diagnosis of hematologic disorders, as well as education in the structure and function of the routine hematology laboratory.

During this rotation the fellow will:
Work in a variety of clinical laboratories at Children's Wisconsin, Froedtert Hospital, and the Versiti Blood Center of Wisconsin
Gain practical expertise in diverse topics such as the processing and storage characteristics of blood and blood components, typing and crossmatching for transfusion, infectious risks of blood products, complications of transfusion, plasmapheresis indications and methods, HLA typing, and hematopoietic stem cell processing
Develop a better understanding of laboratory techniques/technologies necessary for the care of pediatric patients with hematological and oncological diseases
Learn to function as effective laboratory consultant to clinical colleagues, both in the interpretation of pathologic material, as well as by providing input into the proper utilization and interpretation of laboratory tests for the patient work-up
There will be no call responsibility during this rotation
The fellow will take two weeks during year one to identify a research mentor and project with the guidance of the Scholarship Oversight Committee.

Electives
The fellow will have one month during the first year on an elective rotation. Elective rotations include Palliative Care or Radiation Oncology.
Years 2 and 3
The second and third years of the fellowship training provide ample protected time to pursue research endeavors while fostering improved clinical, administrative, and teaching skills.
One month will be spent on a clinical service of the fellow's choice during each of the second and third years of the fellowship with the option to take additional clinical time if desired.
Clinical call will be taken one weekend per month on either the hematology or oncology clinical service.
The fellow's oncology continuity clinic will continue into years two and three with a half-day continuity clinic every other week alternating weeks with a half-day hematology continuity clinic.
Clinical responsibilities in the second and third year will emphasize on supervised decision making and the fellow will be given a more senior role in communication with families and patients, and in teaching medical students and residents.