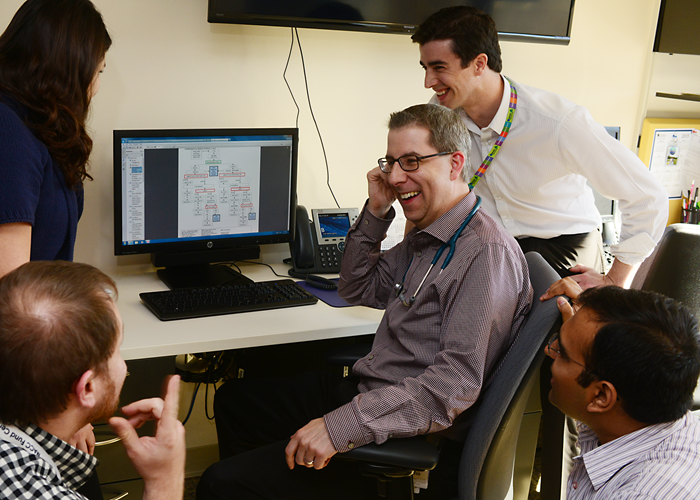 More Information
Lectures and Conferences
In addition to clinical and research rotations, there are a variety of conferences to enhance the fellows' learning opportunities including a weekly Tumor Board, weekly Hematology conference and a monthly Journal Club. There are weekly didactic lectures focusing on topics in Hematology, Oncology and Transplants as well as a Joint Fellowship Curriculum run through the Department of Pediatrics. Fellows are strongly encouraged to attend Pediatric Grand Rounds and Professors rounds.
Fellows' HOT Lecture Series - a weekly didactic lecture series presented by faculty on hematology, oncology, and blood and marrow transplant core topics.
Hematology Conference - a weekly case conference discussing relevant cases. During the hematology rotation fellows will present patient cases including data, slides, and literature review.
Subspecialty case-related staff meetings are held weekly and fellows will attend while during that corresponding rotation.
Evidence Based Medicine Curriculum - fellows present a variety of journal articles on interesting hematology/oncology/blood and marrow transplant related publications. Faculty and staff from the section attend.
Tumor Board - a multidisciplinary conference where relevant oncological cases are reviewed and discussed. Fellows will participate in Tumor Board throughout the fellowship. The fellow will identify relevant cases, present pertinent history, physical and laboratory findings. Radiology, pathology, and other subspecialties review pertinent findings as appropriate. The fellow will then discuss the diagnosis and recent literature supporting a care plan.
Joint Fellowship Curriculum - a monthly conference designed to address both the academic requirements mandated by the ACGME and the career and personal development of fellows within the Department of Pediatrics.
K-Club - The Pediatric Chair's K-Club is held weekly and provides an inclusive forum for fellows to receive feedback on grants, manuscripts and presentations.
Fellows are also strongly encourage to attend Pediatric Grand Rounds, CRI Research Conference, and Professors Rounds weekly plus any presentations or conferences they feel would benefit their education during the fellowship.
Joint Fellowship Curriculum
The Joint Fellowship Curriculum is overseen by the Department of Pediatrics and reviews universal concepts, including development of research design, abstract and manuscript preparation, basic biostatistics, quality improvement, professionalism, communication, teaching, administration and leadership, and career counseling, including the balance of work and family life. This core curriculum is designed to address both the academic requirements mandated by the American Council for Graduate Medical Education (ACGME) and the career and personal development goals expressed by our fellows.

The goal of the JFC is to provide an excellent educational experience to all fellows in the Department of Pediatrics through case-based, hands-on curriculum modules based on the needs of each year of fellowship (F-1, F-2 and F-3).
Teaching Opportunities
As junior faculty members, fellows are expected to supervise and teach pediatric residents and medical students in the care of pediatric oncology, hematology and transplant patients. Several teaching and speaking opportunities are available to create a well-rounded learning portfolio.

As part of their fellowship training, fellows will be provided with instruction in clinical teaching skills. Fellows will supervise 2-4 residents each month and a variable number of medical students assigning tasks and reviewing consultation notes before presenting to the attending faculty. In the second and third years of the fellowship fellows will present monthly on a variety of core lecture topics to rotating residents. They will develop necessary communication and teaching skills.