Research
Children's Hospital of Wisconsin and the Medical College of Wisconsin have a strong tradition of research among our fellows. After graduating, several of our fellows have continued their research endeavors and have become leaders in their respective fields of research. The Division of Neonatology recognizes the unique opportunity that is present during fellowship training.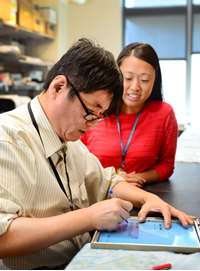 Just as we prepare our fellows to become experts in neonatal medicine, we also mentor them to develop the skills to become experts in research. Rather than assign a project to each fellow, we encourage our fellows to choose a project that will both interest them during fellowship and prepare them for a career in academic neonatology. Our division has a wide variety of research interests, and faculty members are eager to train fellows; however, fellows are not limited to just the Division of Neonatology. Learn more about our faculty's research projects. As the only academic medical campus in Milwaukee, fellows have a wide variety of research projects to choose from. Past fellows have worked with many different divisions at CHW/MCW, including genetics, pediatric surgery, physiology, and palliative care.
During the first few months of fellowship, fellows will find a mentor and research project. Each faculty member conducting research presents their research to the fellows. The fellowship directors will meet with each new fellow to help them decide on a project, and will facilitate discussions with researchers outside of the division if a fellow has a particular interest. Fellows will also pick other faculty members to be on their Scholarly Oversight Committee (SOC), which will provide guidance to that fellow throughout their training. Fellows meet with their SOC members twice per year for updates and advice on their progress. Fellows are expected to submit their research as a manuscript to a peer-reviewed journal in order to graduate. The majority of our fellows not only have submitted one manuscript, but have had several accepted during their training.
Our fellows are encouraged to present their research at national and international conferences. Nearly all of our third year fellows have presented their research at the Pediatric Academic Society/Society for Pediatric Research (PAS/SPR) annual convention, the preeminent neonatology conference in the world. In addition, many have presented at other conferences, including the American Academy of Pediatrics, in addition to local and regional meetings. The Department of Pediatrics often provides additional funding for travel to the PAS/SPR meeting for presenting fellows.
We recognize the importance of training fellows to become successful physician scientists, and have the ability and expertise to help each fellow achieve their research goals. Our faculty take great pride in training fellows and watching them achieve success in their scholarly project. We are confident that if you choose our fellowship program, you will have the ability to become an excellent clinician and be competitive in your future research endeavors.
Research Component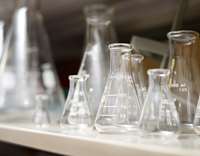 Approximately 21 to 24 months of training will be devoted to research. Neonatology faculty members are carrying out several research projects. There is excellent collaboration with basic science faculty members in several of these research projects. In addition, there is ample opportunity to devise research projects with other basic science and clinical faculty. Basic science projects that are currently ongoing in the division include studies using an animal model of neonatal pulmonary hypertension to evaluate the pathogenesis of the disorder (the role of various endogenous vasodilators and vasoconstrictors such as nitric oxide, prostaglandins and other arachidonic acid metabolites), studies of vascular endothelium (signal transduction, Ca2+ signaling, free radicals, nitric oxide), and studies of pharmacogenomics, teratogens and their effect on fetal development. Current ongoing clinical projects include the study of institutional ethics, end of life care in the perinatal period, evaluation of neuro-developmental and audiological outcome of healthy term newborns with non-hemolytic hyperbilirubinemia, the effect of body position on breathing patterns and pulmonary mechanics in healthy infants, and studies of inhaled nitric oxide on PPHN.
Mentorship
Fellows receive excellent mentoring at all levels of training. They are required to complete a research project before the end of the third year and to have at least one or more first author publications in a peer reviewed journal. In order for them to complete a successful research project, a faculty mentor along with two additional faculty members, will be assigned to assist and monitor their progress by meeting twice yearly with a Scholarship Oversight Committee. Fellows will also be expected to present their research periodically in formal conferences to the faculty. The senior faculty and others provide guidance in grant writing, paper presentations, and manuscript writing in the Medical College of Wisconsin. Fellows will be expected to take courses in biostatistics and will have the opportunity to take courses in specialized areas of research Interests (e.g. molecular biology).

Fellows are encouraged to submit abstracts to national meetings annually (both basic science and pediatric meetings, such as Pediatric Academic Society Meetings). The Department of Pediatrics pays for the expenses to attend these meetings through the academic development fund assigned to each fellow.
Fellow Accomplishments
Original manuscript publications in the following journals:
Am J Physiol Lung Cell Mol Physiol*
J Neuroinfect Dis*
Pediatrics
Pediatr Res*
J Perinatol.*
Perinatal Cardiology*
Pediatric Emergency Care*
Mat Child Health*
J Matern Fetal Neonatal Med.
Journal of Surgical Research
Journal of Obstetrics and Gynecology
*Fellow was first author
Regional and National Conference Presentations
Pediatric Academy Society
Pediatric Endocrine Society
Best Practices in Pediatrics
AAP Central Conference on Perinatal Research
Awards
Young Investigator Career Development Award, Department of Pediatrics, MCW
Marshall Klaus Perinatal Research Award
District 6 American Academy of Pediatrics Award
SOC Expectations (PDF)