Pediatrics-Neurology Residency Program
Thank you for your interest in our 5 year Pediatric Neurology residency program through the Medical College of Wisconsin. Our goal is to train passionate child neurologists who will go on to be involved in a lifetime of excellence in patient care, academics and research. In keeping with work force trends suggesting the evolving training needs of Child Neurologists, we are excited to provide our Child Neurology training pathway which blends one year of pediatrics training, one year of neuroscience research, and three years of Child Neurology training. With this model, we hope to help jumpstart trainee's research interests which can then be pursued as time permits through the clinical neurology years while maintaining eligibility to sit for the American Board of Psychiatry & Neurology boards.
After reviewing our page, please take the time to learn more about both the pediatric component and the neurology component of the program.

Sincerely,

Michael C. Weisgerber, MD, MS
Program Director, Preliminary Pediatrics-Neurology Program; Pediatric Residency Training Program; Pediatrics-Anesthesia Combined Program
Professor of Pediatrics, Section of Hospitalist Medicine
Program Director, Medical College of Wisconsin/Children's Wisconsin
About the Pediatrics-Neurology Residency Program
Applying to the Pediatrics-Neurology Residency Program
Pediatrics-Neurology Residency Program application requirements:
A complete ERAS Application Form
Curriculum Vitae
Personal Statement
Photograph
MSPE from your medical school
A minimum of three Letters of Recommendation
Transcript
USMLE or COMLEX National Board Examination results
If you have been in another residency training program, please include a letter from your previous program director. Applications will be accepted through ERAS beginning September 15 for the upcoming Match.
Hospital Rotations
Medical College of Wisconsin Pediatrics-Neurology residents have the benefit of working in a very diverse environment. Residents spend the majority of their inpatient time rotating through one of the three main teaching hospitals:
Each hospital provides a unique experience which enhances the overall educational aspects of each clinical rotation.

Children's Wisconsin
Children's Wisconsin, located on the Milwaukee Regional Medical Center Grounds, is one of the leading centers for pediatric health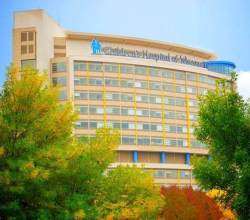 care in the United States. The hospital provides inpatient care, including transport of critically ill or injured children and intensive care services, and more than 70 specialty outpatient clinics that care for the full range of pediatric health care needs.
306 beds, 72 ICU beds, 69 bed NICU
Level 1 trauma center
More than 23,000 admissions a year
More than 21,000 surgical procedures were performed at Children's and our Surgicenter
The Emergency Department/Trauma Center has some of the highest volumes in the country, treating nearly 66,000 children
Parents magazine ranked Children's Wisconsin #4 in the nation. In addition, six specialty programs were ranked in the top 10, including preemie and newborn care #1, emergency care #3, orthopedic care #6, heart care #7, pulmonary care #8 and cancer care #9.
Froedtert Hospital
Froedtert Hospital, located on the Milwaukee Regional Medical Center Grounds, is the only Level 1 Adult Trauma Center in Eastern Wisconsin.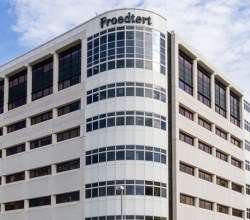 More than 2,500 physicians who practice at Froedtert Hospital are Medical College of Wisconsin faculty members
US News & World Report's annual Best Hospitals list ranks Froedtert Hospital #1 in metropolitan Milwaukee and #2 in Wisconsin, and among the nation's top 50 hospitals in 12 specialties. The recognition places these programs among the top three percent in the country.
Level 1 trauma center; 772 staffed inpatient beds including 96 intensive care unit beds
38,260 admissions in 2013
More than 21,000 births annually
More than 100,000 ER visits annually
More than 950,000 outpatient clinic visits annually
Pediatrics-Neurology Residency Program Director
Michael C. Weisgerber, MD
Pediatric Program Director
Professor
Pediatrics
mweisger@mcw.edu
Matt Harmelink, MD
Program Director
Child Neurology Training Program
Assistant Professor
mharmelink@mcw.edu
Pediatrics-Neurology Residency Program Staff
Kimberly Hughes
Program Coordinator, Neurology
(414) 337-8702
khughes@mcw.edu
Heather Aschoff
Pediatric Program Coordinator
(414) 266-6803
haschoff@mcw.edu
Martha Unteutsch
Pediatric Program Coordinator
(414) 337-7034
munteuts@mcw.edu
Contact Us
Pediatrics Residency Program
Medical Education Office
Children's Corporate Center
999 N. 92nd St., Suite 730
Milwaukee, WI 53226
(414) 266-6800
(414) 337-7068 (fax)