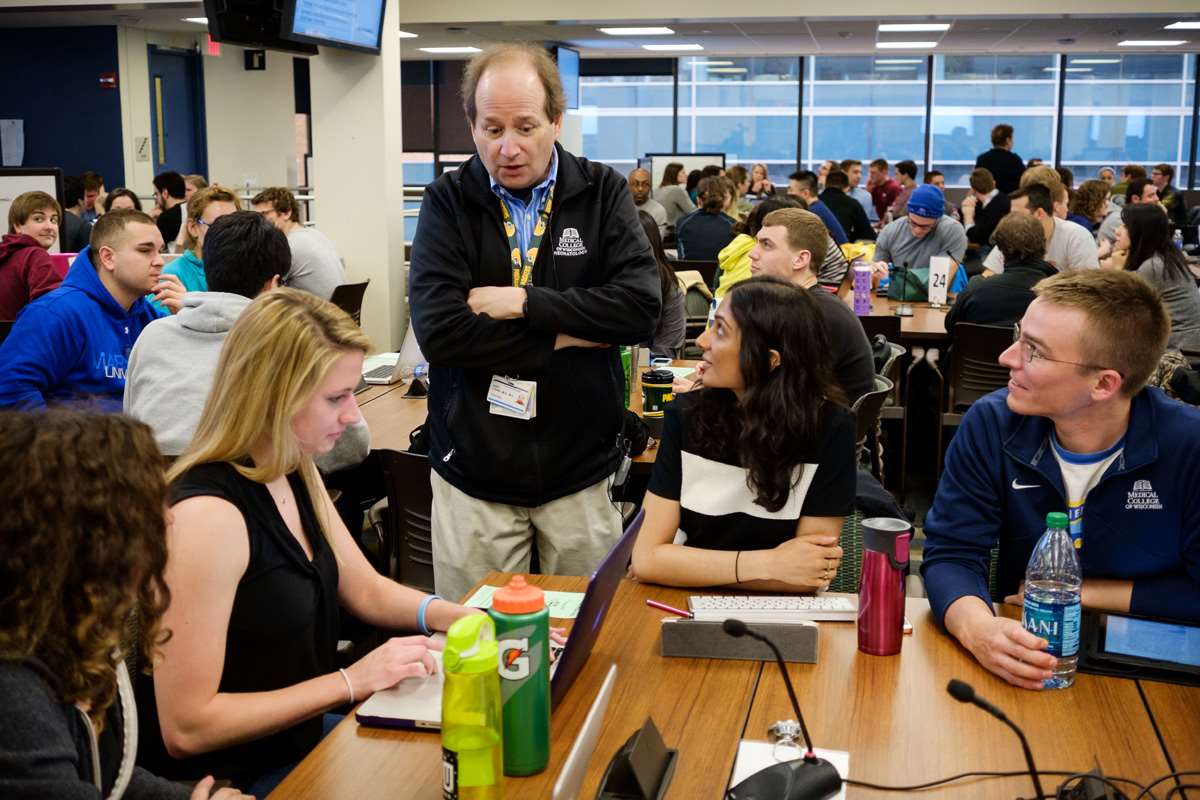 Educator Pearls
The purpose of Educators Pearls is to share teaching advice from faculty educators, increase interest and awareness of the educational mission at MCW, and emphasize the importance of connections and networking between all members of the institutional community.
Featured Educator Pearls
"As a teacher, always model the attributes and behaviors that make your family proud. This will result in trainees wanting to emulate you in providing high quality, humanistic patient care and be your legacy."
Kenneth Simons, MD
Senior Associate Dean and Professor, Medical College of Wisconsin Affiliated Hospitals
"Organize your content – the flow of information should be easy to follow for someone learning it for the first time. The main points, how those points relate to the big picture, and why they are relevant should be obvious to the learner during your session."
Teresa Patitucci, PhD
Assistant Professor, Cell Biology, Neurobiology, and Anatomy
Past Educator Pearls
Pearls are listed alphabetically by last name
David L. Bolender, PhD, Associate Professor, Cell Biology, Neurobiology & Anatomy
"Think like a student when designing and preparing your course."
Diane Braza, MD Professor and Chair, Physical Medicine and Rehabilitation
"For teaching in the outpatient environment, encourage students to identify individual learning goals for each session. It is a dynamic way to encourage self-directed learning in a fast-paced setting and still accomplish the rotation objectives."
Bruce H. Campbell, MD, Professor, Otolaryngology & Communication Sciences
"If your presentation is any good, students will have questions. Give them a few moments to compose them; count to ten; don't interrupt students' thoughts."
"Be a role model of the compassionate teacher. Don't forget the humanistic principles in medical education."
Chris Davis, MD, Assistant Professor, Surgery
"Do not leave a teaching moment with unanswered questions unless a plan is purposely made to reconnect with the student again in the near future after allowing them time to investigate."
Sabina Diehr, MD, Professor, Family Medicine
"It's only a mistake if you don't learn from it! Welcome each 'mistake' a student makes as a 'learning-opportunity', and discuss the larger principles, so the student will be able to carry the lesson forward."
Edmund Duthie, MD, Professor, Chief of Geriatrics, Department of Medicine
"It is a privilege to teach. When asked to teach, 'Just say yes.' It is our core mission and reminds us why we are academic physicians."
Catherine Ferguson, MD, Associate Professor, Pediatric Emergency Medicine
"Embrace vulnerability. Whether you're teaching one student at the bedside or 200 in an auditorium, be authentic, imperfect, and true to yourself. It gives students permission to do the same."
José Franco, MD, Associate Dean, Professor, Gastroenterology
"Pause after explaining a detailed and difficult concept during a teaching session to ask if there are any questions."
"Pause at least every ten minutes during a teaching session to ask if there are any questions."
"Do not use a laser pointer in the classroom. It does not project well on video recordings and cannot be seen by students at the regional distributed campuses."
"When students ask you a question and you're uncertain of the right answer, say you 'don't know' and offer to check and get back to them. This can include providing the response at the beginning of the next session or posting it on the course learning management (D2L) home page."
"When presenting in front of a large group, eye contact is essential. A simple trick for making eye contact is to pick out three people in the audience (one left, one middle, one right) to look at. It appears as if you are fully engaged with the entire group."
"Start a session by providing a brief clinical case and asking students to work in small groups for 5 minutes before returning to the teaching component."
"Drop the minutia! Throw out 20% of your presentation; now you have time for an interactive session."
"When giving a presentation utilizing PowerPoint, slide 2 should state the objectives for the session. Return to the same slide at the end of the presentation to summarize the key take-home points."
"Bring a patient to the classroom to answer questions from the students. This will increase student engagement and learning."
Michael Frank, MD, Professor and Vice Chair of Education, Department of Medicine
"Use humor—but carefully—to help keep your learners engaged and make a point more memorable. Humor is safest when self-deprecating, and should never be at the expense of a patient or their family."
Michael J. Gitter, MD, Associate Professor, Cardiology
"Find a professional way to provide constructive feedback when a learner makes a mistake in clinical practice. For example, 'I want you to be a great doctor, but this can never happen again – you need to learn from this mistake'."
Stephen W. Hargarten, MD, MPH, Associate Dean, Chair, Director, Professor, Emergency Medicine
"Know the audience."
Alexandra M. Harrington, MD, Professor, Pathology
"Ask students to prepare content with podcasts or reading. Then, design learning activities which require them to solve relevant patient care or research questions in a team."
David R. Howard, CAA, Assistant Curriculum Director, Anesthesiology
"Keep your classroom sessions variable and intriguing. One-way communication holds attention for only so long: diversify how you present to students and how they can respond to you. Student participation and engagement depends on educator participation and engagement."
"A successful career in health science requires the development of students into lifetime learners. Plant the seed early with assignments that require students to evaluate current research articles, medical journals, and other biomedical literature."
Vaughn Jackson, PhD Professor of Biochemistry
"The Golden Rule is frequently spoken of but much too infrequently practiced. Consider what it would be like to sit in an auditorium listening to yourself for an hour. Is there anything you would change?"
Joseph E. Kerschner, MD Provost and Executive Vice President, Dean, School of Medicine, Professor, Otolaryngology & Communication Sciences
"The learner's environment is a critical aspect in determining success. Whether in the OR, clinic, or rounding, the 'teacher' (which includes faculty, staff, residents, and students) should create a positive environment for learning and understand that for a heterogeneous population of learners the best teachers will have an individualized approach toward instruction."
Nicholas C. Ketchum, MD, Associate Professor, Physical Medicine & Rehabilitation
"50% of learning is the responsibility of the learner. However, it is the teacher's responsibility to create an inviting and positive learning environment."
Sumana Koduri, MD, Associate Professor, Obstetrics & Gynecology
"Every learner needs feedback for improvement purposes. Find the right time and the right place to provide sincere and constructive feedback."
Diana Lerner, MD, Associate Professor Pediatric Gastroenterology
"Model good patient-doctor communication skills by taking medical jargon out of patient discussions. Take time to explain what each word means."
Julian H. Lombard, PhD, Professor, Physiology
"Consider 'Mind Mapping' when preparing for your teaching session. A mind map is a visual diagram to organize the concepts and knowledge you wish to impart."
Ravi P. Misra, PhD, Dean, Graduate School of Biomedical Sciences, Professor, Biochemistry
"For Large Room Teaching:
Maintain connection with the audience by moving out from behind the podium and making eye contact;
Use tempo and repetition to emphasize important points and concepts;
Tell students what you want them to know;
Don't be a robot"
Martin Muntz, MD, Professor, General Internal Medicine
"Having students 'shadow' is usually a missed opportunity for all involved. Brainstorm with your team about tasks students can complete that are educational and add value to patient care."
Raj Narayan, MD, Professor, Obstetrics & Gynecology
"The best way for everyone on a clinical team to learn from a medical error is to analyze and discuss the systems-related issues that contributed to the error."
Michael P. O'Connell, MD, Assistant Professor, Emergency Medicine
"Our students are used to being successful and often will hedge their responses to try to find the 'right' answer. Make them commit to an explicit assessment and plan, and then offer them constructive feedback on their choices."
Monica O'Sullivan, MD, DDS, FACP, Associate Professor General Internal Medicine
"When I was a resident my department chair shared these milestones for 'training safe doctors who are good doctors':
Becoming Intellectually Honest (having the ability to say, "I don't know")
Being Constantly Curious, Responsible, Industrious
Understanding that Doctoring is Hard Work
Becoming a Life-long Learner
Being a Caring and a Compassionate Care Giver"
Sandra L. Pfister, PhD, Professor, Pharmacology & Toxicology, Pharmacology
"When using Audience Response Systems (ARS) questions to assess students' knowledge on a topic, include 'I don't know' as a possible answer choice AND tell students it's okay to not know something."
Jacob P. Prunuske, MD, Assistant Dean, MCW-Central Wisconsin, Family Medicine
"Remind your students that every patient comes to see a health care provider for a reason. The reason may not be what the patient thinks it is, and it may not be what the provider thinks it is. Discovering that reason is the first step on the path to health."
Hershel Raff, PhD, Professor, Medicine, Endocrinology
"The most important thing to teach a student is how to approach a problem. The solution isn't as important as learning how to solve the problem."
"There is nothing more elegant than a beautifully organized lecture on a difficult concept. Try using the Harvard Outline format to organize your ideas effectively and logically."
"Tell students to study in groups whenever possible and to discuss difficult concepts and problems with peers."
Philip N. Redlich, MD, PhD, Professor, Surgery
"In a group teaching session with students and resident learners, the tendency is to teach to the highest knowledge level. Attention should also be paid to the medical student. In doing so, senior residents and interns will take teaching cues from you and may take over part of the teaching. This dynamic increases discussions during teaching conferences, provides role modeling for teaching, and inspires residents to fulfill their roles as teachers."
"HOLD THE STUDENTS ACCOUNTABLE! Have students strive for excellence in every aspect of their assigned activities. If a student does not meet the standard of excellence, have them repeat the activity (presentation from beginning to end, re-write the note, etc.), until they get it right."
"Don't get irritated at learners who ask obtuse questions. Instead, challenge them to research the answer and report back to their entire group to turn it into a learning experience for all."
James L. Sebastian, MD, Professor, General Internal Medicine
"In clinical settings, when you incorporate basic science knowledge to your teaching, remind students you are doing just that."
"A student understands a topic if they can draw it."
Malika Siker, MD, Associate Dean, Associate Professor, Radiation Oncology
"Physician wellness and resilience is an important topic now more than ever given the multiple competing pressures on physicians professionally and personally. Take time to check in with your students' well-being and be an active listener and support system for their emotional health."
Michael Stout, EdD, CAA, Program Director, Assistant Professor, Anesthesiology
"Encourage reflective practice. I ask each student at the end of the day, 'Tell me three things that went so well you would repeat them. Now, identify three things that you would do differently next time'."
"Provide feedback to your learners in a timely manner. I have never received student criticism for providing too much direction, only too little."
Bipin Thapa, MD, Assistant Dean, Associate Professor, Clinical Curriculum
"Managing students' performance anxiety is important. Say 'I will be asking you questions, but I don't expect you to know all the answers. I myself don't know everything in medicine.' This turns a stressful moment into a teachable moment."
Robert W. Treat, PhD, Associate Professor, Academic Affairs
"Teaching difficult or abstract concepts to learners can be aided by the use of analogies. Integrating conceptual models from other areas in the natural and social sciences will assist students in synthesizing new ideas."
Travis P. Webb, MD, MHPE, Associate Dean, Professor, Trauma & Critical Care Surgery
"Be inviting when teaching. Make eye contact, seek questions, welcome conversations, engage, and don't be judgmental. You will learn something about yourself and your audience in the process."