MCW Student Wins National Excellence in Public Health Pharmacy Award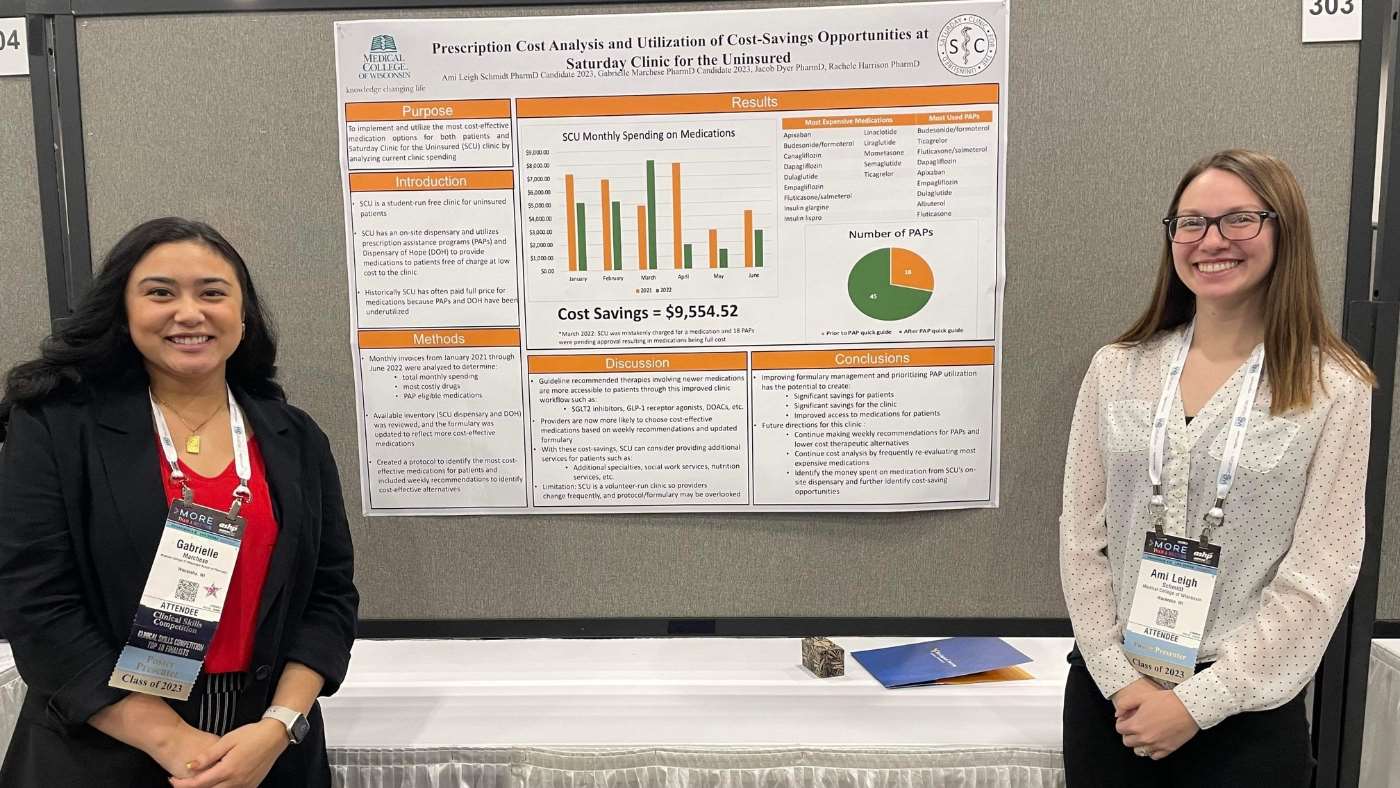 Gabby Marchese, 2023 PharmD candidate, has been recognized as a 2023 Excellence in Public Health Pharmacy Award recipient. This prestigious national award recognizes pharmacy students who have made significant contributions to public health by promoting wellness and healthy communities.
The U.S. Public Health Service (USPHS) administers the award. Led by the Surgeon General, the USPHS is made up of more than 6,000 Commissioned Corps officers that work on the front lines of public health.
Out of this year's 87 awardees, Marchese ranked in the top ten for her work that positively impacted the local community and beyond. She was nominated for her leadership and service to the Saturday Clinic for the Uninsured (SCU), a primary care clinic offering health services at no cost to uninsured patients in Milwaukee. The clinic is run by Medical College of Wisconsin medical and pharmacy students, under the supervision of MCW faculty and with the assistance of physician and pharmacist volunteers. Marchese signed up to volunteer at SCU during her first week of classes.
"I had a lot of fun during my first volunteer session, and I wanted to get more involved," says Marchese. "People always say the biggest changes start at home. This is home to me – I was born and raised in Milwaukee. I thought if we can make healthcare a little more accessible for these people and provide a service to them, it can only grow from there."
Looking back on her volunteer experience at SCU, Marchese says the biggest takeaway is that even a small change can have a positive impact on an individual's health. Marchese points to conversations to help patients with a transportation issue or assisting them with scheduling their next visit so they wouldn't run out of their prescription.
Regarding winning this national award, Marchese says it has validated her belief that change doesn't need to be drastic. "If you go out and do things with a purpose in mind, even if they're really small changes, they build up," says Marchese. "I never felt like I was taking on too much at SCU because I approached it by asking myself 'What small thing can I do to make this better today?'"
MCW faculty members nominated Marchese to receive this award based on her leadership on three major initiatives to improve health outcomes for SCU patients.
Limiting Medication Gaps
SCU is open one day per week for in-person appointments, limiting the time frame where patients can refill their medications. During her time as an SCU program manager, Marchese noticed there was a significant problem with patients arriving on Saturdays being completely out of medications. Marchese took it upon herself to review the medications dispensed each week, recorded when patients would run out of their medications and when they should be contacted to schedule a pickup time. Once she fine-tuned this process, she formed an interprofessional workgroup with MCW medical students and devised a plan to implement this prescription refill notification process into the everyday clinic workflow.
"Marchese's collaborative efforts on the medication refill system led to a reduction in potential medication gaps by 24.4% over the course of her project, impacting 30 unique patients," writes Michael Nagy, PharmD, BCACP, assistant professor in the MCW School of Pharmacy.
Designing a Workflow to Decrease Medication Costs
SCU provides medications at low or no cost to patients, through partnerships with the Milwaukee Free and Community Clinic Collaborative, Ascension Rx Pharmacy and the national charitable medication distributor Dispensary of Hope. SCU is billed for medications that are not available through Dispensary of Hope.
Marchese has worked to limit those clinic medication costs. She assessed what medications the clinic was paying full price for and what prescription assistance programs were available or appropriate alternatives. She made a list for prescribers to use, ranking the prescription assistance programs by which were easiest to apply to and required the least amount of information (i.e. social security number, U.S. citizenship required, proof of income, etc.)
"Her work with cost avoidance has led the clinic to triple its usage of prescription assistance programs, plus provided a cost savings of almost $10,000, which was reallocated into alternative areas to improve overall patient care," writes Dr. Nagy in his nomination application.
Re-initiating Immunizations After COVID-19
Finally, Marchese re-introduced influenza immunizations at SCU in 2022 after the pandemic had caused a hiatus of this service. This involved updating clinic protocols, working in conjunction with the Milwaukee Health Department and collaborating with Walgreens. Due to her work, SCU was able to provide clinic patients with vouchers for influenza vaccines that they could redeem at any Walgreens location. Marchese also developed a workflow and training program, so that pharmacy student volunteers would feel comfortable administering vaccines, checking the Wisconsin Immunization Registry and documenting the correct paperwork.
Due to her outstanding work at SCU, Marchese was invited to speak on a panel "Pharmacy Integration at Free Clinics" during the 2022 Society of Student-Run Free Clinics National Conference. She shared her pharmacy implementation efforts with other free clinic volunteers. Additionally, she presented a poster on her refill system at the same conference, inspiring others to implement similar services at their free clinics. At the American Society of Health-System Pharmacists Annual Midyear Conference, Marchese presented a poster on the cost savings at SCU through the prescription assistance program efforts.
"Her dissemination efforts through presentations at the national level allows similar potential services to be implemented at other clinics across the country," writes Dr. Nagy.
After earning her Doctor of Pharmacy degree in May 2023, Marchese is moving to Idaho for her post-graduate year one (PGY1) residency at St. Luke's Health System. She looks forward to pursuing her community pharmacy career goal.
"I feel like a community pharmacy is where I can really help people the most," says Marchese. "Working with medically underserved people, I'm in a position where I can look for barriers, be adaptable and provide the patient with alternatives. If I can make something more affordable or find an alternative for someone by thinking outside of the box to find something they can better access or afford – that's rewarding."