Women in Science Lecture Series
Women in Science Lecture Series
The Women in Science Lecture Series provides an opportunity to meet outstanding female scientists and physicians and learn about their cutting-edge research.
The series is a membership program with five enlightening presentations, in lay language, designed to draw attention to scientific research projects at MCW as well as generate support for female scientists who serve as role models and mentors.
This successful series has been going strong since 2007.
Women in Science Payroll Deduction Form
Women in Science Founding Members & Committee
Donate Now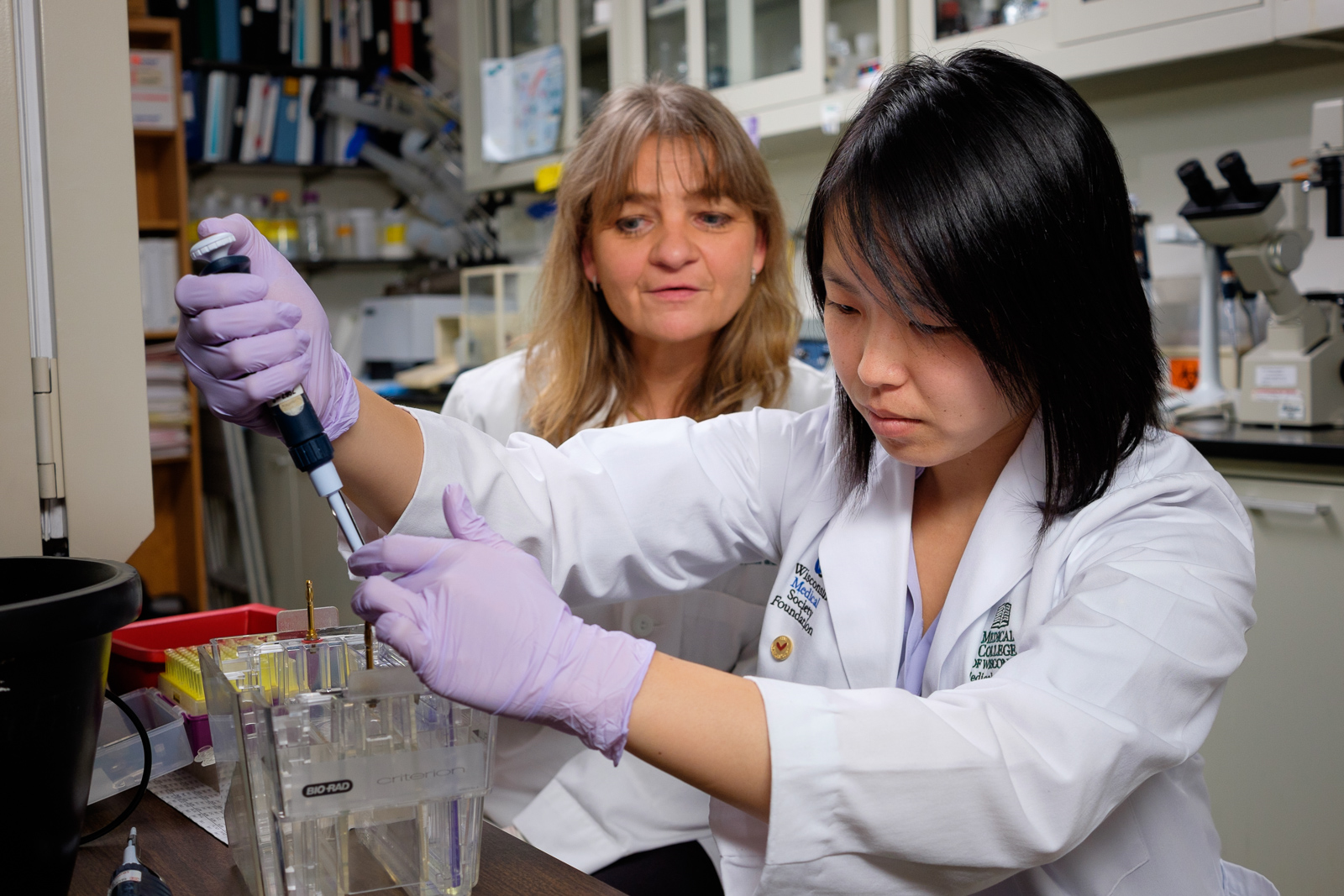 "
It was inspiring to see the impact and contributions that women in science are currently making towards improving human health!
Women in Science guest
Women in Science 2020 Lecture Series
Due to the novel coronavirus pandemic, all in-person lectures in the 2020 series have been cancelled. In the meantime, we plan like to continue to celebrate our outstanding women faculty virtually. Please check back for future engagement opportunities. We appreciate your interest and look forward to resuming in-person activity in 2021.
2019 Women in Science Award Recipients
The Women in Science Awards are funded through an endowment that is supported by Women in Science memberships and sponsorships
Women Pioneers in Research Award - $10,000
The Women Pioneer in Research Award is an annual $10,000 award presented to a female faculty member nominated by her peers and/or mentors for her outstanding, ongoing research. The 2019 Women Pioneer in Research Award recipient is Meetha Medhora, PhD.
Dr. Medora is a Professor in the Department of Radiation Oncology at the Medical College of Wisconsin. During her PhD studies in India, Dr. Medhora was one of the first scientists to clone a gene, constructing a library of DNA from a nitrogen fixing bacterium. At the Genetics Department at Washington University, St. Louis, she characterized and sequenced a transposable element, Mariner, which went on to become an important genetic tool. She was awarded the Merck Sharp and Dohme Young Investigator Award in 1991 by the American Society of Bone and Mineral Research. At MCW she founded and directed the Viral Core Facility and collaborated with Dr. Elizabeth Jacobs to demonstrate protection of rodent lungs by eicosanoids. Her lab demonstrated that simultaneous activation of not only one, but at least two pathways by an eicosanoid was essential for protection of heart tissue in rodents and patients with cardiovascular disease.
Dr. Medhora has been active in her service to MCW including serving as Chair of the Research Affairs Committee and being a member of the BRC Advisory Committee. She recently served on the first Environmental Sustainability Committee at MCW, heading the Energy Subcommittee. Through her career, Dr. Medhora has enjoyed mentoring high school, undergraduate and graduate students as well as postdoctoral fellows, residents and young faculty. In October, she was invited by the Global Initiative of Academic Network in India to teach an advanced course in radiation biology, demonstrating recognition as not only a national, but an international scholar.
Congratulations Dr. Medhora!
Rising Pioneer Award - $5,000
The Rising Pioneer Award is a $5,000 annual award given to a Medical College of Wisconsin female, non-binary or gender-queer faculty member who is in the rising stage of their research trajectory. This award recognizes a qualified faculty member whose research is pioneering and is deemed likely to be highly influential for decades to come.
The 2019 Rising Pioneer Award recipient is Anita D'Souza, MD. Dr. Battle is an Associate Professor in the Department of Hematology and Oncology. Dr. D'Souza is a translational and health outcomes researcher with a focus on plasma cell disorders and hematopoietic cell therapies. She is a Scientific Director in the Center for International Blood and Marrow Transplant Research, an NIH-funded program here at MCW. She is a member of the American Society of Hematology, International Society of Quality of Life Research and International Society of Amyloidosis. She has published over 90peer-reviewed publications, including many in high impact journals. She was awarded the 2019 Department of Medicine Daniel McCarty Award for Research Excellence
Beyond her research program and clinical practice, Dr. D'Souza enjoys teaching. She loves working on research projects with medical students, residents, fellows, and junior faculty. Several of her trainees have achieved research awards, trainee grants, conference presentations and peer-reviewed publications through her mentorship. She is highly sought as a speaker nationally at Amyloidosis Support Groups and through the Amyloidosis Research Consortium to educate physicians, allied health providers, nurses, patients and caregivers in Amyloidosis.
Congratulations Dr. D'Souza!
The Edward J. Lennon, MD Award for an Outstanding Woman Postdoctoral Researcher
The Edward J. Lennon, MD Award for an Outstanding Woman Postdoctoral Researcher is a $1,000 scholarship presented to a fellow for continued research. This award is funded and presented by Women in Science Founder's Circle member Jan Lennon, in memory of her late husband, Edward J. Lennon, MD, former dean and president of the Medical College of Wisconsin.
Dr. Sadler is a postdoctoral fellow in the Department of Cell Biology, Neurobiology and Anatomy, where she works under the direction of Dr. Cheryl Stuckey, where she is studying how non-neuronal cells in the skin and muscle contribute to chronic pain. For these efforts, Kate was awarded a National Institute of Neurobiological Diseases and Stroke Postdoctoral Fellowship.
Congratulations Dr. Sadler!
Women in Science Student Awards
Women in Science Student Awards are $500 awards presented to female students who have exemplified superior work in their area of study at the Medical College of Wisconsin.
2019 Medical Student Award Recipient - Acacia Dishman
2019 Graduate Student Award Recipient - Rebekah Mokry
2019 MSA Student Award Recipient - Simmi Bharvani
Women in Science Opportunities Fund
The Women in Science Opportunities Fund supports female, non-binary or genderqueer students, trainees and postdoctoral researchers at MCW. The fund helps to cover the costs of research supplies and equipment, expenses associated with travel for interviews, conferences or professional development opportunities, membership fees for associations, symposium awards, or to cover gaps in fellowship and/or external training. Funds are awarded twice annually, in January and July. 
Contact Us
Sydney Clark
Events Specialist