Fulfilling the Promise: Philanthropic Partnership Promotes Character and Caring in Medicine
What if medical education not only produced highly competent, innovative doctors, but also developed the whole person so medical professionals can flourish and reach their full potential while providing excellent, equitable care? How might that improve quality of life for physicians, patients and communities?
These questions continue to be at the center of the unique philanthropic collaboration between the Kern Family Foundation and MCW – a partnership dedicated to transforming medical education and practice. The lessons learned from seeking answers drive innovation at MCW and, increasingly, at medical schools and healthcare organizations nationwide.
"From the inception of our collaboration with MCW," reflects James Rahn, president of the Kern Family Foundation, "we were impressed with the commitment of the board, leadership team and faculty champions to transform medical education anchored in a commitment to character and caring as integral to human flourishing. As we have extended this work across MCW and a broader network, we are thrilled to see the promise for the future."
Investing in Transformation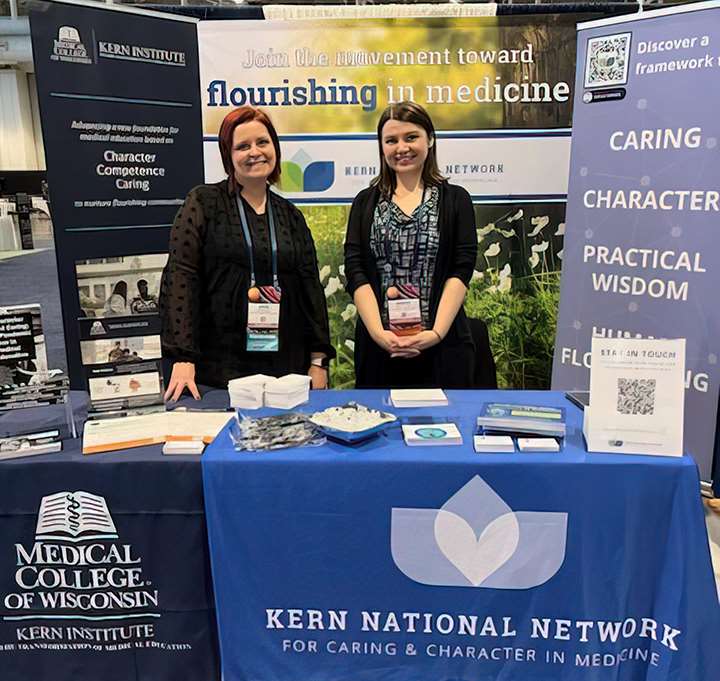 In 2017, a transformational investment of $37.9 million from the Kern Family Foundation and Kern Family Trust, as well as a generous $1 million endowed chair given by Stephen A. and Shelagh M. Roell, PhD, allowed MCW to formalize two complementary efforts: the Robert D. and Patricia E. Kern Institute for the Transformation of Medical Education and the Kern National Network for Flourishing in Medicine (KNN).
(Pictured right: The Kern Institute and KNN's booth at the 2022 annual meeting of the Association of American Medical Colleges receives many accolades, signaling continued growth for their strategic initiatives.)
The Kern Institute, an academic department, focuses on ensuring MCW becomes an exemplar of centering character and caring in educating future physicians. Recognizing the simultaneous importance of systemic change, the KNN works to integrate character, caring, practical wisdom and flourishing into the medical profession.
Both entities have continued to grow, leading to renewed support from the Kern Family Foundation. In 2022, the foundation contributed $50 million – $10 million of which is designated as a matching opportunity to inspire additional support from philanthropists and foundations with an interest in transforming healthcare.
Driving Innovation in Medical Education
For MCW, transformation started from within, supported by the Kern Institute. The institute has pioneered programming and labs in areas ranging from student well-being and faculty development to data science and scholarship.
The longitudinal REACH curriculum has prepared 1,200 first- and second-year medical students for the emotional demands of caregiving. Further, the KINETIC3 staff and trainee enrichment program has graduated 90 faculty, 22 staff and 26 trainees, equipping them to shape the future of medical education by combining principles of character, caring and competence with pedagogical knowledge.
Program learnings and faculty expertise from the Kern Institute are uplifting the medical school's new MCWfusion™ curriculum, launching in summer 2023. It will integrate scientific knowledge with clinical applications, emphasize inquiry-based learning and graduate physicians on the leading edge of technical and humanistic aspects of medicine.
"MCWfusion is an exemplar medical school curriculum which will ensure all Americans have the physicians we deserve – those committed to the core values of our ancient profession while also being advocates and leaders in the rapidly evolving healthcare system. We will do so with character and caring for all," says Adina L. Kalet, MD, MPH, Stephen and Shelagh Roell Endowed Chair, professor and director of the Kern Institute.
The Kern Institute also is driving innovation in medical education by funding projects through the Transformational Ideas Initiative, as well as its Medical Education Transformation Collaboratories. The institute has invested more than $500,000 in its first cohort of seven Collaboratories – group projects involving individuals from more than 20 institutions. A second call for Collaboratory projects opened in November 2022.
The institute also plans to launch new initiatives, including a Health Equity Scholars program and the MCW Kern Press, a national press to share medical education discoveries and solutions so that physician training reflects the latest instructional techniques.
Advancing a Movement for Flourishing in Medicine
The KNN began as a network of seven founding medical schools – Geisel School of Medicine at Dartmouth, Mayo Clinic Alix School of Medicine, Medical College of Wisconsin, University of California San Francisco School of Medicine, University of Texas at Austin Dell Medical School, University of Wisconsin School of Medicine and Public Health, Vanderbilt University School of Medicine – that demonstrated how collaboration accelerates innovation and ignites change. Together, they shaped the KNN's framework, which uses tree imagery to show how the foundational concepts of character, caring and practical wisdom offer a path toward flourishing. Pilot programs by founding members infused those concepts into each institution.
Nearly 550 learners at KNN schools gained structured time for reflection and identity formation through coaching programs, while professional development programming shaped the educational philosophies of more than 2,000 faculty and educators from 41 states and six other countries.
Although the framework can inspire new programs, its true power lies in offering a new mental model for evaluating and improving existing practices, whether in the classroom, exam room or board room. With the framework as its north star, the KNN is now expanding – bringing more organizations into the fold and advancing flourishing by connecting and convening stakeholders, catalyzing transformative initiatives and influencing policy and systems change.
That energy reverberated throughout the KNN's inaugural national conference in September 2022. Approximately 250 participants shared and celebrated transformational work, with the seven founding member-schools joined by 28 other medical schools and health-related organizations.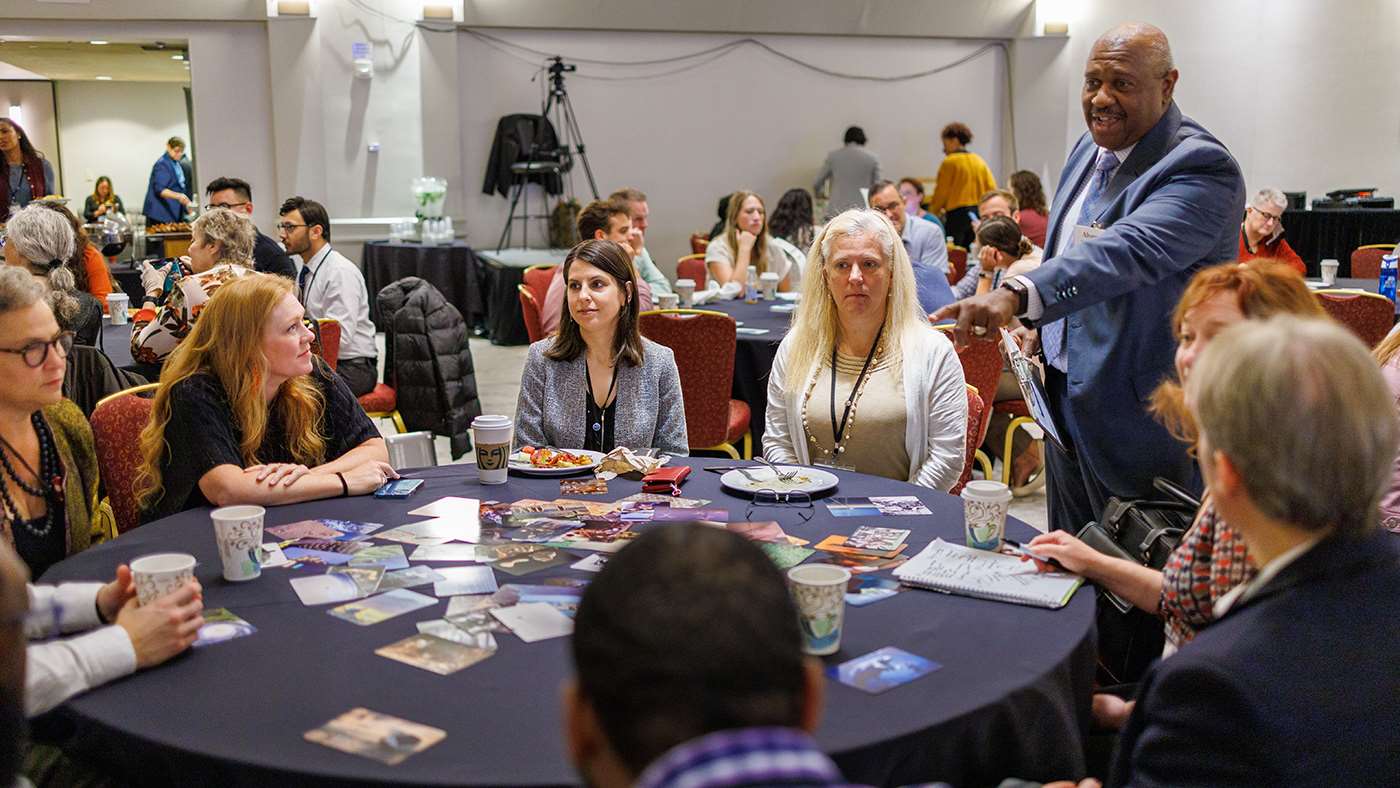 Participants respond with "inspired," "grateful" and "hopeful" when asked to describe the KNN's 2022 conference in a single word.
"In building rich, diverse pathways to come together and share knowledge and practices, the KNN is becoming a true movement at the headwaters of flourishing in medicine," says Cheryl A. Maurana, PhD, MCW Eminent Scholar, senior vice president for strategic academic partnerships, professor and KNN founding director. "We are excited to see stakeholders across healthcare bring their passion, energy and talent to this work."
A shared mission unites individual efforts, creating a swell of momentum. As the KNN grows, focus areas include investing in future generations through a national student conference and student chapters and strengthening efforts to cultivate diversity of thought and open inquiry in academic medicine.
Continuing the Legacy
In advancing this essential work, MCW is honored to continue Robert D. and Patricia E. Kern's legacy of generational impact by shaping clinical learning and practice environments where all those within can truly flourish.
Camaraderie and Connection for Medical Educators
Complementing internal programming, the Kern Institute amplifies diverse voices across the medical community.
The weekly Transformational Times e-newsletter brings personal narratives to the inboxes of more than 6,500 individuals, and highlighted essays have been published in two book volumes.
– Sarah Williams