Students Learn Life Lessons in Honoring Those Who Give

Last month, MCW's newest batch of future physicians stepped into their Clinical Human Anatomy lab for the first time. As these students begin their journey of discovery with their body donors, last year's class reflects on how the lessons learned from these selfless individuals go far beyond anatomy.
"The generosity of the donors is unparalleled. To give back one last time is so very special. They are real life heroes to me."
These thoughtful words appear on a large projector in the Medical College of Wisconsin's Kerrigan Auditorium on a Saturday morning in late April. Outside, a brisk spring wind whips around dozens of first-year medical students as they arrive on campus. But they haven't come to study. In fact, the class behind today's gathering has been over for more than a month. Still, their course director, Todd Hoagland, PhD, professor of cell biology, neurobiology & anatomy, has one more lesson for these future physicians.
Today, dressed in the short white coats that indicate their learner status, these students gather among the families of some of their most important teachers to honor their "first patients."
Today is the annual Medical College of Wisconsin Anatomical Gift Registry Memorial Service.
The Greatest Gift
Each year, the MCW Anatomical Gift Registry (AGR) receives about 150 body donations to support the medical education of our future physicians.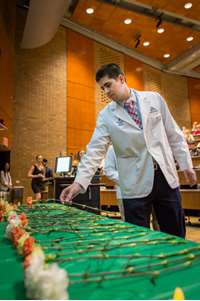 "We have thousands of people registered currently, with the consent coming from the actual body donors while they are still alive," emphasizes Dr. Hoagland, who directs the AGR. "When one of them passes, their next of kin executes their requests by contacting us to take the body into this program. We have the honor of fulfilling these individuals' final wishes."
The 150 donations are distributed to medical training programs throughout eastern Wisconsin, including to be used as the cadavers for the first-year Clinical Human Anatomy course at all three MCW campuses.
The AGR process can be especially trying for the body donor's family. "Making an anatomical gift is a difficult decision for the donor," Dr. Hoagland says, "but it can be a more wrenching experience for the family members left behind to carry out those acts. For many of them, they had to forego a funeral or any kind of viewing service for their loved one."
So when Dr. Hoagland came to MCW in 2010 and took over Clinical Human Anatomy and the AGR in 2011, he developed the annual AGR Memorial Service to help provide the next of kin with closure.
"They often never got a chance to grieve publicly, they never had an opportunity to bring people together, and the memorial service provides that chance," he says. "It gives the next of kin as well as our students some time to reflect on what the body donors have meant to MCW."
Adding a Personal Touch
Dr. Hoagland takes great pride in honoring those who participate in the AGR – "To be able to walk through the valley of the shadow of death and, near the end of the journey, think of someone else rather than yourself is truly something special," he reflects — and he wants his first-year gross anatomy students to feel the same way. As such, though he and his administrative assistant, Nancy Coates, provide guidelines for the event, they ultimately leave the planning of the AGR Memorial Service to the first-year medical students on the Milwaukee campus.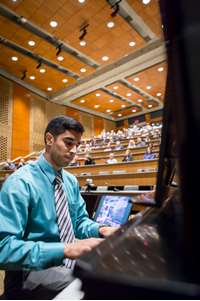 Kristina Parthum was one of those students inspired by Dr. Hoagland this past year. "He did a great job telling us how special he thought the memorial service was," she says. "And because body donation was something I was initially uncomfortable with, I wanted to be able to show my appreciation for our donors and their families in some tangible way."
For Devashish Joshi, his cadaver was an even greater learning tool than he could have imagined, and being part of the planning committee allowed him to reflect those feelings. "Dr. Hoagland brought up planning the memorial service toward the end of the course, and that's when I began realizing, "Oh my gosh, it's the last time I'm going to work with my cadaver,'" he remembers. "When you're about to lose something, you realize what you have. And a big philosophy for me is paying it forward or paying it back, so I wanted to be a part of the memorial to make sure it was a meaningful experience for these families like anatomy was for me."
The day of the service, bright orange and yellow Post-It notes on a hallway wall display one of the committee's ideas to put their own mark on the event. The handwritten reflections of the first-year students complement the ones appearing on the projected slide show in the auditorium.
"I think our classmates would agree that whether or not you went into anatomy class thinking body donors were necessary, we all gained so much from that experience and are so grateful to those individuals and their families," Parthum says. "So the Post-It notes allowed everyone to relate their feelings and participate in some way even if they couldn't dedicate a large portion of time to planning the memorial service."
Thank you notes are handed to the families as they enter the service – committee member Marisa Roman's idea. And shortly after everyone takes their seats, she and Parthum step to the auditorium podium to welcome the families and their classmates to the hour-long program.
Words of Reflection
The committee knows the outline of the program: opening remarks by Joseph E. Kerschner, MD, dean of the medical school and executive vice president, and John Lough, PhD, professor and interim chair of the department of cell biology, neurobiology & anatomy; words from Dr. Hoagland and a local reverend; personal reflections by three classmates; performances of "Into the West" and "Hallelujah" by several student vocalists; and a flower ceremony involving the entire class accompanied by Joshi on piano. Yet no one has previewed any of the speeches and therefore isn't quite sure what to expect.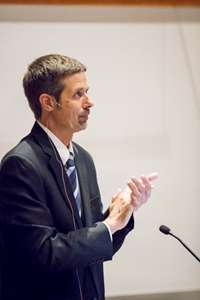 A letter Dr. Hoagland received from a donor's daughter only days before sets the stage for the emotions to come. With the author's permission, Dr. Hoagland shares her words: "Dad was the kind of person who lived life with purpose and courage every day, but most of all, he lived life generously. His final gift was the gift of himself. His body was an anatomical history book of the struggles of a laboring man, and Dad knew the dedicated student would be able to learn much from his gift."
Sniffles start to echo through the auditorium, but it's not just the family members shedding tears. Students have pulled out tissues as well. According to Parthum and Joshi, for them and many of their classmates, it's the first time they're allowing themselves to fully reflect on their cadavers as people.
"Hearing the letter from one of the donor's daughters who wasn't able to attend the ceremony took our appreciation to another level," Joshi says afterward. "Learning where these families are coming from brings you back down to why you're studying to practice medicine."
Parthum agrees: "I personally struggled with how much to humanize our donor and how much to detach from them. You want to remember it's a person with a family, but it's also one of those things that if you think about them too much, it makes why we're there almost impossible. I think everyone copes in different ways with human dissection; it's not a natural thing to do. So for most of us, there has to be some form of detachment."
Dr. Hoagland continues his reflections on the past year, expressing not only his gratitude for the body donors and their families but also the profound impact the donations have made. "The donors are studied by over 200 first-year medical students here in Milwaukee and another 50-60 at our regional campuses," he notes. "We have about 40 fourth-year students who assist with the course, and we have about two dozen faculty and residents who all contribute.
"The fourth-year students immediately scatter to all parts of the United States for their residencies. The 230 or so first-year medical students follow these seniors in three short years, and the faculty and residents use knowledge learned to immediately influence lives locally. These students, scattered like seeds in the wind, ultimately land and begin treating patients in communities across the country. Therefore, the body donors give to students – and through students – to patients all across the United States and beyond."
Those words resonate with Joshi. "Just from the educational point of view, you can't have a better teacher," he says later. "They're the first patient that you ever have, as people commonly say about their cadavers. Then to realize that these people have donated their bodies so that my 200 classmates and I can treat millions of people going forward, that's amazing."
The first two student reflections bring more tears and even some laughs: Nate Carpenter shares how applying what he learned from studying his cadaver allowed him to "take off his fake doctor face" and feel like a real medical provider for the first time during his spring clinical apprenticeship; Antony Ibrahim provides intimate – and sometimes embarrassing – details of his life with the family members in the audience because their loved ones were gracious enough to share their deepest internal secrets with him and his classmates.
Then Roman cautiously steps back to the podium to share her reflection, warning the audience she might not make it through without crying.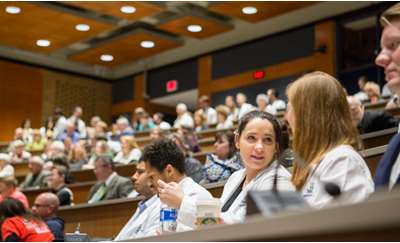 "I was planning on staying behind the scenes until pretty close to when we actually pulled all the speakers together," she admits afterward. "My mom really pushed me to speak, saying I had a really unique experience and that it would probably mean a lot to the families and also my fellow classmates to share."
As Roman explains to the audience that day, she came into medicine not for a love of science or biology, but because she loves to read and wants to hear the stories of the patients she will encounter as a doctor. And while she and her classmates wouldn't get to know the full stories of their body donors, she knew the entire life story of one past donor – Roman had been in the same auditorium for the same memorial service just two years prior after her grandfather passed away.
Roman continues, reflecting on how at first she struggled with the disconnect, how the students who learned from her grandfather wouldn't know him the way she knew him, just the way she wouldn't know her donor the way that person's family knew them. But she discovered there was still a story to "read," with each scar or wrinkle or piece of metal discovered. "I learned that not all of my patients' stories would be as easy to read as the books that I cherished when I was younger, but that all of them had stories even more amazing than the ones found written in a really good book," she tells the audience.
As her voice breaks, Roman concludes: "My donor's story, the one I roughly and incompletely pieced together over the course of our time together, is one that I will carry with as much love and importance as I do my grandfather's story."
Lessons Learned
Parthum wasn't sure if her classmates were looking for the resolution she was needing with the memorial service, but standing near the front of the room after Roman finishes, she sees her emotions reflected in their faces in the audience. "It was so much more meaningful than I even imagined it was going to be," she says. "It gave us a chance to sort of turn around and be able to appreciate the human side of our donors in a way that we're not fully capable of doing during class."
After the flower ceremony ends, everyone gradually makes their way to the cafeteria for refreshments. Although some hesitate at first, pretty soon the students are caught up in animated conversations with the family members, which makes Roman smile.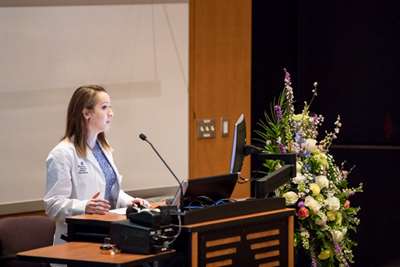 "It was really cool to see all of my classmates with the families after the service," she says later. "I knew the importance of the event the whole time because of my experience, but I could see the disconnect that had happened during the year. We get so caught up in the day to day, in studying facts and passing tests. There becomes a huge disconnect between what we're studying right now and what we want to do with the rest of our lives, and the service brings it back together. I was glad I could help them make that connection."
Having seen this necessary detachment every year since he began teaching gross anatomy some 15 years ago, Dr. Hoagland knows how critical it is to give his students what he calls an "empathy boost" after the course is over as compassion is core to practicing medicine.
"What I love about the event is that it's what the medical students are truly here for," Dr. Hoagland reflects with a smile. "They are here to be empathetic and caring and to offer some comfort. And it's at the memorial service where I get to see their compassion and thoughtfulness come out in spades."
Class dismissed.