Dr. Meena Bedi Chosen for Business Journal's 40 Under 40 List
Dr. Bedi chosen for Business Journal's 40 under 40 list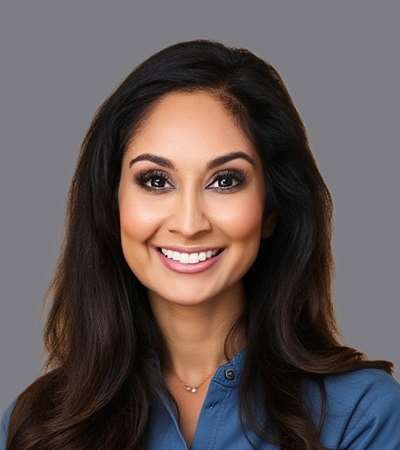 Meena Bedi, MD, associate professor of radiation oncology, has been named to The Business Journal's 40 Under 40 list for 2020. Dr. Bedi was nominated by MCW.
Dr. Bedi was selected for her passion for cancer care, specifically the treatment of patients with sarcoma. As a resident at MCW, she became interested in sarcoma, a rare type of cancer that lacks research funding in comparison to other cancers such as breast and prostate cancer.
Realizing the gap in knowledge about sarcoma outcomes and treatment, Dr. Bedi created a database on all patients treated at Froedtert & MCW for sarcoma over the past 20 years. This project has led to numerous publications and led Dr. Bedi and the sarcoma team to initiate a number of trials for sarcoma patients.
Dr. Bedi has since become the MCW Sarcoma Program Director, and she also was awarded the prestigious Sharon K. Wadina Endowed Chair in Sarcoma Research, one of only approximately 50 such chairs in sarcoma in the country. Her leadership of the Sarcoma Program has greatly enhanced patient care, research and outcomes.
She also has become a beacon for sarcoma fundraising in the community, working tirelessly on outreach, community engagement and philanthropy, envisioning new ways to engage the community and to empower providers to better treat patients and provide innovative study options to patients. This work has resulted in more than $600,000 raised in the community for sarcoma research.
Dr. Bedi is well known for her sarcoma expertise nationally and internationally, and she gives back by serving on committees for national radiation oncology societies. She leads by example, having mentored a number of medical students, residents and junior faculty.
The winning list will be published in a special insert of The Business Journal on Feb. 28, and winners will be honored at the annual award dinner on March 2 at the Pfister Hotel. The "40 Under 40" list recognizes 40 Milwaukee-area individuals under the age of 40 who represent the future of community leadership in Milwaukee. Nearly 350 nominations were submitted.