New Law Expanding Vaccination Access Passes with Help of the MCW School of Pharmacy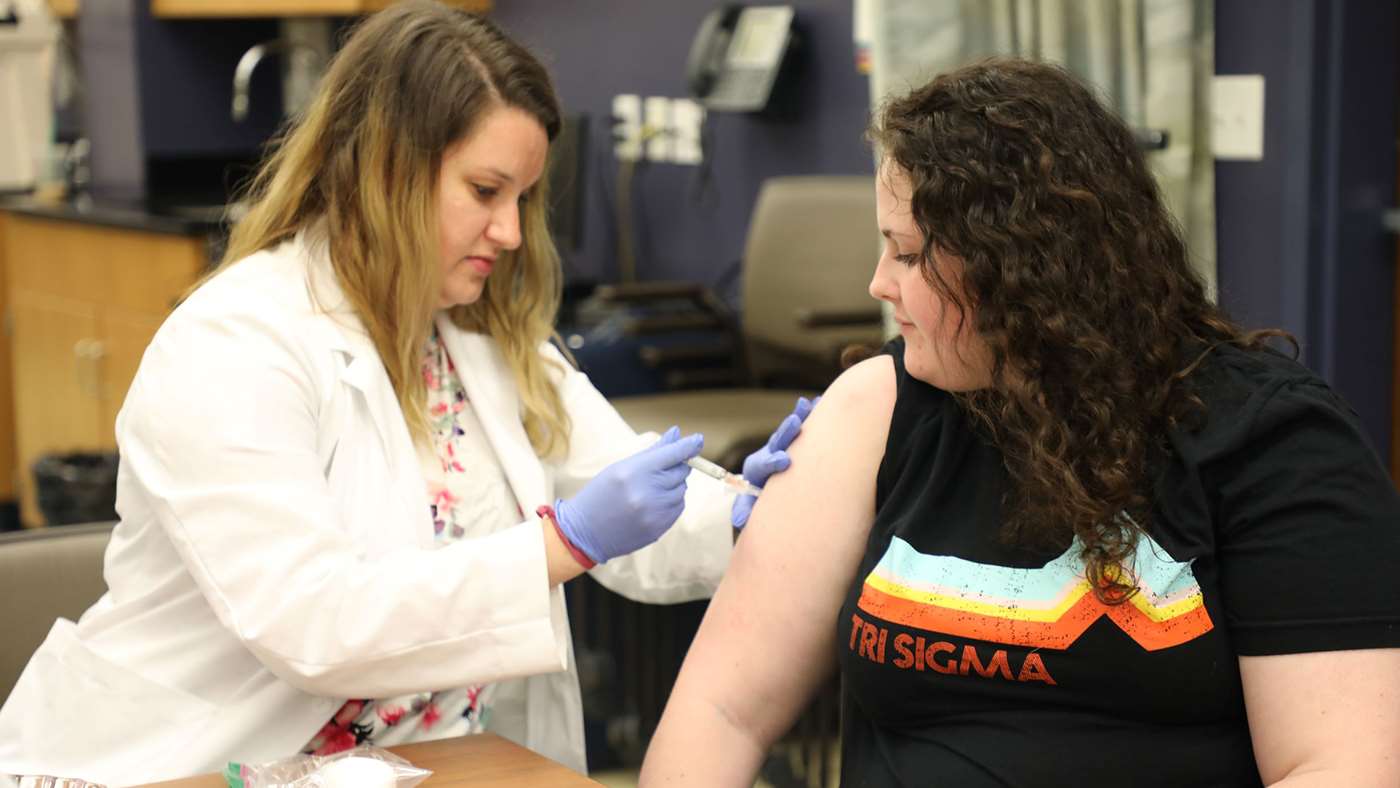 After the passing of 2019 Wisconsin Act 24, recently signed into law by Gov. Tony Evers, Wisconsin pharmacists and pharmacy students now have an expanded ability to provide vaccinations to patients. Students and faculty from the Medical College of Wisconsin (MCW) School of Pharmacy played a role in getting legislation to pass by advocating for expanded vaccination access to state legislators.
Current data from America's Health Ratings and Wisconsin Immunization Registry shows that the state of Wisconsin is not meeting vaccination goals. Allowing pharmacists to provide vaccinations can increase access to vaccinations for patients since pharmacies are open during late and weekend hours. Also, in some rural areas, patients may not have to travel as far to get to a pharmacy as they would to get to a clinic.
The new law, 2019 Wisconsin Act 24, allows pharmacists to administer vaccines listed in the Advisory Committee on Immunization Practice (ACIP) and Centers for Disease Control's (CDC) immunization schedules without the use of a vaccine protocol or standing order. Pharmacy students in their third academic year (P3), or equivalent, who have completed an immunization administration training are also able to do so. The list of vaccinations includes measles, mumps and rubella, polio, influenza, chickenpox, and HPV. "There is an administrative burden when establishing a delegation protocol at the local level that is avoided if pharmacists are allowed to administer any immunization recommended by the CDC immunization schedules, as other healthcare providers do," says Karen J. MacKinnon, BPharm, RPh, Director of Outreach Programs and Assistant Professor in the Department of Clinical Sciences, who testified before the legislature on the importance of expanded pharmacist vaccination authority on the behalf of MCW. Prof. MacKinnon has been working on a project with the goal of expanding vaccination access in partnership with the Pharmacy Society of Wisconsin (PSW).
The law also allows pharmacists, after obtaining additional training, to administer vaccines to children who are under six years of age. Lastly, the law requires mandatory reporting of vaccinations to the Wisconsin Immunization Registry, which allows patients and providers to see which immunizations they have received and are due to receive. "When used, WIR is a crucial public health tool that ensures all healthcare providers, including pharmacists, do not give a duplicative vaccine or miss a scheduled vaccine," says Prof. MacKinnon.
"I am proud of the advocacy that students and faculty the MCW School of Pharmacy have put forth into ensuring that patients and caregivers have increased access to primary care services, including vaccinations, which are an important public health tool. The MCW School of Pharmacy emphasizes the impact that pharmacists can have on healthcare policy through participation in events such as the PSW Legislative Day," says George E. MacKinnon III, PhD, MS, RPh, FASHP, Founding Dean and Professor at the MCW School of Pharmacy.
In the spring, the MCW School of Pharmacy students attended PSW Legislative Day at the State Capitol in Madison, WI. The students advocated and discussed legislative issues pertaining to the pharmacy profession, including increasing vaccination access through pharmacists and pharmacy students.
Students at the MCW School of Pharmacy learn how to provide vaccinations in their Patient Care Lab courses. This fall, P3 and P4 students led two different influenza vaccination clinics at the MCW, administering over 80 vaccines. P4 students also recently aided in a clinic that trained the MCW's first-year medical students in vaccine administration. After certification, students are also able to provide vaccinations while on their clinical rotations.
"At the MCW School of Pharmacy, we require each of our students to become certified in immunizations. With this new policy, our students will be able to provide even more services to Wisconsin patients. This is an exciting opportunity for our students to use their skills to expand immunization outreach throughout Wisconsin for our patients," says Rachel Kavanaugh, PharmD, BCACP, Director of Year Two Professional Laboratories and Assistant Professor in the Department of Clinical Sciences at the MCW School of Pharmacy, who leads the vaccine administration training.
"Immunizations are a crucial preventive care service that provide a proven public health benefit. Due to work, travel, or other restrictions, some patients and caregivers find it difficult to receive their immunizations at their clinic or from another healthcare provider," says Prof MacKinnon. "If we continue to advocate for our profession and for our community's health, change can occur."