Providing Patient-Centered Care Across Cultures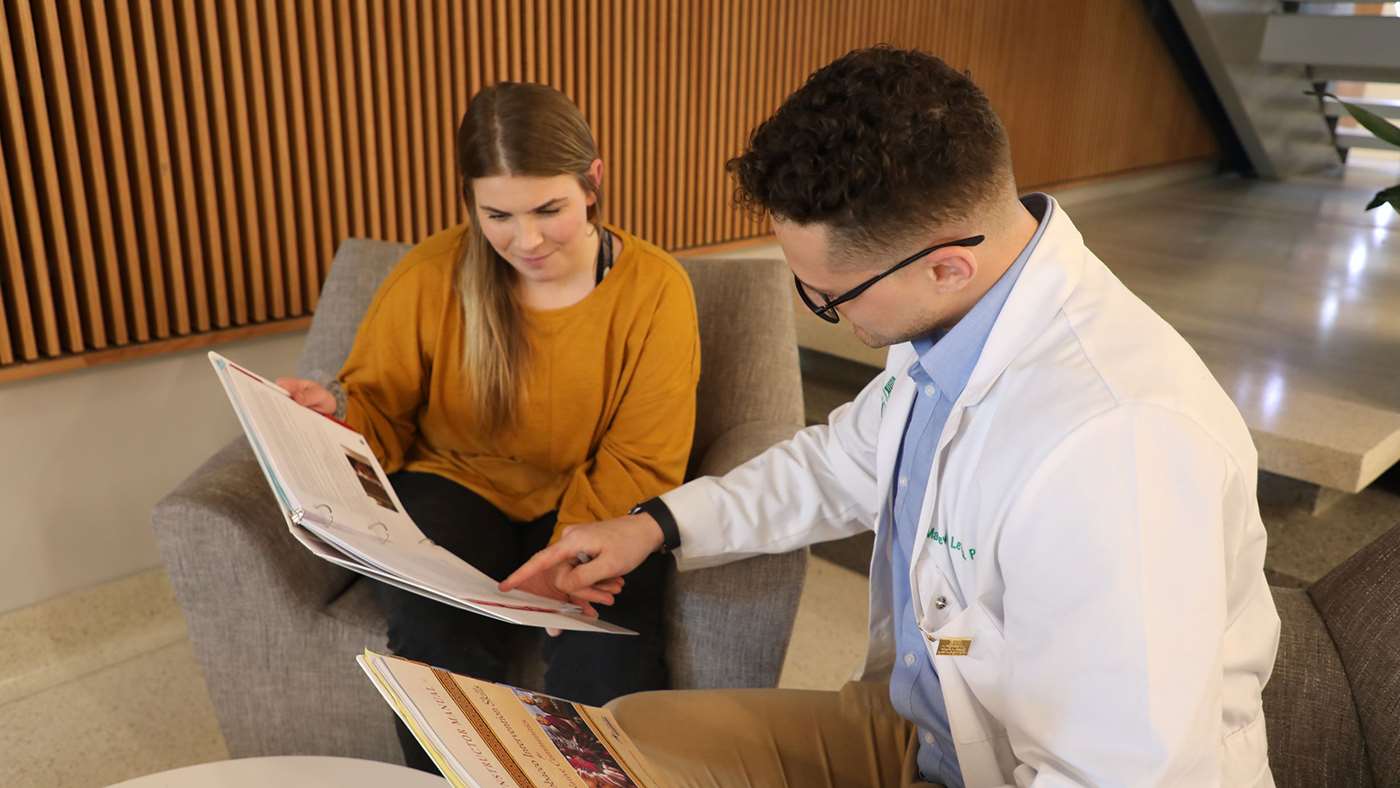 Second-year pharmacy student Jaclyn Utrie grew up in a small town that didn't have diverse populations. "I never learned from personal experience about different cultures, customs and religious views of people who were different from myself and my family," she says. "As a future healthcare provider, I think it's extremely important to be culturally sensitive in order to provide the best care to all patients." When Utrie found out about the Indian Health Services (IHS) Tobacco Cessation Training program that was held in May by the Medical College of Wisconsin (MCW) School of Pharmacy, she was motivated to take the opportunity to learn how to better help patients from another culture.
"Tobacco is the leading cause of preventable disease and its use has the highest prevalence among Native American populations. I was encouraged to learn how to effectively and respectfully communicate with patients from these populations in order to be a resource for those who seek help with quitting," Utrie says. The interprofessional program taught basic tobacco intervention skills as well as training specialized for Native American populations. The program, which was developed by the HealthCare Partnership at the University of Arizona and supported by the Great Lakes Intertribal Council Epidemiology Center, also certified participants to provide training to their peers.
"This program educates participants on the tribal communities and the differences between the ceremonial and commercial uses of tobacco. The goal is to increase access to evidence-based, culturally adapted tobacco cessation certification training for IHS and Tribal Staff, medicine and pharmacy students," says Karen MacKinnon, BPharm, RPh, Director of Outreach Programs and Assistant Professor of Clinical Sciences at the MCW School of Pharmacy, who partnered with the IHS to bring the program to MCW.
The two-day program was attended by pharmacy students from the MCW School of Pharmacy, the University of Wisconsin – Madison, and Concordia University Wisconsin, faculty members from the MCW School of Pharmacy and School of Medicine, and IHS tribal members.
"This program gave me resources to use with patients and taught me how interdisciplinary teams can collaborate to support a patient's quit efforts and health," says Lawrence Miller, PsyD, Assistant Professor of Psychology at the MCW School of Medicine. "This interprofessional program created space to learn from each type of professional about their unique experience and issues they face."
Second-year pharmacy student Anamarie Tomaich decided to attend the tobacco cessation program to try to benefit her community. "I see a lot of patients at my community pharmacy struggling to stop smoking. I now have more tools to serve them. The program not only allowed me to spread knowledge to those who smoke, but also to other healthcare providers, which is truly valuable. I am able to lead small groups of people through the curriculum so that they can then go impact the community," says Tomaich.
Mathew Letizia, PharmD, Director for Year One Professional Laboratories and Assistant Professor in the Department of Clinical Sciences at the MCW School of Pharmacy and Dr. Miller plan to take the information that they learned from the IHS Tobacco Cessation Training program a step further by using it to organize an interprofessional elective course offered through the MCW. The course, which will include both pharmacy and medical students, will allow students to be trained over the course of a weekend to learn tobacco intervention skills and become treatment specialists.
"The goal is to help students understand how to use various communication tools to tailor their approach when working with individuals of various backgrounds and cultures," says Dr. Letizia. "Everyone has a different experience and background with tobacco and will have their own journey going forward. What matters is not how much knowledge we have on tobacco dependence and nicotine addiction, but how well we can help patients with personalized approaches to quitting tobacco products."
In the meantime, students who attended the program have already found ways to use the material that they learned. "Since the program I have begun adapting the information I learned and applying it to electronic nicotine delivery systems, especially with high schoolers," says Tomaich. "I also hope to work closely with MCW and their Great Lakes Indian Reserve partner to help bring awareness to the Indian community."
The MCW School of Pharmacy offers an ongoing Advanced Pharmacy Practice Experience (APPE) rotation at the Gerald L. Ignace Indian Health Center in Milwaukee, Wisconsin. Students who are interested in working with Native American populations can also pursue APPEs at other locations. "One of our missions as a program is to advance the health of our communities. Wisconsin is home to many tribal communities, and we are honored to have the opportunity for our students to experience the delivery of pharmacy services through the Indian Health Service," says Sara Revolinski, PharmD, BCPS, Director of Experiential Education and Assistant Professor of Clinical Sciences.
During the 2019-2020 APPE year, one MCW School of Pharmacy student will complete an APPE at the Cass Lake Indian Health Service in Minnesota, in addition to the one student at the Gerald L. Ignace Indian Health Center. "We are excited to offer these experiences to our students," says Sara Revolinski, PharmD, BCPS, Director of Experiential Education and Assistant Professor of Clinical Sciences. "Students who participate in the IHS Tobacco Cessation Training are able to utilize the skills learned while they are on rotation with the populations of interest," Revolinski adds.
Students say the training can also be utilized in many different healthcare settings. "The foundation of knowledge, methods and techniques that I have gained from this program has prepared me to be a resource in any pharmacy setting I choose to go into," says Utrie.