Researchers Collaborate on Study Investigating Hospital-Acquired Infections
Antibiotic-resistant enterococci, including E. faecalis, are among the three most common causes of hospital-acquired infections and therefore represent a serious public health problem. Candice Klug, PhD, professor of biophysics, and Christopher Kristich, PhD, professor of microbiology & immunology, were awarded a four-year, $1.355 million new R01 grant titled "Conformation and functional dynamics of a bacterial PASTA kinase" from the National Institute of General Medical Sciences.
A transmembrane PASTA kinase found in enterococci is required for successful colonization of the intestinal tract by enterococci and to promote enterococcal resistance toward multiple antibiotics. For this project, Drs. Klug and Kristich will elucidate the structural organization of the full-length PASTA module and dynamic changes in the kinase domain associated with activation of full-length PASTA kinase from E. faecalis.
Insights from these studies will enable the future development of new therapeutic approaches designed to target this family of proteins, thereby helping to overcome infections caused by multidrug-resistant enterococci and other important drug-resistant bacterial pathogens.

Candice Klug, PhD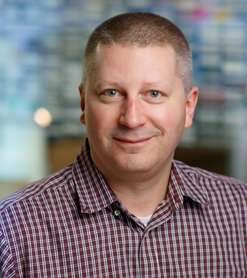 Christopher Kristich, PhD