Adina Luba Kalet, MD, MPH, Named Director of the Robert D. and Patricia E. Kern Institute for the Transformation of Medical Education
NYU professor of medicine and surgery joins the Medical College of Wisconsin on Sept. 1
Milwaukee, May 21, 2019
– The Medical College of Wisconsin (MCW) appointed of Adina Luba Kalet, MD, MPH, director of the Robert D. and Patricia E. Kern Institute for the Transformation of Medical Education. Effective September 1, 2019, pending approval by the MCW Board of Trustees, Dr. Kalet will lead this innovative and collaborative institute and also be awarded the Stephen and Shelagh Roell Endowed Chair.
Dr. Kalet currently serves as professor of medicine and surgery with tenure at the New York University (NYU) School of Medicine in the Division of General Internal Medicine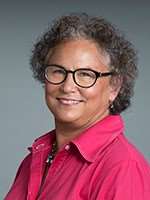 and Clinical Innovation (New York). She brings to the Kern Institute more than 25 years of experience leading innovation, scholarship and research to prepare future physicians.
The Kern Institute was established as an academic department within MCW in 2017 with a substantial gift of $37.8 million from the Kern Family Trust and Kern Family Foundation. The Institute works to transform medical education and create a community of leaders who will be guided by the principle of the Triple Aim for Medical Education, which focuses on character, competence and caring.
Dr. Kalet will build on the upward trajectory of the institute and continue to lead and strengthen the transformation of faculty, students, curriculum, culture and systems. She will ensure the institute boldly and creatively responds to the ever-changing environment of healthcare and its connection to medical education. Her responsibilities will include leadership for strategic planning and implementation, curriculum and program development, faculty and student recruitment and retention, budgeting, fundraising and general administration. Additionally, Dr. Kalet is expected to be appointed to a leadership role in the Office of Academic Affairs.
Health professions education innovation and research is the central theme of Dr. Kalet's career. She has worked collaboratively for decades across medical disciplines and professions to serve the health of the public, especially its most vulnerable populations. Dr. Kalet's major research interests and contributions include: health professions education research to ensure an excellent primary care workforce; medical education and technology; ensuring the clinical competence of the physician workforce through development of rigorous and meaningful measurement of clinical skills, faculty teaching skills and effective strategies to remediate poor performers, and advancing the science and impact of research mentoring and career development to increase the capacity for health services, medical education and clinical translational research to meet the growing demands.
Dr. Kalet earned a bachelor of science degree from the Sophie Davis School for Biomedical Education, City College of New York (New York); an MD degree from the Mount Sinai School of Medicine (New York), and a Master of Public Health degree in Epidemiology from the University of North Carolina (Chapel Hill, North Carolina). She trained in primary care internal medicine at New York University/Bellevue Hospital (New York). Dr. Kalet was awarded a Bowen-Brooks Fellowship by the New York Academy of Medicine to study medical education innovation in Israel and Holland and was a Fellow in Health Services Research in the Robert Wood Johnson Clinical Scholars Program at the University of North Carolina.
Dr. Kalet has been a member of the NYU School of Medicine faculty since 1991, serving as an instructor and assistant professor in clinical medicine and associate professor of medicine and surgery with tenure. She was promoted to her current role in 2012.
Since 2014, Dr. Kalet has served as Founding Scholar at the NYU School of Medicine's Institute for Innovation in Medical Education and advisor to the educator community. In 2015, she became co-director of the U.S. site of the University of Maastricht Masters in Health Professions Education.
Dr. Kalet has received numerous awards and honors throughout her career. This month, she will receive the Society for General Internal Medicine's Career Achievements in Medical Education Award, which recognizes an outstanding clinician-educator whose lifetime contributions have profoundly advanced, and have widespread impact on, the art and science of medicine and medical education.
Dr. Kalet will be relocating from New York. Her husband, Mark D. Schwartz, and children, Sara and Zachai Kalet-Schwartz, will be frequent visitors to the MCW community.
Dr. Kalet succeeds Cheryl A. Maurana, PhD, Senior Vice President for Strategic Academic Partnerships at MCW, who has served as Stephen and Shelagh Roell Endowed Chair, Professor and Founding Director of the Robert D. and Patricia E. Kern Institute for the Transformation of Medical Education since the institute's launch in June 2017. As Vice President for Strategic Academic Partnerships, Dr. Maurana will continue to develop new initiatives, including developing and expanding MCW's relationships with partner institutions.
Keep up with the latest news. Sign up for Newsroom Alerts.
Latest press releases, stories and resources.
MCW Media Contacts
The media relations team at MCW is happy to assist in coordinating experts for interviews. Please reach out to us at: