Medical College of Wisconsin Doctor & Professor Named Hastings Center Fellow
Milwaukee, Feb. 14, 2019 – Arthur R. Derse, MD, JD, director of the Center for Bioethics and Medical Humanities, Julia and David Uihlein Chair in Medical Humanities and professor of Bioethics and Emergency Medicine at the Medical College of Wisconsin (MCW), has been named a fellow of the Hastings Center. The Hastings Center is a nonpartisan, nonprofit bioethics research institution focused on addressing fundamental ethical and social issues within healthcare.

Fellows of this prestigious institution are individuals who have achieved outstanding work in promoting scholarship and public understanding of complex ethical issues in subject areas of health, healthcare, life sciences research, and the environment.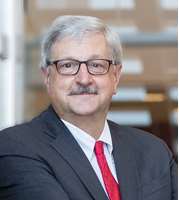 Dr. Derse is also a board member of the Association of Bioethics Program Directors and of the American Society for Law, Medicine and Ethics. In the past, he has served as president of the American Society for Bioethics and Humanities, and as chair of the National Ethics Committee of the Veterans Health Administration.

His research has focused on emergency medicine and ethics, law and bioethics, confidentiality, informed consent, end-of-life decision-making, and the doctor-patient relationship.
Keep up with the latest news. Sign up for Newsroom Alerts.
Latest press releases, stories and resources.
MCW Media Contacts
The media relations team at MCW is happy to assist in coordinating experts for interviews. Please reach out to us at: