The Medical College of Wisconsin (MCW) Cancer Center is Wisconsin's largest provider of cancer care and the only academic cancer research center in Eastern Wisconsin. Through multidisciplinary team science, state-of-the-art instrumentation, and research-driven care, we're taking on cancer's toughest challenges to uncover and translate the latest cancer discoveries into innovative treatments to provide patients with the highest quality cancer care.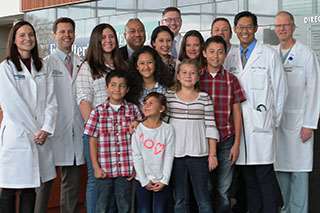 Cancer Clinical Trials
Our portfolio of more than 200 cancer clinical trials and community-driven interventions – the largest in the state of Wisconsin – brings promising new therapies to patients across our region.
Search All Cancer Clinical Trials
Community Outreach and Engagement
Cancer Center members actively engage the community to address barriers to cancer care and improve the health of our vibrant and diverse community.
learn more
Research Programs
Our members are organized into three synergistic programs that span and integrate the continuum of basic, clinical, population and community-based research.
learn more
Contact Us
Cancer Center
Froedtert & the Medical College of Wisconsin Clinical Cancer Center
9200 W. Wisconsin Ave.
Milwaukee, WI 53226
(414) 805-0505
(414) 805-8282 (fax)