Community Outreach and Engagement
Our goal is to reduce cancer incidence and mortality, particularly among underserved communities. We do this by measuring and understanding our area's cancer burdens, disparities and contributing factors and use this information to promote clinical, research and policy initiatives. Our researchers develop authentic community and healthcare partnerships to extend reach, drive decisions and assure that clinical, research and policy initiatives are truly driven by our community. 
Our Work 
MPS Students Use Art, Creativity to Address Cancer Disparities 
Cancer Center collaborates with MPS and students at Milwaukee High School of the Arts to use creativity to address cancer prevention and health disparities.
Learn More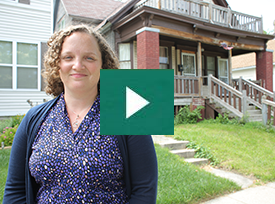 Cancer Health Geographer Paints Picture of Cancer Disparities
Dr. Kirsten Beyer, an MCW Cancer Center health geographer, paints a striking picture of cancer disparities in Milwaukee and Wisconsin, and informs multiple projects and interventions.
Learn More