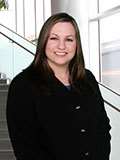 Rebeccah Manson, PhD
Assistant Professor
Locations
Medical College of Wisconsin
Department of Psychiatry and Behavioral Medicine
Education
BS, University of Notre Dame, Notre Dame, IN
MS, Counseling, Marquette University, Milwaukee, WI
PhD, Counseling Psychology, University of Notre Dame, IN
Residency: Iowa State University Student Counseling Center, Ames, IA
Fellowship: Roosevelt University Counseling Center, Chicago, IL
Biography
Dr. Manson completed her bachelor's degree in psychology at the University of Notre Dame, followed by a master's degree in counseling at Marquette University. She then completed a PhD in counseling psychology at the University of Notre Dame. During her doctoral training, Dr. Manson conducted research on the impact of cognitive processes on interpersonal functioning. She also collaborated on research investigating the impact of interpersonal processes on emotional and physical functioning of individuals with chronic pain. Dr. Manson completed a predoctoral internship at Iowa State University, followed by a postdoctoral fellowship at Roosevelt University. During that time, she received specialized training in supervision, clinical training, outreach, and consultation.

Dr. Manson provides psychological services including diagnostic evaluations, psychotherapy, and behavioral health interventions for patients participating with Froedtert's CARF-accredited Brain Injury, Stroke, and General Rehabilitation programs. She functions as part of an interdisciplinary rehabilitation team to promote patients' recovery, health, and quality of life after they have experienced significant injury or illness.


Research Interests
Dr. Manson conducts initial evaluations with patients who have been admitted to the inpatient rehabilitation program to identify pre-existing or concurrent mental health concerns. She then provides short-term psychotherapy and behavioral health interventions to address co-existing mental health concerns, substance use, adjustment to injury or illness, family or support system concerns, trauma reactions, pain, maladaptive coping, and other behavioral health issues.

Dr. Manson educates families on the impact of brain injury and stroke on patients' emotions and behavior, and guides staff and families in utilizing effective behavior management strategies. Dr. Manson also provides outpatient psychological treatment for patients participating in the outpatient Neuro Rehabilitation program at Froedtert Hospital. Throughout her work, Dr. Manson utilizes a strengths-based approach to identify and build upon what patients already do well.

In addition to direct patient care, Dr. Manson regularly provides consultation and education for the rehabilitation staff, building their capacity to more fully address patients' psychosocial needs. An interdisciplinary approach is used whenever possible to address patients' psychosocial concerns.