Prospective Students
Thank you for considering MCW for your graduate education. Our renowned faculty and supportive staff are here to guide you on every step of your journey to becoming a scientist, researcher or health leader.
MCW offers a wide range of program options – spanning biomedical sciences, translational science, and public and community health – to help you meet your career aspirations, whether you are just getting your start in the fields of health sciences, or you are seeking to advance in your current position. Our educational environment is focused on fostering collegiality and teamwork, providing access to the latest technology and equipment, and designed to provide you with a specialized learning opportunity.
We encourage you to take a closer look and get to know us. If you have any questions on how to begin your graduate education experience at MCW, we're here to help.
APPLY NOW
INQUIRE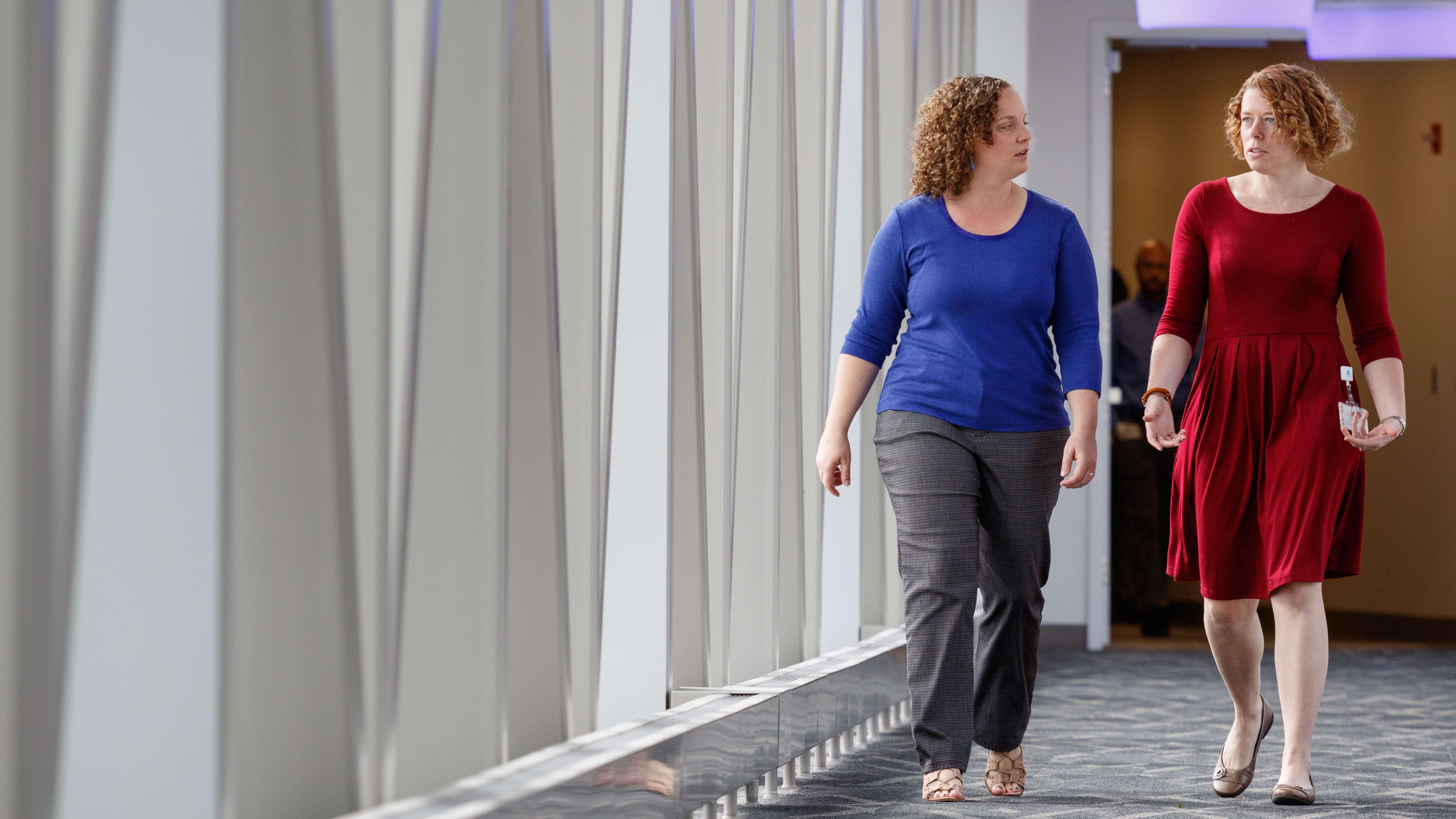 Information for Prospective Students
Degrees and Continuing Education
Degrees and Continuing Education
At MCW, we offer several graduate degree programs that are designed to provide you the unique opportunity to train with nationally-recognized biomedical, health and population researchers, while allowing you to contribute to cutting-edge research and improving public and community health.
LEARN MORE
Student Life
Student Life
MCW's Graduate School is located at MCW's Milwaukee campus, a top-ranked, nationally recognized center of biomedical innovation. As an MCW graduate student, you will be exposed to a rich and diverse community that is fueled by discovery and focused on health.
Our faculty members include some of the top research scientists and health sciences leaders from across the country, and MCW annually ranks in the top third of schools receiving National Institutes of Health (NIH) funding for research. That means you will be learning from and along side top caliber faculty, who are as focused on your success as they are on their areas of research. In fact, MCW offers a Career Center to assist you in planning and finding a rewarding career upon receiving your degree or certification.
If your field of study brings you to MCW, you will be immersed in a city that boasts something for everyone, including old-world charm, diverse culture, historic neighborhoods, professional sports teams, a vibrant performing arts community and excellent cuisine.
Competencies
Competencies
As a graduate student at MCW, you may expect to learn the following throughout your educational experience:
Biomedical knowledge and/or knowledge within your program area
Research skills – lab and project planning skills, the ability to read and understand published research
Critical and creative thinking – the ability to judge the soundness of information and results and use valid information to reach new insights within your field of study
Interpersonal and communication skills – class discussions, question and answer sessions, formulating and writing essays or other assignments, working in groups
Professionalism – respect in interacting with others, completing assignments on time, punctuality, professional behavior
Lifelong learning and improvement – learning skills development, commitment to continued independent learning
Interdisciplinary commitment – motivation and the skills to pursue a career involving multiple disciplines
Faculty Bios and Research
Faculty Bios and Research
MCW offers you the unique opportunity to earn your degree or certificate while training with nationally-recognized biomedical and health researchers and scientists. You'll receive mentoring and support from our premiere faculty – listed below by department. We invite you to review their areas of research focus and profiles, be inspired by their experience and success, and encourage you to begin or continue your educational journey here.
LEARN MORE
Graduate School Tuition & Fees
Annual Campus Safety Report
Statement to Prospective Faculty, Staff and Students:
The Medical College of Wisconsin (MCW) prepares and publishes its Annual Campus Safety Report in compliance with the Higher Education Act of 1965, otherwise known as the Jeanne Clery Disclosure of Campus Security Policy and Campus Crime Statistics Act (Clery Act). This report outlines MCW's security policies and discloses campus crime statistics for the three most recent calendar years.
This report is available to all current and prospective faculty, staff and students. An electronic version of the report can be accessed at this location. A paper copy of this report may be obtained by contacting Medical College of Wisconsin, Public Safety, 8701 Watertown Plank Rd., Milwaukee, WI 53226 or by calling (414) 955-8295.
Contact Us
MCW Graduate School
8701 Watertown Plank Rd.
Milwaukee, WI 53226