Pharmacy School at the Medical College of Wisconsin
Innovative Three-Year Doctor of Pharmacy Program
The MCW Pharmacy School will prepare you to become the pharmacist of the future, fulfilling the increasing demand for pharmacists capable of providing a broader range of patient care services. As one of the few pharmacy schools in the country offering a three-year Doctor of Pharmacy (PharmD) degree located on an academic medical center, MCW's Pharmacy School will provide you with the experience you need to be an innovator and an advocate for providing greater access to primary and preventative care for patients. You'll gain early and extensive exposure to a variety of clinical settings and world-class research across a range of specialties.
Now Accepting Applications for the 2024-2025 School Year
Apply on PharmCAS by June 3, 2024
The school year for the Class of 2027 begins on Monday, July 8, 2024
Apply Now
Announcing Our New Dual-Degree Partnership!


UW-Milwaukee
has a new dual-degree partnership with the MCW School of Pharmacy, allowing students to earn their bachelor's degree and PharmD in as little as 6 years!
Learn more about our Dual-Degree options
Our accelerated three-year Doctor of Pharmacy (PharmD) program provides students with early access to clinical experiences, hands-on training in advanced practice skills such as physical assessment and interprofessional education experiences with a variety of other healthcare professionals and students. You'll also experience a supportive learning environment with small class sizes and an encouraging faculty and staff dedicated to helping you achieve your career goals.
Learn more about our PharmD program
Take the first step toward your pharmacy education at MCW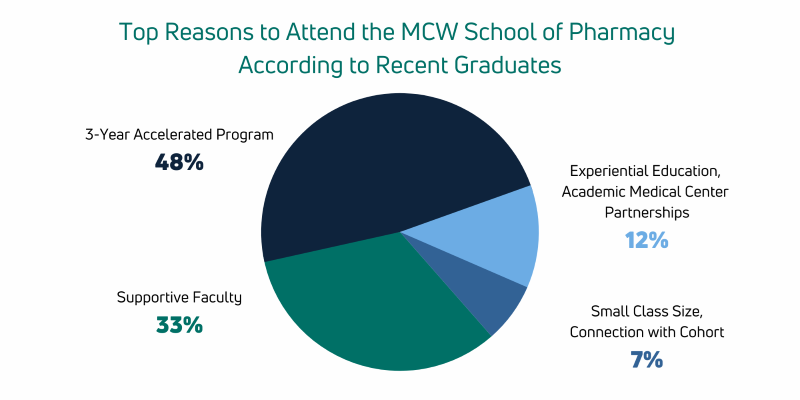 2023 Academic Year in Review
Highlights:
92% overall postgraduate training rate


MCW Pharmacy School students rank in top 10 during national clinical skills competition


380 flu immunizations administered by students and faculty


Students engage with community through health screenings and clinic for uninsured patients
Contact Us
MCW Pharmacy School
8701 Watertown Plank Rd.
Milwaukee, WI 53226
(414) 955-7476

Please note that due to the COVID-19 pandemic, our staff are primarily working remotely. For fastest response time, please email us at pharmacy@mcw.edu.