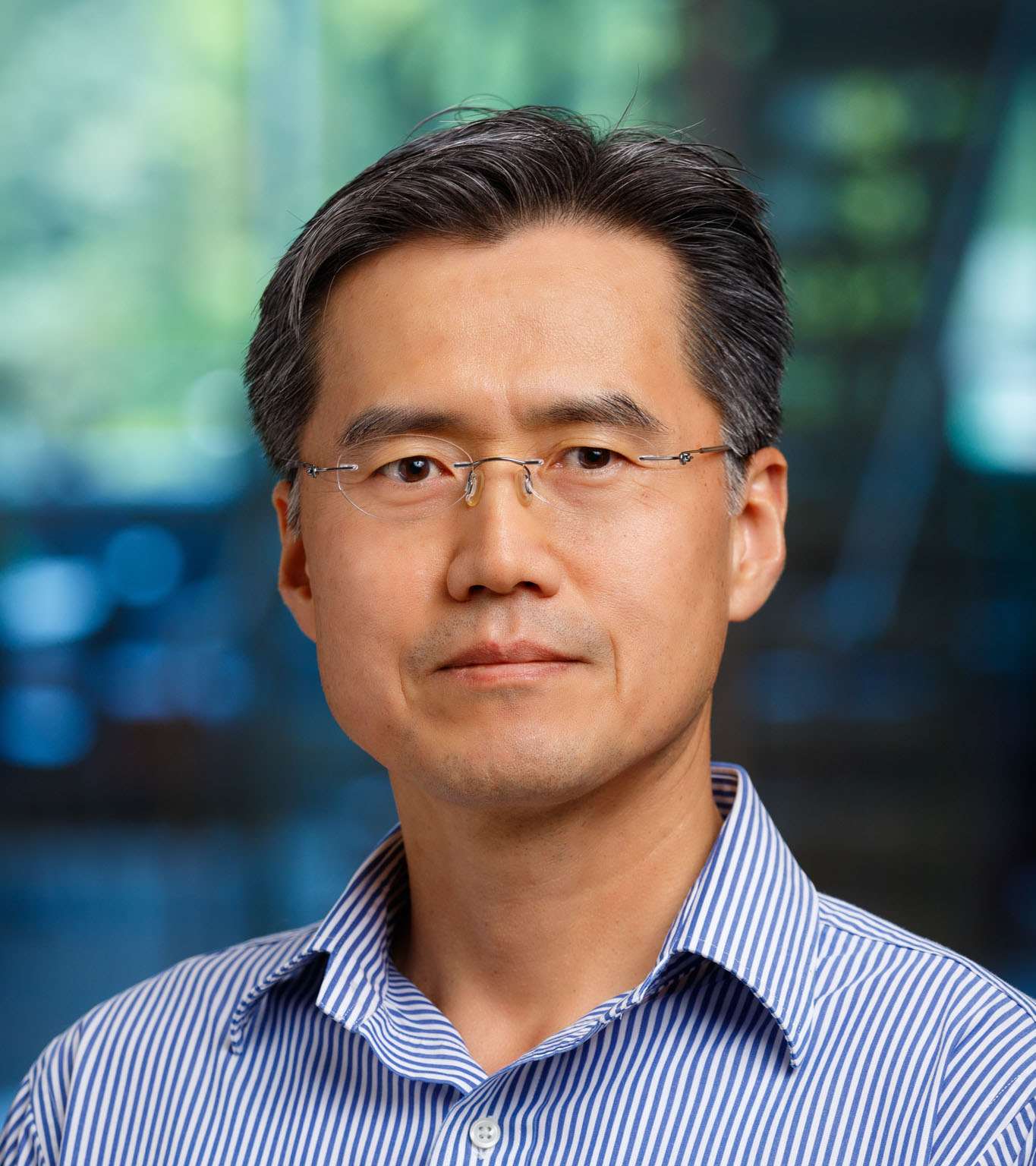 Jong-In Park, PhD
Professor
General Interests
Oncogenic Cell Signaling, Metabolic Reprogramming in Cancer, Precision Medicine, Therapy Resistance
Education
Postdoc, The Sidney Kimmel Comprehensive Cancer Center at Johns Hopkins University, 2005
PhD, University of New South Wales, Sydney, Australia, 2000
MA, Yonsei University, Seoul, Korea, 1990
BA, Yonsei University, Seoul, Korea, 1988
Biography
Dr. Park earned his Bachelor's and Master's degrees in Biochemistry and worked for the pharmaceutical branch of SAMSUNG, Inc until he decided to pursue an academic career. Dr. Park received his PhD degree in Biochemistry and Molecular Genetics for studies of Ras-regulated stress responses in yeast. He then conducted postdoctoral research on the role of the MAP kinase pathways for oncogenic Ras, Raf, and receptor tyrosine kinases in human cancer. Upon completing his training, Dr. Park joined the faculty of the Biochemistry Department at the Medical College of Wisconsin in 2006. Since then, Dr. Park has been studying oncogenic signaling and metabolic pathways in different tumors with the support from various funding agencies, including the NIH-National Cancer Institute, the American Cancer Society, and the Department of Defense.
In addition to basic science research, Dr. Park also conducts clinical cancer research. For example, since 2014, he has been participating in the NCI-MATCH Precision Medicine Cancer Trial as the Translational Chair of the Dabrafenib & Trametinib combination therapy arm, which targets BRAF-driven cancer. Dr. Park is a former recipient of the ACS Research Scholar award, the DOD New Investigator award, and the FAMRI Young Investigator award. At MCW, Dr. Park received multiple recognitions as Outstanding Medical Student Teacher and Outstanding Graduate Student Teacher.
Research Experience
Cell Cycle
Cell Death
Drug Resistance, Neoplasm
Gene Expression Regulation, Neoplastic
MAP Kinase Signaling System
Melanoma
Metabolism
Mitochondria
Molecular Chaperones
Pancreatic Neoplasms
Precision Medicine
Thyroid Neoplasms
Research Interests
Oncogenic transformation requires reprogramming in signaling and metabolism, which inevitably causes cellular stress that places pressure on transforming cells to develop stress tolerance mechanisms. As such, malignant tumors might have successfully developed a protective mechanism and, if identified, this mechanism may be targeted for therapy. An important goal of Park lab research is to elucidate the molecular mechanisms underlying these events and to translate the knowledge into an advanced therapeutic strategy.

Dr. Park's research projects include:

Studying the role of mortalin in MEK/ERK-activated tumor cells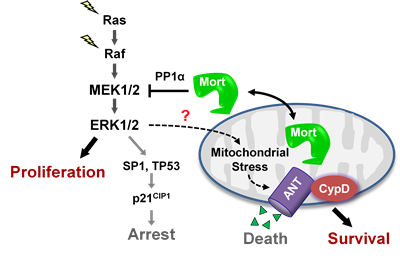 The MEK/ERK pathway is a key effector of the oncogenic BRAF, KRAS, and receptor tyrosine kinases, and its deregulation is a central signature of many epithelial cancers. We recently demonstrated that MEK/ERK deregulation puts cells at risk of mitochondrial cell death, but that mortalin, a mitochondrial chaperone, can counteract this risk. Briefly, mortalin can determine the live/die decision in MEK/ERK-dependent tumor cells by regulating a mitochondrial death machinery that consists of ANT, a mitochondrial channel that controls bioenergetic homeostasis, and CypD, a chaperone that functions as the gatekeeper of the mitochondrial permeability transition pore (view article PMID: 32156782; view article PMID: 32291414). Current studies in Park lab focus on elucidating the nature of mitochondrial stress associated with overactive MEK/ERK signaling in tumor cells and on identifying the molecular mechanisms by which mortalin protects tumor cells from this stress.
Targeting mitochondrial metabolism in RET-mutant cancers
Somatic as well as inherited mutations in the RET receptor tyrosine kinase are a key etiological factor in cancers, including thyroid cancer. For example, inherited RET mutations are an important prognostic marker for the multiple endocrine neoplasia type 2 (MEN2) syndrome, in which medullary thyroid cancer is a key pathological presentation. As a member of the American Cancer Society MEN2 consortium, we recently demonstrated that mitochondrial bioenergetics is affected by RET inhibition in medullary thyroid tumor cells and that the mitochondrial activity altered upon RET inhibition can be exploited for the design of a combination therapy with mitochondria targeted agents (view article PMID: 28475408). Our current research focuses on further developing this concept in different tumors.
Participating in the NCI-MATCH Precision Medicine Cancer Trial
This clinical trial is a "genotype to phenotype" phase II study. An important goal of this study is to identify the features of various tumor types with the same mutation that cause them to either respond to or resist treatment with a targeted therapy (view article PMID: 32758030). Find more information at the National Cancer Institute.