Dr. Roger Daley, Longtime Faculty Member, Passed Away June 12, 2021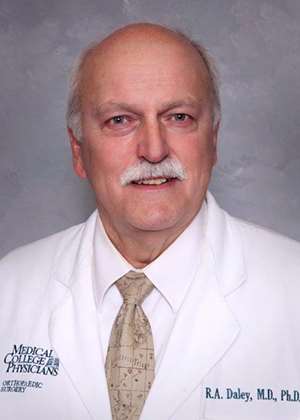 The Department of Orthopaedic surgery mourns the loss of Dr. Roger Daley, long-time Hand and Upper Extremity Division Director and cherished mentor and friend to so many of us.
Dr. Roger Daley joined the Orthopaedic Department at the Medical College of Wisconsin in 1992 after completing his fellowship in hand, upper extremity, and microvascular surgery at Rhode Island Hospital. Shortly after joining the department, he became an invaluable member of the Hand and Upper Extremity Division, assuming not only the role of Division Director but also being named co-director of our Hand Surgery Fellowship Program in 2002. Over the years, he was involved in various Medical College and Froedtert Hospital Committees. From 1996 to 2003, Roger served as Chief of Orthopaedic Surgery at the Zablocki VA Medical Center and was the Medical Director of the Department's Microsurgery Laboratory from 1996 to 2013. In 2013, he was given an adjunct appointment as Professor in Plastics Surgery and was awarded full adjunct Professorship in the Biomedical Engineering Program and a Professorship in the Orthopaedic and Rehabilitation Engineering Center at Marquette University.
Dr. Daley earned several research grants over the years and was well-published in numerous peer-reviewed and nonpeer-reviewed publications. He presented his research on many occasions locally, nationally, and internationally and was a very active contributor on several continuing medical education platforms.
Dr. Daley's commitment to the continuing growth of the Hand and Upper Extremity Program and the education and training of our medical students, residents, and fellows is evidenced by the number of initiatives he developed or was involved in over the years. He fulfilled his dream of establishing a comprehensive hand and upper extremity fellowship, which flourished under his guidance and leadership. He envisioned partnering with our community colleagues, Dr. Rick Papandrea and Dr. Dean Ziegler, and was fortunate to recruit Dr. Steven Grindel to create a truly unique experience. Dr. Daley's passion inspired a talented new generation of orthopaedic surgeons to follow in his footsteps. We have been lucky to recruit three exceptional junior hand and upper extremity faculty, Dr. Cameron Best, Dr. Anthony LoGiudice, and Dr. Jessica Hanley, all of whom received training under Roger's tutelage and continue his legacy. Dr. Daley retired from his clinical practice in 2020 but continued supporting the department's educational and research efforts.
Dr. Daley was known and loved not only for his wit and wisdom, but for his genuine interest and affection for the people in his life – colleagues, patients, students, and of course, his family. These things made Dr. Daley an outstanding physician, educator, and friend and are qualities that have inspired countless learners throughout his career. He has left a deep and lasting imprint on our Department and on the field we all love.
Dr. Daley passed away on Saturday, June 12, 2021. Our thoughts and prayers are with his family. Donations may be made to:
The Roger A. Daley Hand and Upper Extremity Surgical Education Fund
Medical College of Wisconsin
Attn: Office of Institutional Advancement
P.O. Box 26509
Milwaukee, WI 53226-0509