Meet the Medical College of Wisconsin Quantitative Health Sciences Team
Ke Yan, PhD
Associate Professor and Interim Section Chief
Fun Fact: Enjoy playing puzzle games. Love watching sports games, a big fan of soccer World Cup.
Amy Pan, PhD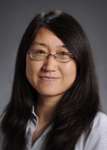 Associate Professor and Associate Director
Fun Fact: A tennis fan and enjoy playing tennis for fun.
Melodee Nugent Liegl, MA
Program Manager/Senior Biostatistician
Fun Fact: I have been a swimmer for many years and love marathon swimming and open water races, especially in the tropics.
Mahua Dasgupta, MS
Senior Biostatistician
Fun fact: Enjoys handicrafts and painting
Jody Barbeau, BS
Database Administrator
Fun fact: I'm interested in pollinator gardening and growing native plants from seed.
Liyun Zhang, MS
Senior Biostatistician
Fun fact: Love cats and interested in all kinds of supernatural phenomena.
Jian Zhang, PhD
Senior Biostatistician
Fun fact: I enjoy cooking Chinese dishes, and in the summer, I like grilling meat and vegetables.
Sai Alekha Challa, MPH
Biostatistician
Fun fact: Enjoys visiting National Parks and doing Sudoku.
Cindy Feltz
Senior Administrative Assistant
Fun fact: Amateur genealogist and enjoys backpacking/back country camping.
Pippa M. Simpson, PhD
Professor Emeritus
MCW Physician Profile
Fun Fact: I had an ex-police motorcycle when I was young and foolish.
Joint Faculty Member
Chien-Wei (Masaki) Lin, PhD
Assistant Professor
Biostatistics