Melanie A. Clark, MD
Assistant Professor
Location
Mohs Surgery Clinic, Froedtert Bluemound Clinics
601 N. 99th St.
Wauwatosa, WI 53226
Mohs Surgery Clinic
My goal for each patient I see is to provide comprehensive evaluation and treatment with a personalized care plan to fit the unique needs of each individual. I believe in involving my patients in discussions about treatment options so they may be active participants in their care plan.
Overview
Diseases and Conditions
Melanoma
Skin Cancers
Basal Cell Carcinoma
Atypical Fibroxanthoma
Sebaceous Carcinoma
Dermatofibrosarcoma Protuberans (DFSP)
Squamous Cell Carcinoma
Mucinous Carcinoma
Treatments and Services
Dermatologic Surgery
Melanoma Surgery
Mohs Micrographic Surgery
Photodynamic Therapy
Nail Surgery
Skin Growth Removal
Virtual Visit
Board Certifications
Dermatology
Micrographic Dermatologic Surgery
Clinic Locations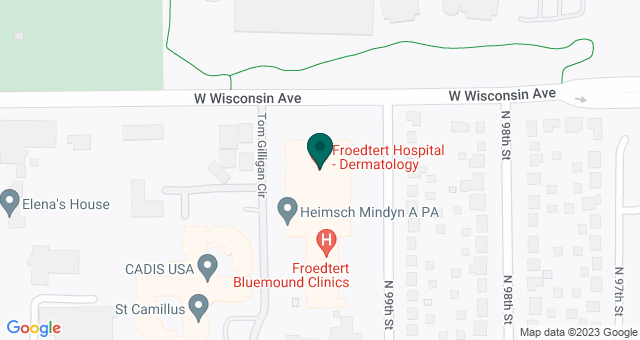 Biography
Dr. Melanie A. Clark is a board-certified dermatologist and Mohs surgeon. She has training and expertise in the comprehensive care of skin cancer patients with an emphasis on surgical treatment and reconstruction. Dr. Clark is trained to treat both common and rare cutaneous malignancies and has an interest in treating complex high-risk skin cancers in immunosuppressed patients. She treats patients with melanoma, non-melanoma skin cancer, benign neoplasms of the skin, and nail disease requiring nail surgery.
Dr. Clark graduated summa cum laude from the University of Illinois at Urbana Champaign with a degree in molecular and cellular biology. She received her medical degree from the University of Chicago Pritzker School of Medicine, graduating with Alpha Omega Alpha honors. Dr. Clark completed her dermatology residency at Northwestern University McGaw Medical Center in Chicago, IL where she served as chief resident in her final year of training. Dr. Clark completed her fellowship in Mohs Micrographic Surgery and Dermatologic Oncology at the Cleveland Clinic in Cleveland, OH.
Dr. Clark has authored numerous publications and is actively involved in several professional societies within the field of dermatology and dermatologic surgery.
Education and Training
Doctor of Medicine - University of Chicago, Pritzker School of Medicine - Chicago, IL (2012)
Fellowship in Mohs Micrographic Surgery and Dermatologic Oncology - Cleveland Clinic - Cleveland, OH (2016-2017)
Residency in Dermatology - Northwestern University-McGaw Medical Center - Chicago, IL (2013-2016)