Michael Deininger, MD, PhD
Professor of Medicine
Location
Cancer Center - Froedtert Hospital
8800 West Doyne Ave.
Milwaukee, WI 53226
Cancer Center - Froedtert Hospital
I am a physician-scientist with more than 30 years of clinical experience in hematology, specifically myeloid leukemia and myeloproliferative neoplasms. I believe that working with cancer patients of all trades of life and being invited to join them on their often difficult journeys is an incredible privilege. I am committed to compassionate, holistic care that takes into account each patient's specific situation, disease characteristics, and personal preferences. I take the time to explain what I am suggesting, and why I am suggesting is, and involve my patients in decision-making, My approach is data-driven, based on scientific evidence, and always consult colleagues in difficult, ambiguous situations. I believe that, above all ,my patients are my fellow human beings.
Overview
Diseases and Conditions
Myelodysplastic Syndromes (MDS)
Chronic Myeloid Leukemia (CML)
Myeloproliferative Neoplasms (MPNs)
Chronic Myelomonocytic Leukemia (CMML)
Systemic Mastocytosis (SM)
Myelofibrosis
Essential Thrombocythemia (ET)
Polycythemia Vera (PV)
Atypical Chronic Myeloid Leukemia (aCML)
Chronic Neutrophilic Leukemia (CNL)
Hospital Affiliations
Froedtert Hospital – Milwaukee
Clinic Locations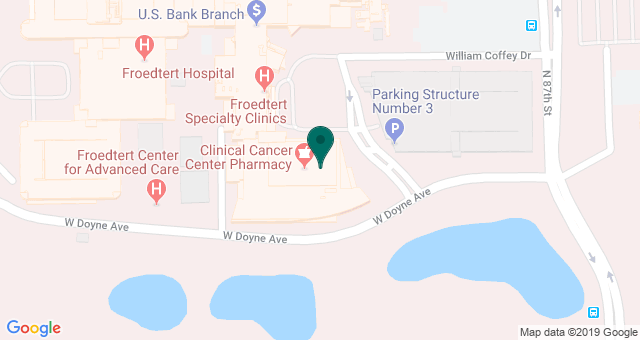 Biography
Dr. Deininger received his MD from the University of Würzburg Medical School, Germany and his PhD from Imperial College, London. His thesis work focused on signal transduction and the potential use of imatinib (Gleevec) as molecularly targeted therapy for chronic myeloid leukemia (CML), and contributed to the approval of imatinib for the treatment of CML. In 2002 he was recruited to the Division of Hematology and Medical Oncology at Oregon Health & Science University (OHSU). In 2007 he became the Head of the Hematologic Malignancies Section at OHSU. From 2010-2011 Dr. Deininger served as Chief of Hematology at the University of Utah, Senior Director for Transdisciplinary Research at Huntsman Cancer Institute, and Director of the Center of Excellence in Hematology and Hematologic Malignancies. In 2021 he became the Director of the Versiti Blood Research Institute, Executive VP for Research and a Professor of Medicine at the Medical College of Wisconsin. Throughout his career, Dr. Deininger lead a laboratory researching leukemia and oversaw clinical trials, while he maintained a clinical practice.
Education and Training
Doctor of Medicine - University of Würzburg Medical School - Würzburg (1990)
Internship in General Medicine - Marienhospital - Aachen, Northrhine-Westfalia (1990-1992)
Residency in Hematology and Oncology - Klinikum Nuernberg Nord, University of Erlangen/Nuernberg - Nuernberg, Bavaria (1992-1995)
Fellowship - PhD in Leukemia Biology - Imperial College London - London (1995-1999)
Fellowship in Hematology - Bone Marrow Transplantation (1999-2002)