Julia Marian Kasprzak, MD
Associate Professor
Location
Mohs Surgery Clinic, Froedtert Bluemound Clinics
601 N. 99th St.
Wauwatosa, WI 53226
Mohs Surgery Clinic
Patient interaction and patient care are the favorite parts of my practice. Each patient is unique with a need for a personalized care plan. I value that my patients have an active role in providing input into their care plan. Therefore, I spend a good deal of time in the discussion of risks and benefits of various treatment options for their skin cancer, including the role of multidisciplinary care if needed. Patient comfort is paramount in the Skin Cancer Center, and our team works hard to make sure each patient has exemplary care.
Overview
Diseases and Conditions
Melanoma
Skin Cancers
Atypical Fibroxanthoma
Sebaceous Carcinoma
Dermatofibrosarcoma Protuberans (DFSP)
Treatments and Services
Dermatologic Surgery
Mohs Micrographic Surgery
Surgical Management of Early Melanoma and Lentigo Maligna
Photodynamic Therapy
Virtual Visit
Board Certifications
Dermatology
Micrographic Dermatologic Surgery
Clinic Locations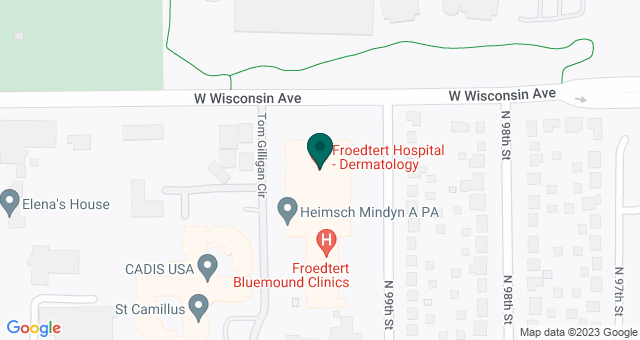 Biography
I was born and raised in the Milwaukee area. I was inspired to become a physician through my volunteer work with underserved patients in the United States and abroad. In addition to working in the Skin Cancer Center, volunteer work and medical education is important to me. I regularly participate in a medical trip to Nicaragua with medical students from MCW to provide dermatologic and general medical care to those with limited access in the country.
Education and Training
Doctor of Medicine - University of Wisconsin-Madison, School of Medicine and Public Health - Madison, WI (2009)
Transitional Year - Marshfield Clinic-St Joseph's Hospital - Marshfield, WI (2009-2010)
Residency in Dermatology - John H. Stroger Jr., Hospital of Cook County - Chicago, IL (2010-2013)
Fellowship in Mohs Micrographic Surgery and Cutaneous Oncology - University of Wisconsin Hospitals and Clinics - Madison, WI (2013-2014)