50 Years in Academic Medicine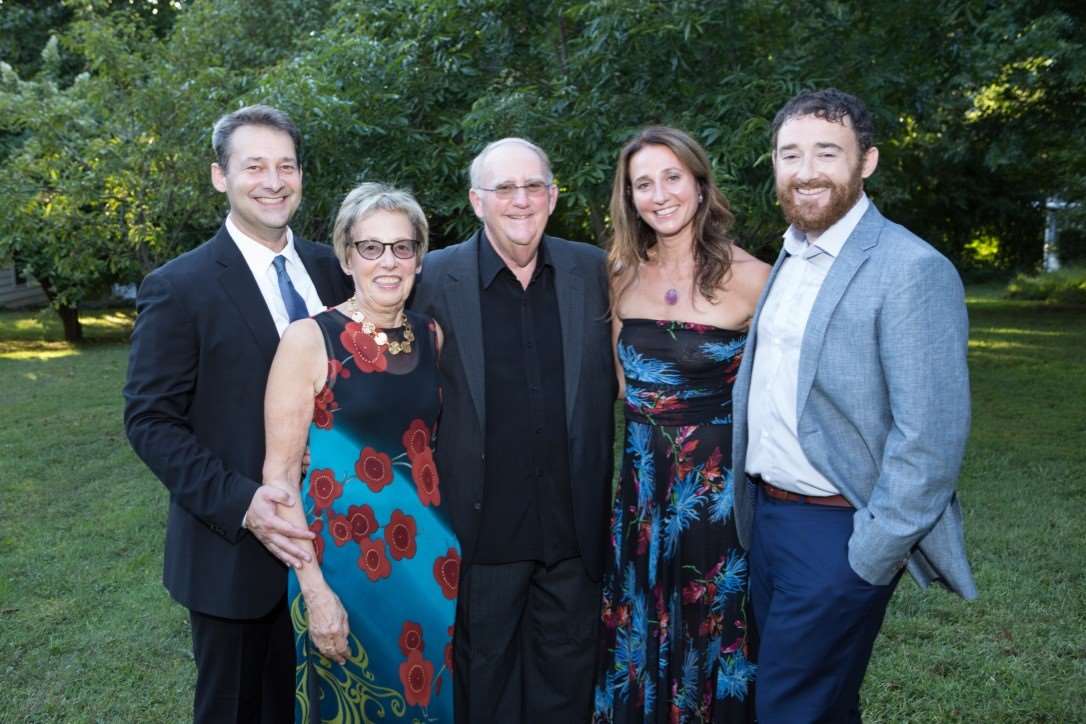 Dr. Steven Shelov (center) with his wife, Marsha, and (l-r) children Josh, Danielle and Eric, 2020.
Steven Shelov, MD '71, MS, has experienced the best of both worlds in his 50-year career in academic medicine: advancing the health of children and families as a pediatrician, and excelling as a well-respected leader in medical education.
Currently, Dr. Shelov is founding dean and chief academic officer of the NYU Long Island School of Medicine and professor of pediatrics. He has authored more than 15 books and 100 articles and abstracts, and has received numerous academic awards in medical education and leadership from prominent academic organizations.
Dr. Shelov was born in 1944 in Hawaii, where his mother was a lieutenant in the nursing corps and his father was a civilian architect for the US Navy. In 1945, the family resettled in New York City, where Dr. Shelov remained until he matriculated at Yale. His path to MCW (then known as the Marquette University School of Medicine) was a bit unusual, as he was accepted during the interview process in May, shortly before classes started.
Dr. Shelov attributes his opportunity to attend MCW's predecessor institution to then-dean Gerald Kerrigan, MD, who, as a graduate of Harvard, was determined to spread the reputation of the medical school outside the Wisconsin area – especially to the Ivy League schools. "A very good friend of mine from Yale, John Amatruda, MD '70, had matriculated at Marquette the year before – and he brought me to the attention of the registrar," Dr. Shelov says.
"I had never been to Milwaukee, but I had a wonderful experience there in medical school. I put my nose to the grindstone throughout medical school, resulting in my membership in the Alpha Omega Alpha Honor Medical Society. I got married the summer after my first year, was determined to excel and worked very hard. I also was very lucky. In my third year of medical school, I fell in love with pediatrics while working at the Milwaukee Children's Hospital. The medical school faculty, especially Drs. Harold and June Dobbs and Dr. Frederick Blodgett, were great, and I loved working with the kids," Dr. Shelov shares.
Dr. Shelov's pediatric residency at Montefiore Medical Center in New York was quite innovative at that time. A community-based experience known as the "residency program in social medicine," it focused on training young pediatricians and internists in a community setting; it still exists today serving communities in need. Charles Gessert, MD '71, trained alongside Dr. Shelov.
After completing his residency, Dr. Shelov began what would become a flourishing career in academic medicine. He served as vice chair and professor of pediatrics at Albert Einstein College of Medicine; chair of pediatrics at Maimonides Medical Center; vice president at Lutheran Medical Center (now NYU Brooklyn Medical Center); chair of pediatrics at Cohen Children's Medical Center at Northwell Health; and associate dean for undergraduate medical education at Winthrop University Hospital (now NYU Langone Hospitals-Long Island).
In his current position at NYU Long Island School of Medicine, Dr. Shelov leads a tuition-free institution that encourages medical students to train as primary care physicians. "I thought this was a great opportunity to solidify everything I'd been doing in medical education and patient care, and have an impact on educating a workforce that would be both diverse and dedicated to primary care," he remarks.
Dr. Shelov has maintained a strong relationship with MCW and was recognized as Alumnus of the Year at his 25th Class Reunion. He also was a committee leader for the MCW Class of 1971 50th Reunion Committee.
Dr. Shelov and his wife, Marsha, have three children and seven grandchildren, and live in Scarsdale, New York.
– Sara L. Wilkins