A Career in Cardiothoracic Surgery that Began with Wisconsin's First Heart Transplant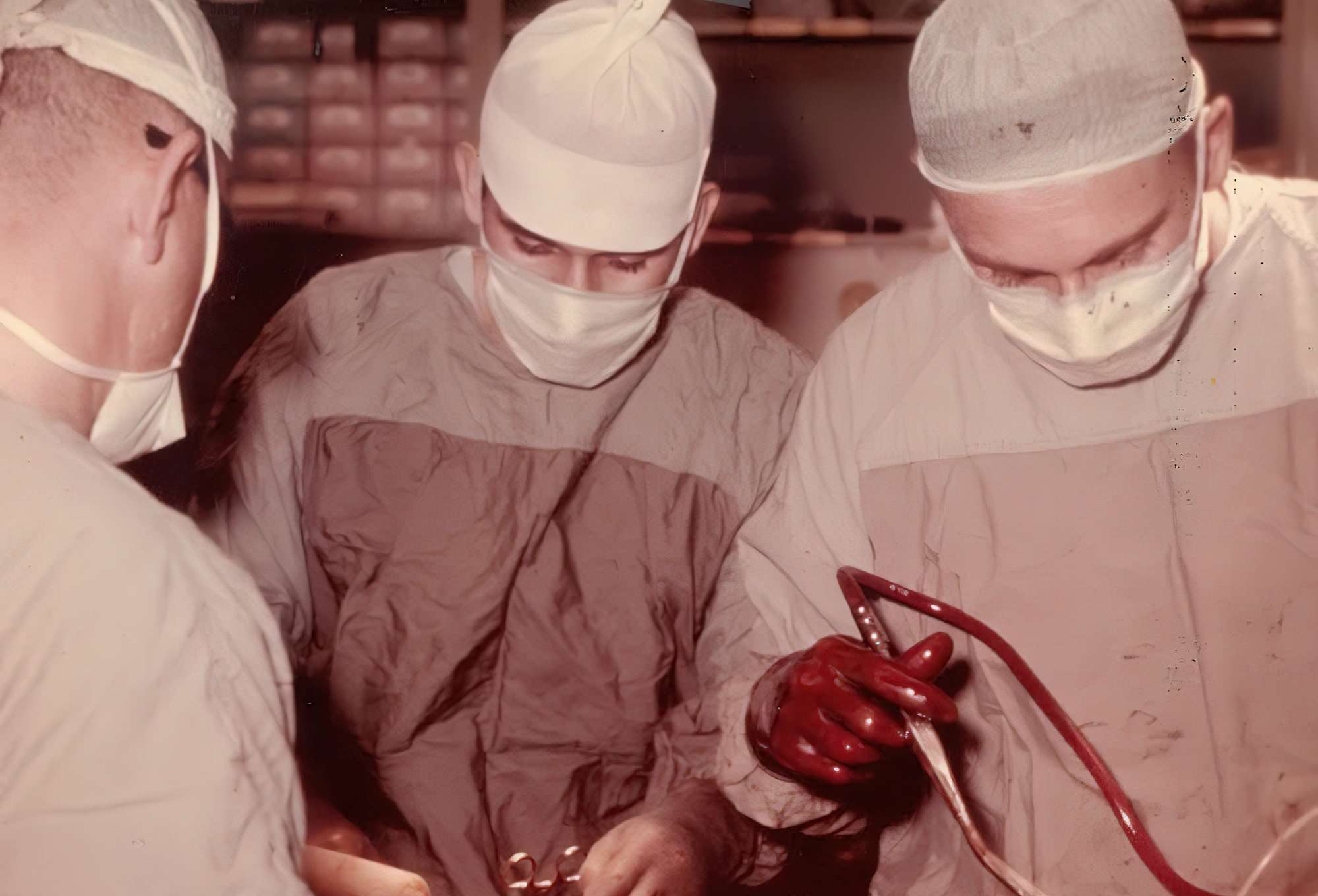 (l-r) Drs. Ramstedt, Stephenson and Romer were part of the team performing Wisconsin's first heart transplant procedure at St. Luke's Hospital on October 21, 1968. The heart transplant recipient lived eight years post-transplant.
Larry W. Stephenson, MD '70, an internationally honored cardiothoracic surgeon, says his decision to become a heart surgeon was influenced by two medical school faculty mentors, W. Dudley Johnson, MD, and Derward Lepley, Jr., MD '49.
As a third-year medical student at the Marquette School of Medicine (MCW's predecessor) in 1968, he was the first to report on Dr. Johnson's groundbreaking success in which he bypassed a patient's right coronary artery using a vein taken from the patient's leg. The achievement, published in the Marquette Medical Review, led to improved patient outcomes worldwide. He also edited the journal's last issue, although it was never printed. Unbeknownst to the medical students, the medical school was on the brink of bankruptcy in 1969 – a catastrophe that was averted through a successful emergency fundraising campaign.
Dr. Lepley, professor of cardiothoracic surgery, recognized Stephenson's potential as a heart surgeon and invited him to be part of the surgical team that performed Wisconsin's first heart transplant operation on October 21, 1968, at Milwaukee's St. Luke's Hospital.
"Dr. Lepley was the chief surgeon, and Dr. Johnson assisted him," Dr. Stephenson recalls. "Two Marquette surgical residents were second and third assistants [James Romer, MD '64, GME '73, FEL '73, and Ronald Ramstedt, MD, GME '69]. Dr. Lepley asked me to be the fourth assistant. I got to sew up the groin where the heart/lung machine cannula were – which was pretty thrilling."
Dr. Stephenson served an internship, residency and cardiothoracic research fellowship at the University of Alabama in Birmingham. That was followed by a cardiothoracic surgery residency and faculty appointment at the University of Pennsylvania, where he served at the Hospital of the University of Pennsylvania (HUP) and Children's Hospital of Philadelphia. Dr. Stephenson also established HUP's Level One Trauma Center, served as its first director and was named the J. William White Professor of Surgical Research.
In 1989, Dr. Stephenson joined the Wayne State University School of Medicine as professor and chief of the division of cardiothoracic surgery. He also was chief of cardiothoracic surgery at Harper University Hospital and specialist-in-chief at Detroit Medical Center and its affiliated hospitals – positions he held for 22 years. He was invested as the Ford-Webber Chair in Surgery at Wayne State in 1995.
Throughout the course of his career, Dr. Stephenson performed an estimated 6,000 surgeries. In addition to teaching and patient care, Dr. Stephenson focused his research on the use of ventricular assist devices and on the replacement of damaged heart muscle with muscles from other parts of the body.
Dr. Stephenson authored or co-authored 13 books, 48 book chapters and more than 300 articles on medicine, science and general history. He is considered one of the world's preeminent scholars on the history of cardiothoracic surgery.
In 2016, he was asked to write a comprehensive history of the Wayne State University School of Medicine for its 150th anniversary in 2019. Dr. Stephenson was named as the medical school's historian, a position he continues to hold today.
In 2000, Dr. Stephenson was one of 50 surgeons worldwide to be honored in Paris for their pioneering work in heart surgery. In 2009, he was elected to membership in the surgical branch of the Russian Academy of Medical Sciences as an Honored Professor.
Returning to MCW to celebrate his 50th class reunion, Dr. Stephenson said, "It's unbelievable how much the medical school has grown. It's a top notch institution."
– Richard N. Katschke