Cool Under Pressure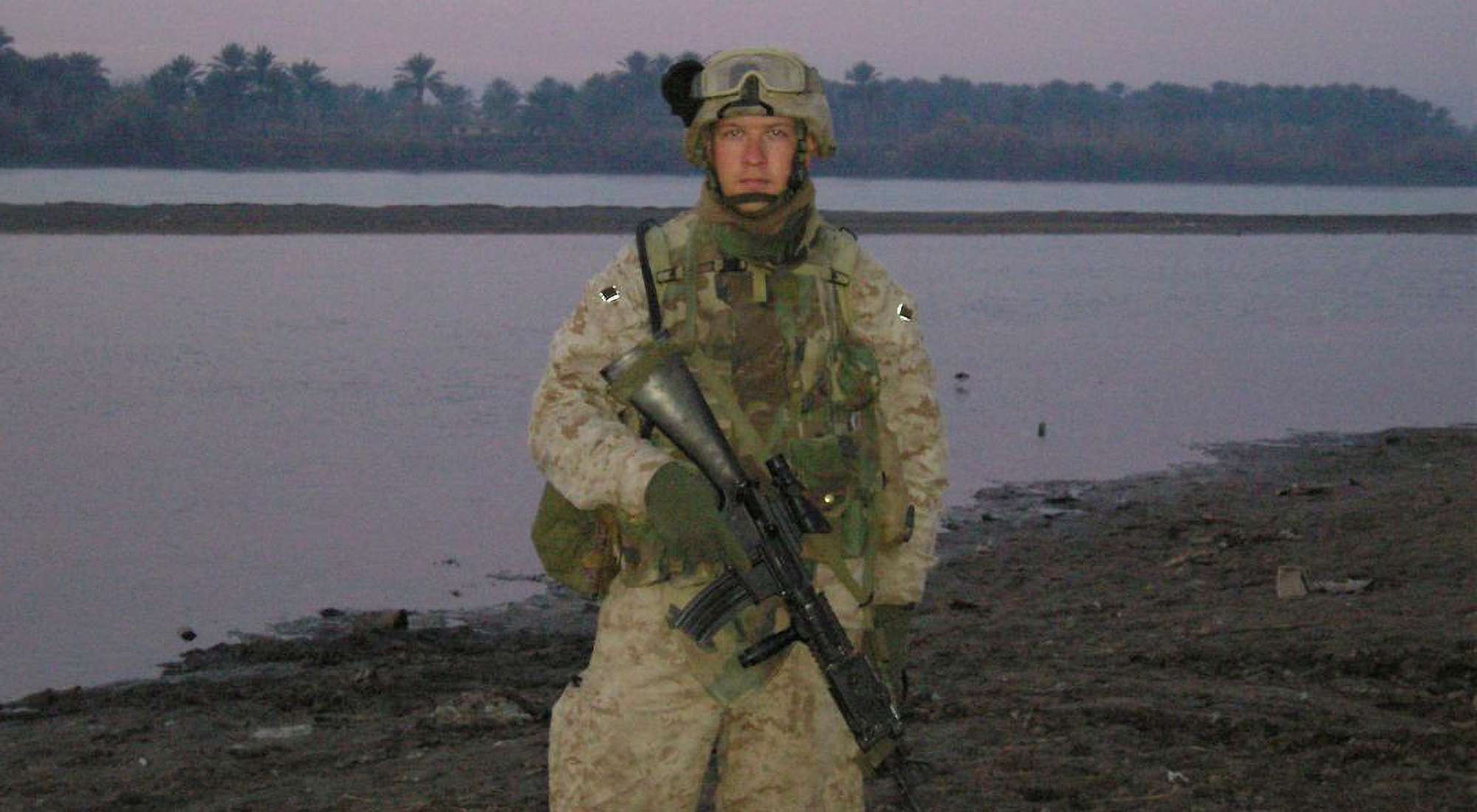 Whether on the battlefield or in the emergency room, Marine veteran Matt Laudon, MD, assistant professor of emergency medicine at the Medical College of Wisconsin and an emergency department physician at Froedtert Hospital, knows how to stay calm when lives are on the line.
"I'm going to fall back on my training and not get overly stressed where you can't think right," Dr. Laudon says. "In a situation where it's life or death, you need to do the right thing at the right time."
For Dr. Laudon, the right time to serve his country came when he enrolled in the United States Marine Corps just three days after graduating from the University of Wisconsin-Milwaukee with a bachelor's degree.
"I was done with lecture halls and things like that and just wanted to do something different," he says.
Doing something different involved three months of boot camp followed by infantry training at California's Camp Pendleton. It also meant that he would defer his dream of being a doctor, a goal he had set when he was 10 years old.

Military life, Dr. Laudon shares, was a culture shock, but a path he needed to take. After completing his training, he returned to Wisconsin and began his duties with a reserve unit based in Milwaukee. Six months later, he got the call.
"We were getting deployed to Iraq," he recalls.
Serving in Iraq presented many challenges, according to Dr. Laudon, who conducted security operations while other troops were doing tasks on the ground. It was during one of those operations that a tragic experience helped steer him back toward his original goal of practicing medicine.
"We were getting mortared, and I looked down by the market and saw this kid get hit by a mortar," he shares.
Dr. Laudon and other Marines rushed in a Humvee to pick up the boy, who was about 13 or 14 years old, and stabilize his chest wound.
"Going back with him, I decided I was going to medical school when I got back home," Dr. Laudon notes.
He returned stateside from Iraq in April 2005 and followed through on his decision, studying for the Medical College Admission Test, or MCAT, and applying for different schools, including MCW. He received an acceptance letter from MCW in December 2006 and was to start school the next year. But military officials had other plans for him, and he was redeployed to Iraq for another tour.
Thankfully, he says, MCW held his spot so he could begin studies in 2009. He stayed in Milwaukee for residency, and now Dr. Laudon leads a team in the Froedtert Hospital emergency department, where he still thrives in tense situations by pulling from his military background.
"You don't know what's going to walk in the door and how sick a patient might be," he says. "I can't see myself in any other specialty."
He also provides guidance to others on how to treat the military population, which comprises a significant and challenging segment of the patients that physicians treat.
"The veteran population is unique. They have the same comorbidities and poverty issues as people we see at Froedtert, but a higher proportion of mental health and a higher proportion of homelessness," Dr. Laudon explains.
Dr. Laudon says he talks to veterans differently than he does other patients and that his military background often helps him interact with them. He also says that there are misconceptions about veterans, including that post-traumatic stress disease makes them violent.
Dr. Laudon thinks the important thing to consider when treating veterans is to understand that military life has changed them and that many have experienced life-altering and traumatic experiences.
"You come out on the end with a very different viewpoint on life," he shares. "It's important to appreciate the veteran population and what they've done for us, and just continue the mission to provide good quality care for them."