Dr. Nathaniel M. Robinson Rose Above Racial Bias to Amass a Lifetime of Good Deeds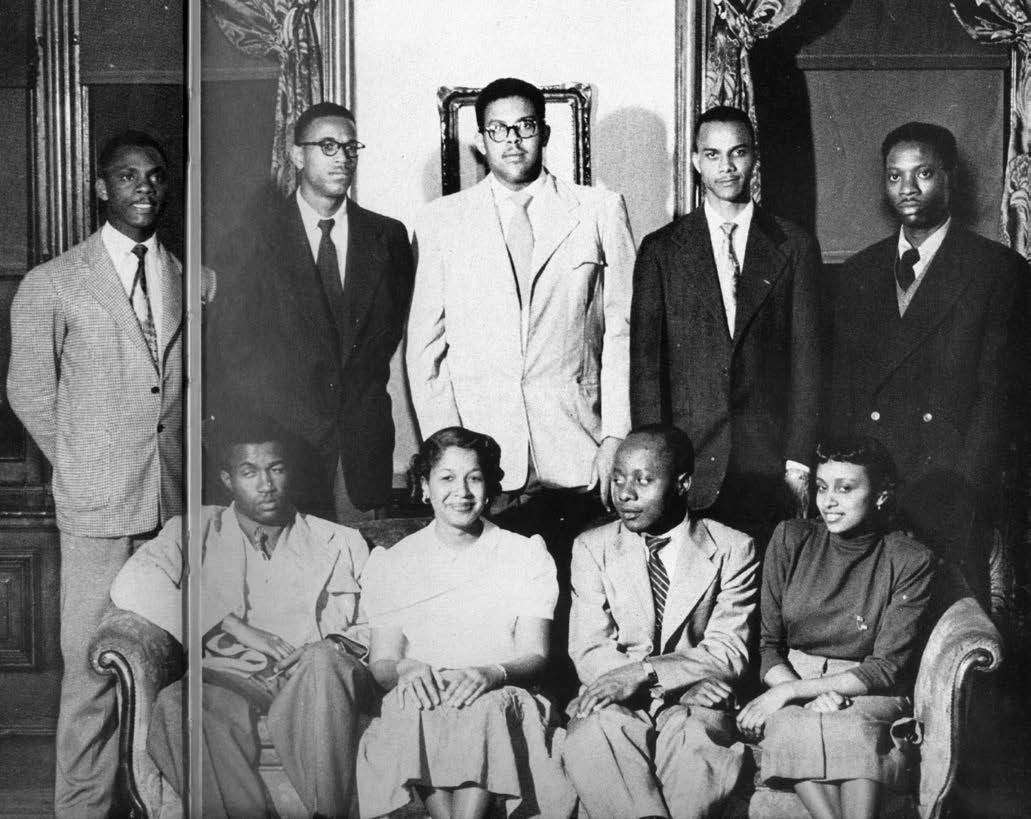 Dr. Nathaniel Robinson (top row, far right) with members of the Fisk University Student Council (1949-50).
"Do all the good you can, by all the ways you can, in all the places you can, at all the times you can, to all the people you can, as long as you ever can." — John Wesley's Rule
The words of this 18th-century clergyman and theologian represent much more than a favorite quote of the late Nathaniel M. Robinson, MD '54, the first African-American graduate of the Marquette University School of Medicine (MCW's predecessor). They embody Dr. Robinson's abundant kindness, medical care and philanthropy.
The endowed MCW diversity scholarship fund that bears his name – established in 2010 and bolstered by a recent gift from his estate – is one of the innumerable ways Dr. Robinson endeavored to better the world around him. He did so while rising above racism, yet he remained a humble man.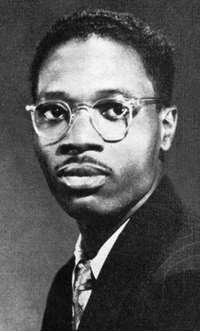 "When he established scholarships at his alma maters and the schools invited him to be recognized in person, he would not go," recalls longtime friend Randall Jefferson, whose mother, Jacqueline, worked for Dr. Robinson. "They had to send the awards to him, and he never took them out of the boxes to display. He felt he was just doing what he was supposed to do, which was helping people."
Born in 1925 in St. Matthews, South Carolina, Dr. Robinson once picked cotton in the fields of a racially oppressed area of the South. Upon graduating from high school in 1943, he enlisted in the US Army and served in World War II, receiving multiple decorations. He went on to graduate magna cum laude from Fisk University in Nashville, Tennessee, where he was inspired to pursue medicine.
Instead of attending one of the leading institutions training African-American physicians, he opted for the unexpected challenge of making history at Marquette. Unfortunately, he had to abruptly seek residence at the YMCA in Milwaukee after his intended host family discovered he was African American.
A racial barrier also kept him from joining Alpha Kappa Kappa, a national medical fraternity. "But because he was held in such high regard, we planned to violate the rule and extend an invitation to him anyway," said Robert S. Pavlic, MD '54, in a 2002 article for MCW's Alumni News. Dr. Pavlic added that a formal challenge by the students and their faculty advisors, as well as their demonstrated respect for "Nate," led to a change in the fraternal rule – unfortunately after they'd graduated.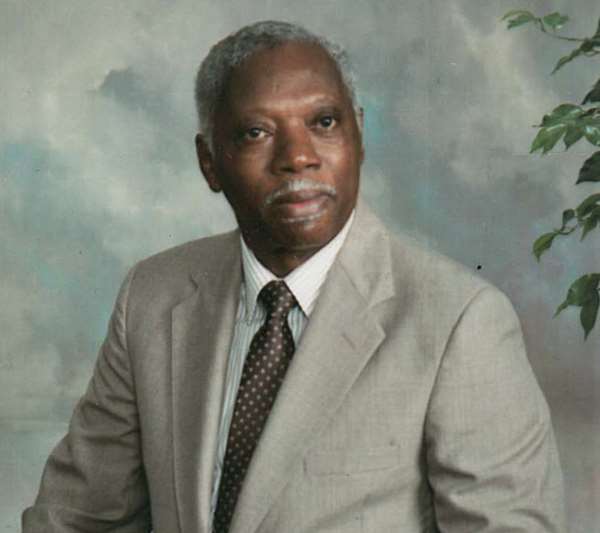 In the same article, Dr. Robinson gave thanks to two Marquette mentors: Harry Beckman, PhD (Department of Pharmacology), and Walter Zeit, PhD '39 (Department of Anatomy and a former associate dean and the namesake of the Walter Zeit Fellowship Society at MCW). "Both were instrumental in helping me get through. They encouraged me, prompting me to finish," said Dr. Robinson, who added that the Marquette experience gave him the courage to forge ahead.
Dr. Robinson's 1954 graduation from Marquette made national news in Jet (a weekly magazine that focuses on news, culture and entertainment within the African-American community). Upon completion of an internship and residency at Philadelphia General Hospital (he was the first African-American chief resident there), Dr. Robinson advanced on a steady track at the hospital and was appointed medical director of the nursing home unit.
With specialties in geriatrics and internal medicine, Dr. Robinson was well qualified, but the city of Philadelphia replaced him with a Caucasian male who specialized in obstetrics/gynecology. Dr. Robinson initiated litigation and was reinstated as the nursing home unit's first African-American medical director. Concurrently, he held a professorship at Hahnemann Medical College and attending positions at other hospitals and clinics.
The heart and stability of Dr. Robinson's career was his West Philadelphia private practice, located in the middle of a neighborhood city block. From that location, he remained accessible to the community as an internal medicine specialist from 1960-1978.
Randall says his mother loves telling the story of how her friends dared her to leave her job at Philadelphia General Hospital to work for Dr. Robinson, who'd gone through seven assistants in a short time due to the high standards of his private practice.
"They bet me five dollars that I wouldn't last a month, and I worked for him for 17 years," said Jacqueline, now 85, in a 2016 Philadelphia Inquirer article. "He was kind, he was gentle, and he was the most humble person that I ever met."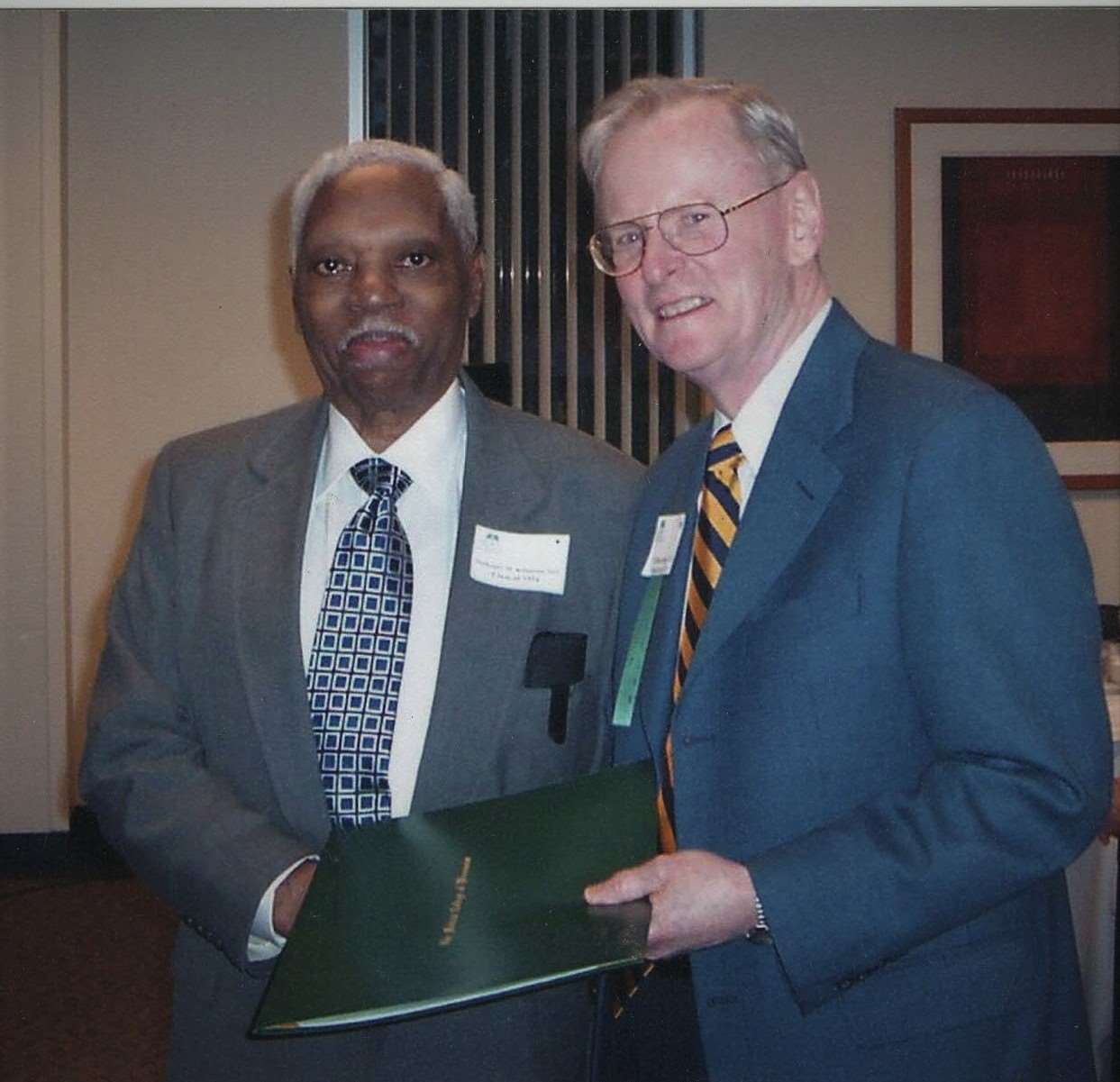 Dr. Nathaniel Robinson and MCW president T. Michael Bolger, JD, at the 50th Class Reunion of the Marquette University School of Medicine, held at MCW in May 2004.
Prior to his passing in 2016, Dr. Robinson was a 28-year prostate cancer survivor, endured a massive heart attack and triumphed over diabetes – yet he immersed himself in volunteering and philanthropy, supporting all of his alma maters and countless civic beneficiaries and nonprofit organizations. Even as he reached 90 years of age, "his stride was spry and his mind and wit remained quick," says Randall.
A foundation in his name, created after his passing, continues his good work in Philadelphia. His Nathaniel M. Robinson, MD, Endowed Scholarship Fund is also extending his legacy at MCW, where numerous students have already benefited from his goodwill and future students will learn his story as scholarship recipients.
– John Burlingham