First-in-State Fellowship-Trained Pediatric/Adolescent Gynecologist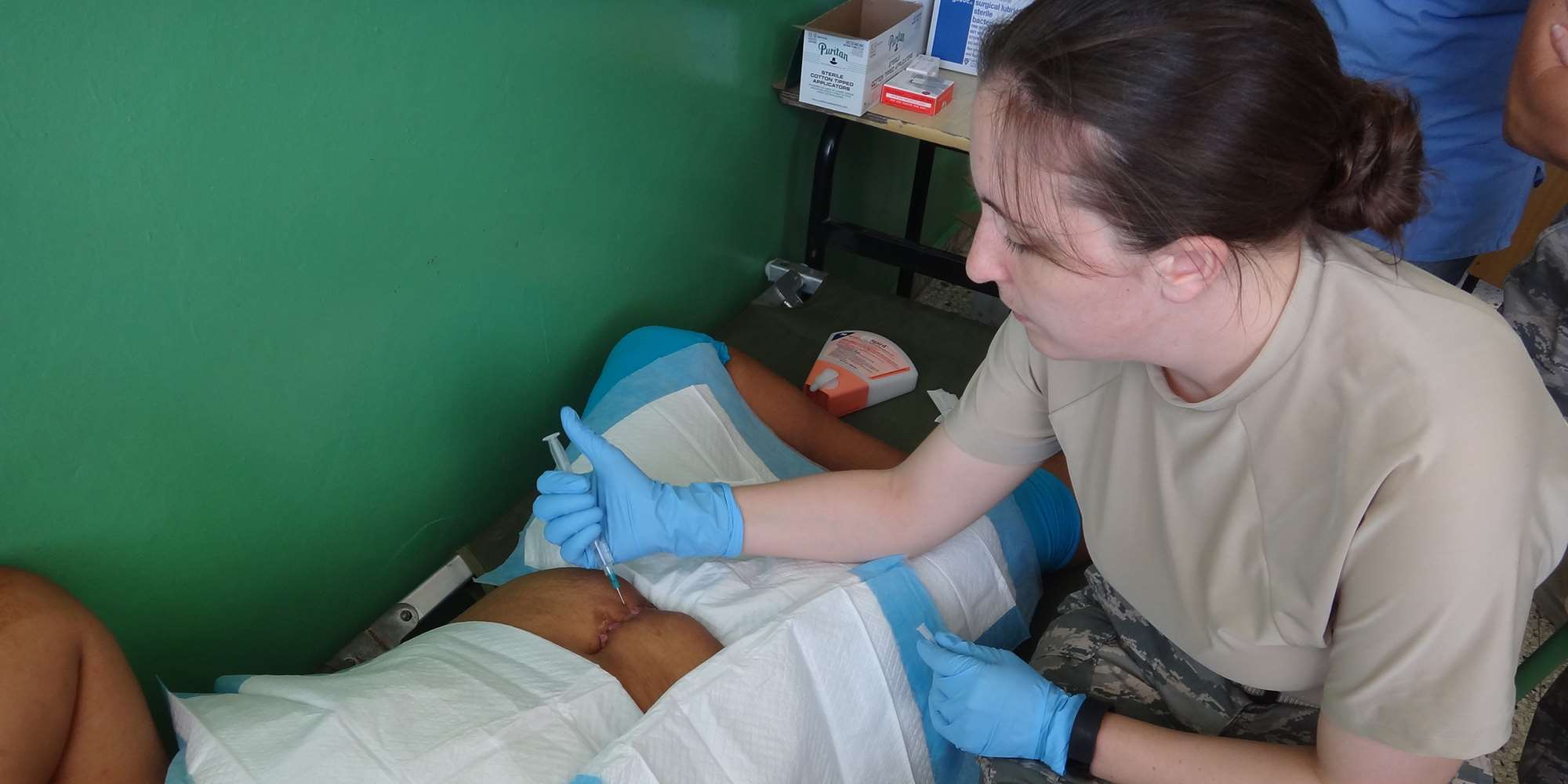 Dr. Hayes treats a patient on a humanitarian mission to the Dominican Republic, 2014
The field of pediatric and adolescent gynecology is so unique that only 11 teaching hospitals in the US and three in Canada offer fellowship training in this burgeoning subspecialty. The fellowship trains physicians to manage both common and uncommon pediatric and adolescent gynecologic conditions, become skilled in a broad range of surgical techniques, manage complex reproductive anomalies and employ an interdisciplinary approach to reconstructive surgery.
MCW can now boast that one of its alumni has joined the ranks of this exclusive cadre of physicians providing gynecological care for pediatric and adolescent populations, as Katherine Haake Hayes, MD '10, recently became the first fellowship-trained pediatric and adolescent gynecologist in the state of Utah with her appointment as assistant clinical professor at University of Utah Health.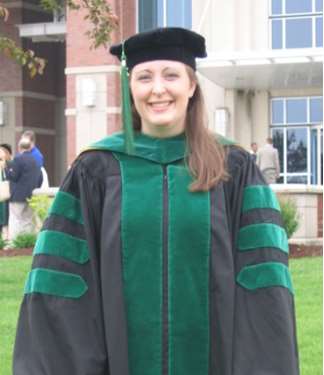 Raised in Colfax, Wisconsin, Dr. Hayes had always been interested in medicine. She was a pre-med major at the University of Wisconsin-La Crosse and set her sights on MCW. "I had heard really great things about the third and fourth years of medical school there, and they did not disappoint," she shares. "The clinical experiences were incredible! They shaped a lot of who I am as a physician. All of the residents were so great. They really took the time to show us how to experience the joy of medicine."
Dr. Hayes is particularly beholden to Kathy King, MD, GME '01, MS, associate professor of obstetrics and gynecology at MCW, who trained her in the intricacies of left-handed surgery even though Dr. King herself was right-handed. "Teaching left-handed surgery is tricky, and lots of people aren't comfortable teaching left-handed medical students. But Dr. King showed me how to sew, repair lacerations and tie knots – all left-handed. Those kind of meaningful interactions stick with you for life," Dr. Hayes recalls fondly.
After graduating from MCW in 2010, Dr. Hayes completed her obstetrics and gynecology residency at the San Antonio (Texas) Uniformed Services Health Education Consortium (at San Antonio Military Medical Center). She then served as an active duty Air Force obstetrician/gynecologist for four years, spending time at both Landstuhl Regional Medical Center in Germany and San Antonio Military Medical Center.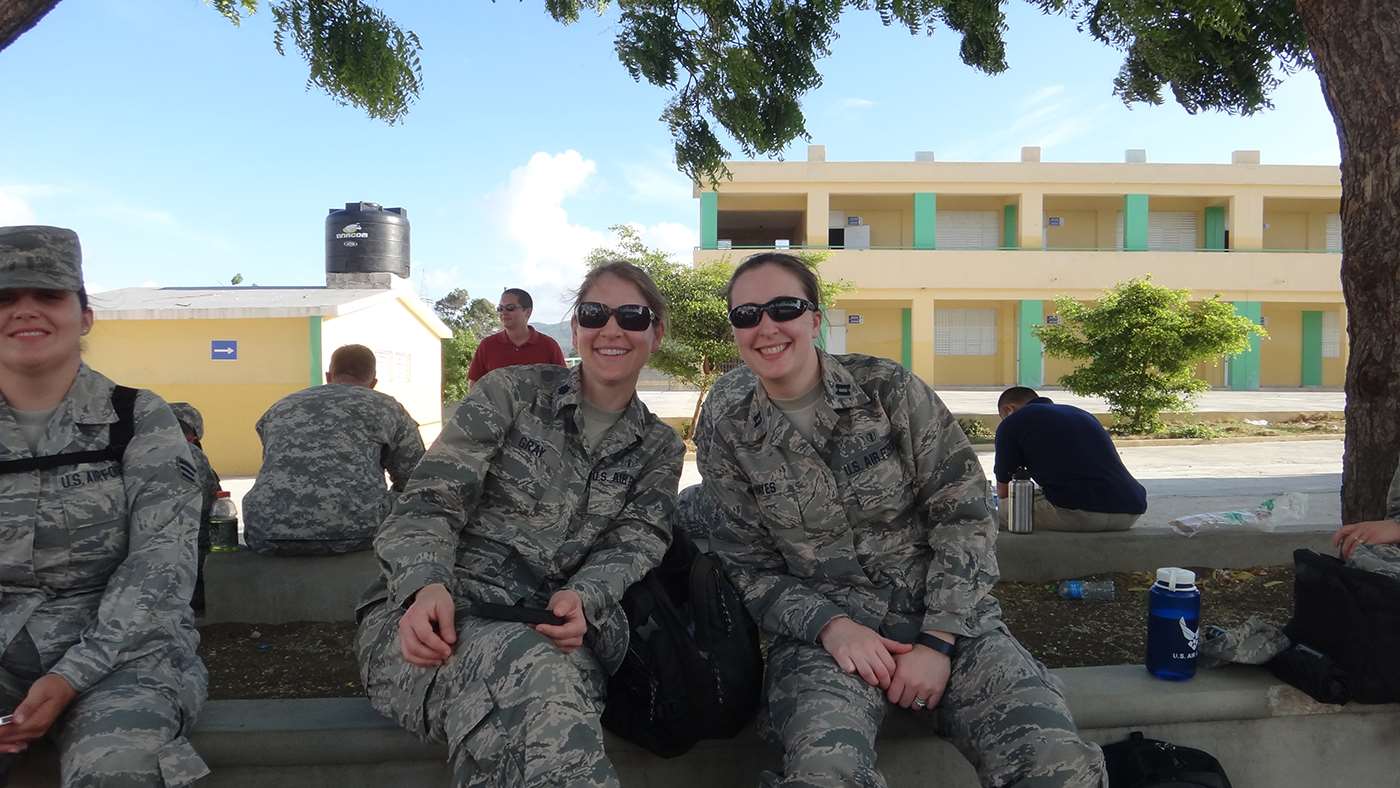 Dr. Hayes and colleagues, 2014
In 2018, following her time in the Air Force, Dr. Hayes began a two-year fellowship in pediatric and adolescent gynecology at Boston Children's Hospital and Harvard Medical School. After graduation, she and her husband, Patrick, and children, Greta, 7, and Karl, 5, moved to the Salt Lake City area for her current job.
"My area of interest and research is complex pelvic malformations. Throughout the US – including at MCW – there are a number of combined colorectal centers that have a pediatric colorectal surgeon, a pediatric urologist, a pediatric gastroenterologist and a pediatric gynecologist. Utah Health was the last such center not to have a dedicated, fellowship-trained pediatric gynecologist, which has enabled me to start a program there," Dr. Hayes remarks.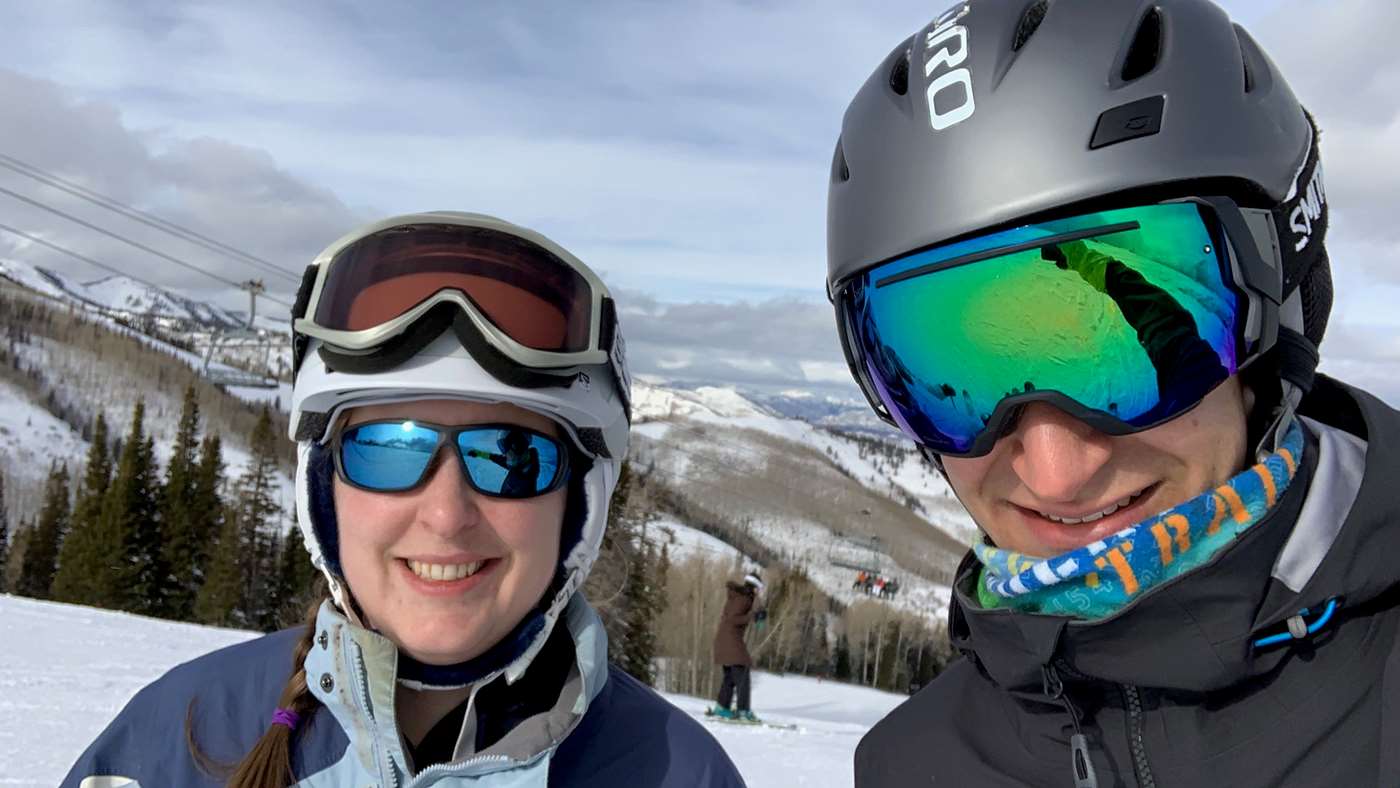 Dr. Hayes and her husband, Patrick, on a ski trip to Utah, 2019
Dr. Hayes continues to sing MCW's praises. "I feel so lucky to have trained at MCW. When I talk to pre-med students, I resoundingly recommend MCW as a place to train. I love how at MCW, students came from all over the country and are now specialists practicing all over the country. I know I can reach out to any of my MCW classmates and get answers to my questions."
– Sara L. Wilkins