Hospitalists Step up to COVID-19 Challenges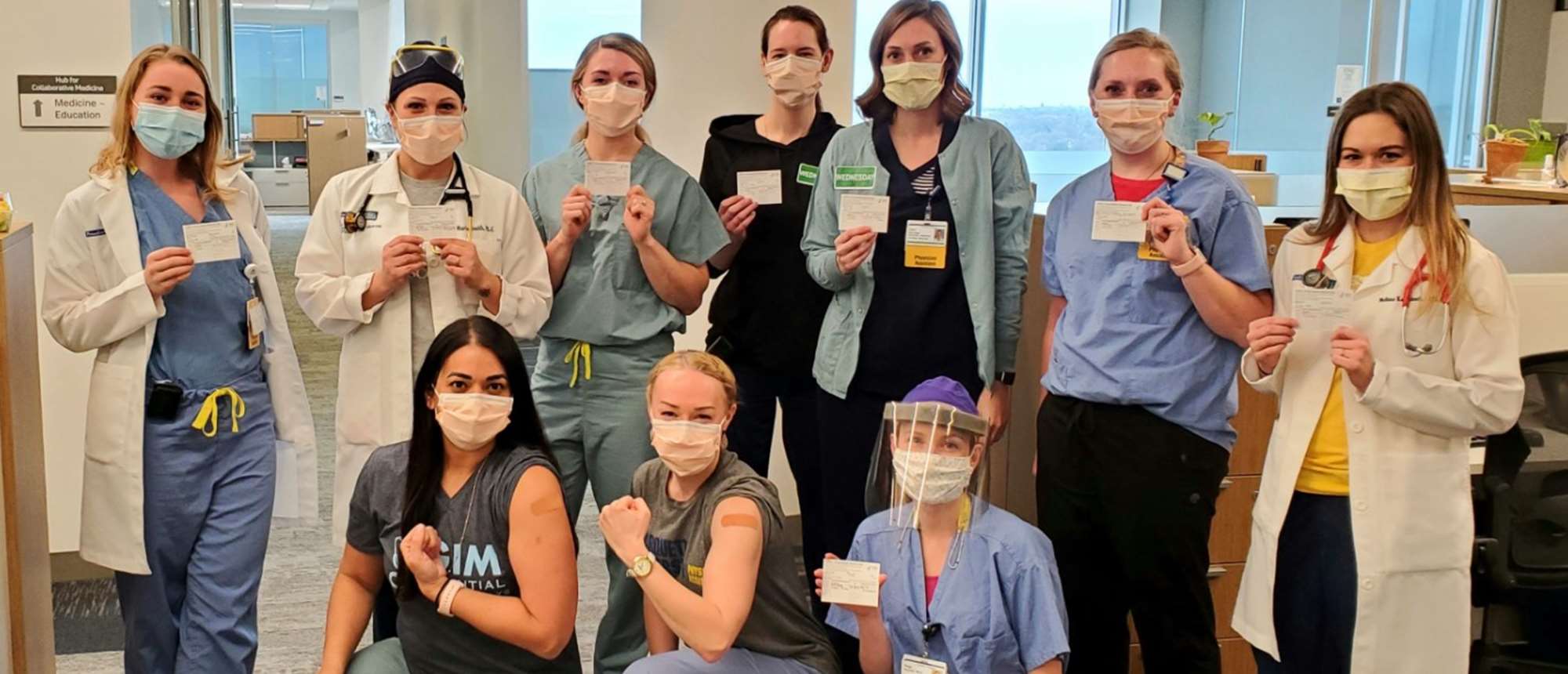 Molly Robischon, PA-C, MPAS, remembers sitting in a meeting back in February 2020 while an infectious disease pharmacist gave a presentation on COVID-19. The presenter discussed the origin, biochemical makeup and pathophysiology of this novel coronavirus; at that point, very few cases had been identified in the US, and the virus was still thought to be largely confined to China.
"Not at any point did I think to myself, 'This virus is going to ravage our lives,'" Robischon reflects. "Or, 'When will be the next time that I am in a meeting, in a conference room, without a mask, with people within 6 feet of me?'"
By mid-March, masks, hand sanitizer and social distancing had become the new normal, and the overwhelming message across the global community was "stay home." However, for Robischon and the hospitalist team at the Medical College of Wisconsin (MCW), their presence at work was more critical than ever as they began to see their first COVID-19 patients.
Hospitalists are experts in the care of acutely ill medical inpatients, and across the country they have been leaders in the response to COVID-19. The hospitalist team practicing with the Froedtert & the Medical College of Wisconsin health network is no exception. Composed of attending physicians and advanced practice providers (APPs), the team cares for hospitalized patients admitted to the inpatient medicine services at Froedtert Hospital. As such, they have been responsible for the majority of COVID-19 patients that have come through the health system.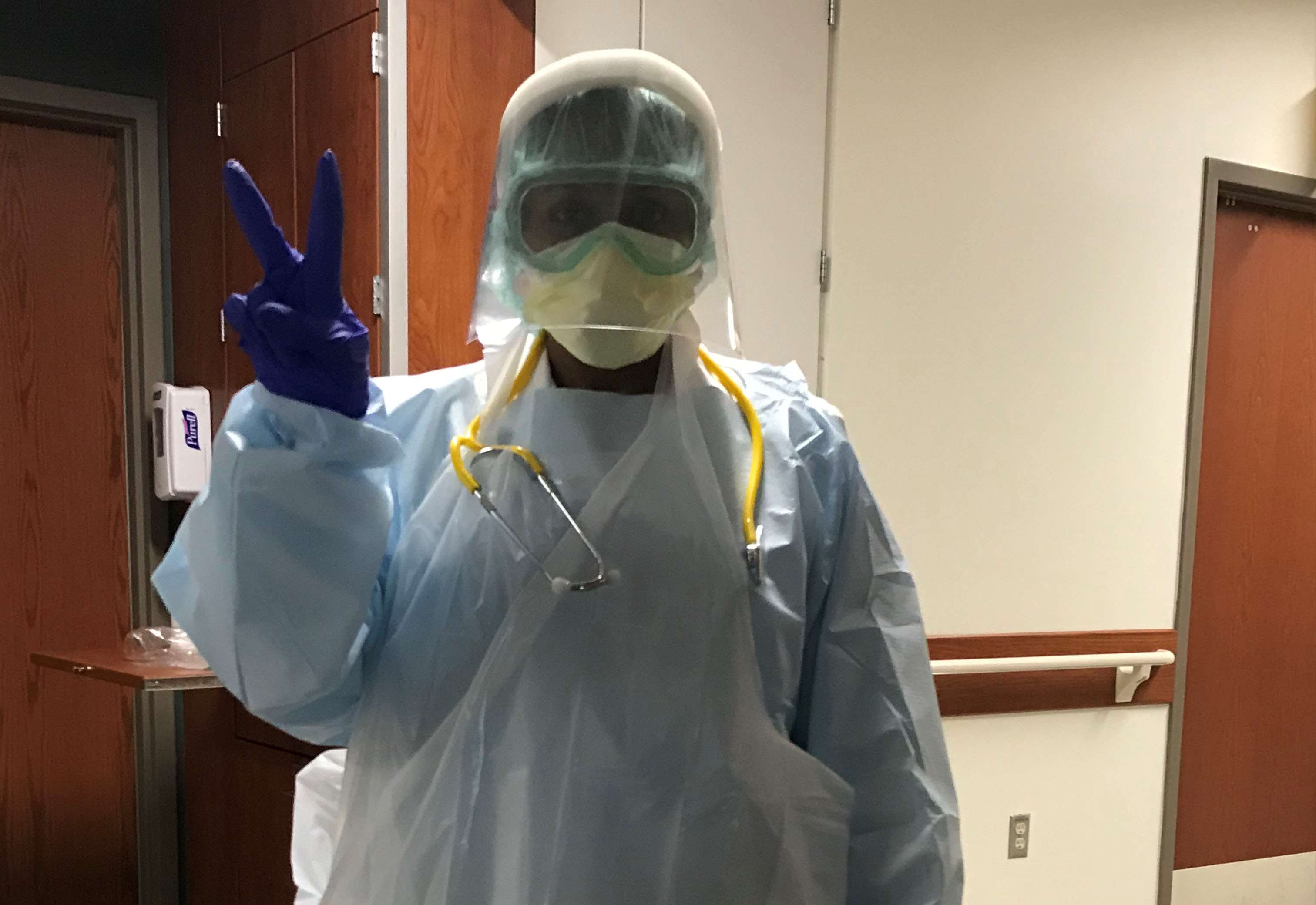 As lead APP on the hospitalist team, Robischon has been on the front lines for almost a year now. Despite the challenges they have faced, she and her team have stepped up in every way imaginable, always putting the needs of the patient first.
In the beginning of the pandemic, with limited evidence-based medicine available to them, hospitalists meticulously collected data on each patient in order to implement the best treatment plan possible for each individual. They had to be innovative, developing new clinical pathways, note templates, order sets and educational programs to expedite care. They have had to navigate difficult conversations with patients' families with compassion and empathy, often with the added obstacle of needing to conduct them over the phone due to safety precautions on site. And with the number of admitted patients surging to an all-time high, they had to quickly create a plan that enabled them to continue to provide high-quality care amid rapidly rising volumes.
Brian Quinn, MD, GME '17, hospitalist unit director at MCW, is not surprised that his team has been able to meet the challenges of COVID-19 head on. "As a profession, practitioners of hospital medicine are well accustomed to change. When caring for the undiagnosed patient, we are adaptable to unpredictable scenarios and familiar with all aspects of medicine. Furthermore, we are no strangers to challenging workloads and difficult situations," Dr. Quinn affirms. "Naturally, once the pandemic became a fact of life, we readily gravitated toward the challenge."
One of those challenges is staffing. At times, patient census on the hospitalist team has been up to 150 percent of the usual volume. In response, the hospitalists developed a surge plan to be able to manage constantly changing and overall higher patient volumes. This required adding extra teams filled by hospitalists, sometimes with help from specialists in cardiology, nephrology and others. Extra night shifts were added beginning in October as more night-time admissions came with the COVID-19 surge in our community this past fall. A mandatory call system was established to fill extra teams if needed; however, members of the hospitalist team often showcase their teamwork and care for one another by volunteering to fill the open shifts.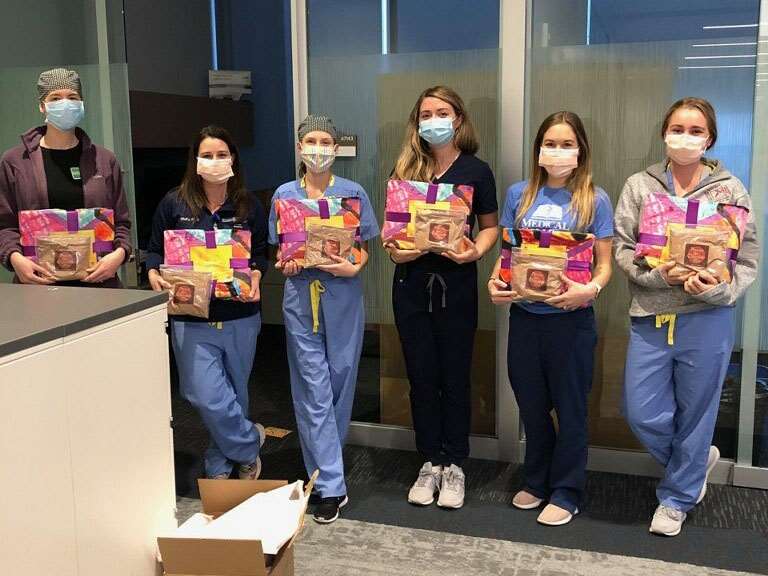 This is just one example of the exceptional concern and respect for others that is a recurrent theme throughout the team. From covering extra shifts to dedicating the extra time and attention required by COVID-19 patients, this group demonstrates a consistent commitment to going above and beyond.
"Time spent in caring for these patients was much longer," says Sushma Raju, MD, another unit director at MCW. "Discussing goals of care, explaining to them about the medicines being used, updating their families and consulting teams like infectious diseases or critical care, not to mention the time and effort in donning and doffing the personal protective equipment in the right way."
For Dr. Raju and her husband, who are both hospitalists, the toll from COVID-19 has not been limited to their work life. "Our kids continued virtual school, which had its setbacks, and leaving them by themselves for long hours was stressful," Dr. Raju notes.
Others on the hospitalist team also have had to make adjustments to their home life in light of COVID-19. Robischon shares how she and other hospitalists have had to take additional safety precautions to keep their families safe: "We undressed in our garages and immediately showered upon returning home before getting hugs from our kids or snuggling our babies."
Dr. Raju credits her team's success in the face of adversity to the Froedtert & MCW health network's rapid response in creating well-coordinated systems and robust policies for the management of COVID-19: "We received excellent support from the administration, colleagues, ancillary staff and the technical group. Multiple protocols were created for a smooth workflow. The experience has strengthened our hospitalist group in many aspects and has brought out the best in all of us."
Robischon echoes these sentiments as she praises the way the hospitalist MDs and APPs have stepped up: "The flexibility, the camaraderie, the kindness and the resilience are astounding."
After almost a year of sacrifice and dedication, there is now a faint light at the end of the tunnel in the form of the COVID-19 vaccines currently being distributed to health care providers and those 65 years and older. Since the first doses arrived in December, nearly all of the hospitalist providers have been fully vaccinated and are now focusing on sharing their experience and expertise with the public.
"It is surreal to be receiving a vaccine for the pandemic that began in the same calendar year, and it puts me in awe of how far science has come," extols Joseph Baron, PA-C, nocturnist APP on the hospitalist team.
Putting that science on display has been a passion project for Kavita Naik, MD, medical director of inpatient flow at MCW, who has used social media to promote the safety and efficacy of the COVID-19 vaccines. Dr. Naik compiled a video of the hospitalist team receiving their vaccinations and has been actively posting on her personal Facebook about her team's reactions to the vaccine, which include "tears of JOY," "GRATITUDE and HONOR for the opportunity to be vaccinated," "HOPE for a healthier 2021," and of course, "a sore arm."
Although some uncertainty remains as we look toward the future, Dr. Quinn is confident that the hospitalists are well-equipped to handle this pandemic as evidence-based knowledge continues to increase. "With time and scientific inquiry, a focus on high-quality care through information sharing has translated to a better understanding of the disease process and more favorable outcomes for some," Dr. Quinn reassures.
But his confidence in his team also stems from the knowledge that they are committed to going above and beyond to treat each patient's needs in a holistic manner. "Despite being subject to tremendous stress and time constraints ourselves, we as frontline providers understand the need to form meaningful connections with our patients and their families to overcome this hardship," Dr. Quinn explains. "Our task is to not only to heal the body but also to comfort the mind and spirit. This is no easy task, but listening is our forte. Empathizing is our specialty."
As Dr. Raju expresses, "Unprecedented situations do come for healthcare workers, and fighting them together is key."