Inaugural Hack for Health Explores the Relationship between Obstructive Sleep Apnea and Cancer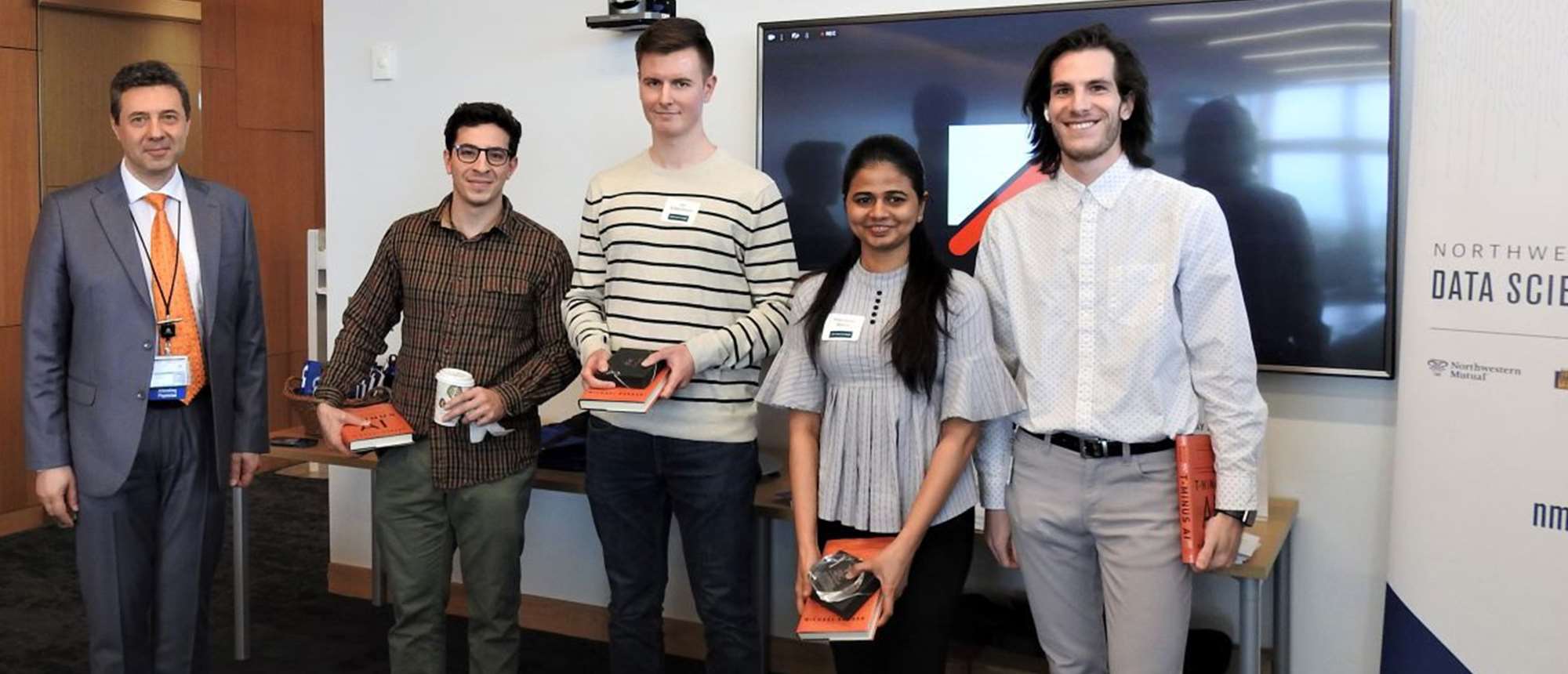 The newly constituted Southeast Wisconsin Data Science Collaborative, which includes the Medical College of Wisconsin (MCW) Clinical and Translational Science Institute of Southeast Wisconsin (CTSI), together with several other CTSI of Southeast Wisconsin regional member institutions such as Marquette University (MU) and University of Wisconsin-Milwaukee (UWM), in partnership with Northwestern Mutual Data Science Institute (NMDSI), hosted the first multi-campus Hack for Health event this spring.
The Hack for Health event, also known as a hackathon, is defined as a social event that brings computer programmers, data scientists and other professionals together to improve upon and to build new software programs, applications, or new computational approaches to health care data. Twenty-three students from MCW, MU and UWM divided into seven teams and worked competitively over three days to analyze real patient data from Froedtert Hospital and MCW by applying machine learning and advanced statistical analysis to identify unique and novel findings and present their final outcomes to a panel of judges. Mentors from participating institutions were available to the teams throughout the event.
The topic of the event was "Obstructive Sleep Apnea and its Relationship with Cancer." Obstructive sleep apnea (OSA) is a common sleeping disorder characterized by repeated breathing pauses during sleep that lead to fragmented sleep and decreased oxygen levels. OSA can affect at least one-third of the adult population, if not more. Recent studies have suggested that several sleep disruptions and disorders represent significant risk factors for some forms of cancers.
"These are major and very prevalent problems and disorders in the general population. As such, after a critical appraisal of the existing literature, and noticing several emergent relationships between different types of cancer and various sleep disorders, we proposed to explore if there was an actual connection between these disorders in a large, real-world health care dataset," shared Octavian C. Ioachimescu, MD, PhD, MBA, professor of medicine at MCW CTSI associate director for training and education, medical director of Clinical Trials Office Integration at the CTSI of Southeast Wisconsin, and vice-chair of medicine for clinical research and data analytics. "The sky is the limit. Our talented students are here to help deciphering these relationships and to create new knowledge."
"This hackathon represented the strong culture of collaboration among our institutions. Collaboration is key to enhancing our ability to serve our patients and our communities by allowing us to achieve together what we may not be able to achieve alone," says Reza Shaker, MD, director of CTSI and associate provost, senior associate dean and division chief for gastroenterology and hepatology at MCW.
The opening and closing sessions were hosted on the MCW-Milwaukee campus. Students were able to work at any of the four participating campuses over the course of the event. Each team submitted their programming code, followed by a five-minute presentation, which were assessed by six volunteer judges representing the partner institutions and one external judge from Stanford University, doctor Miranda Tan, DO, clinical associate professor of psychiatry and behavioral sciences - sleep medicine.
The first-place team received a one-on-one mentoring session from a leader from one of the participating organizations. All winning teams were presented with trophies and different books on artificial intelligence at the closing event on April 28.
First place was awarded to Team 6:
Xiaowei Dong, UWM
Ali Nemati, UWM
Yizhou Lu, UWM
Aravind Reddy Guda, UWM
Mentors: Brett Truelove, NMDSI; Dr. Spencer Huang, UWM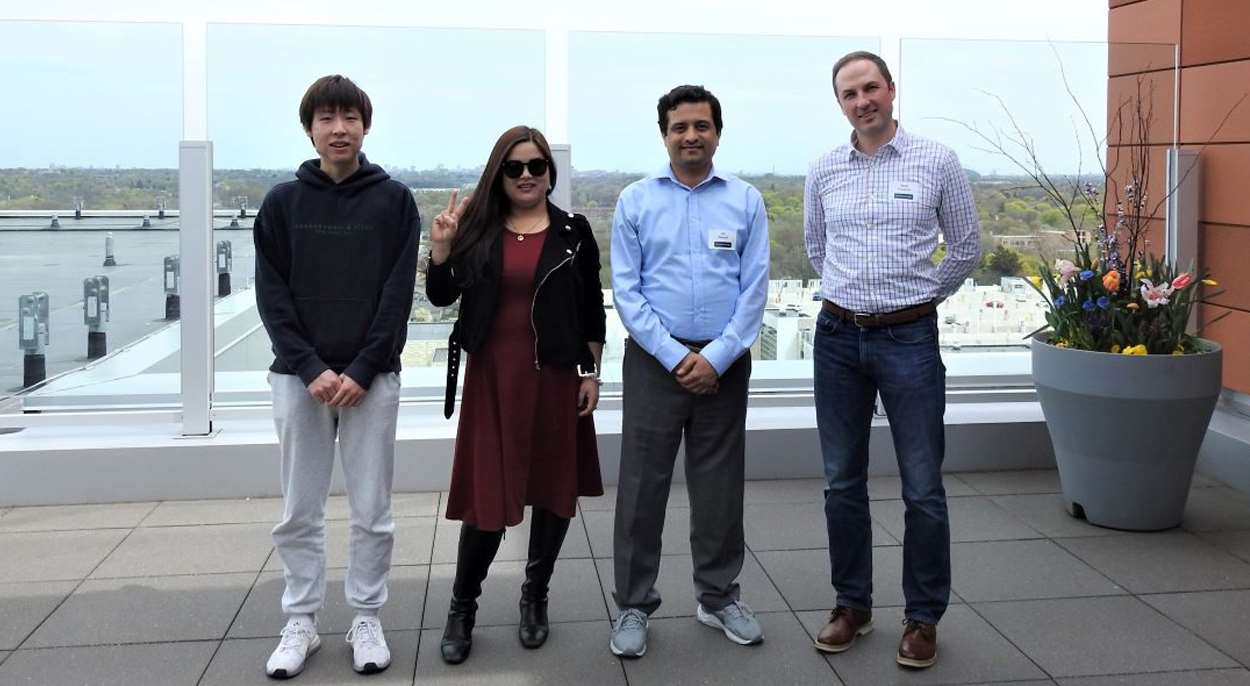 Team 6 conducted a survival analysis to identify how OSA affects the likelihood of cancer mortality. Initial results with the dataset provided demonstrated no significant difference regarding survival of patients with OSA compared to those without.
The second-place team constructed a React application (a JavaScript-based user interface development library) that dissected the data and observed interactions between variables. The emphasis of their project was placed on the concept of building the app, and the team showcased a live demonstration of the application during their presentation.
The third-place team concentrated on the types of cancers affected by OSA. The team was able to identify two types of cancers, lung and retroperitoneum/peritoneum, that have a significantly higher likelihood of presence after a patient is diagnosed with OSA.
"These students are paving the pathway forward for new and novel research applications," shared Jonathan Stark, EdD, executive director of the Northwestern Mutual Data Science Institute, "In my 20 years of working with students, I'm constantly amazed by their creativity and their enthusiasm."
The next Hack for Health event will build on the lessons learned and the solutions found during this inaugural event. The partner organizations hope to offer the event on a biannual basis.