Kerchia Asia Lee Wins Inaugural Mary Jane Shanks Trailblazer Award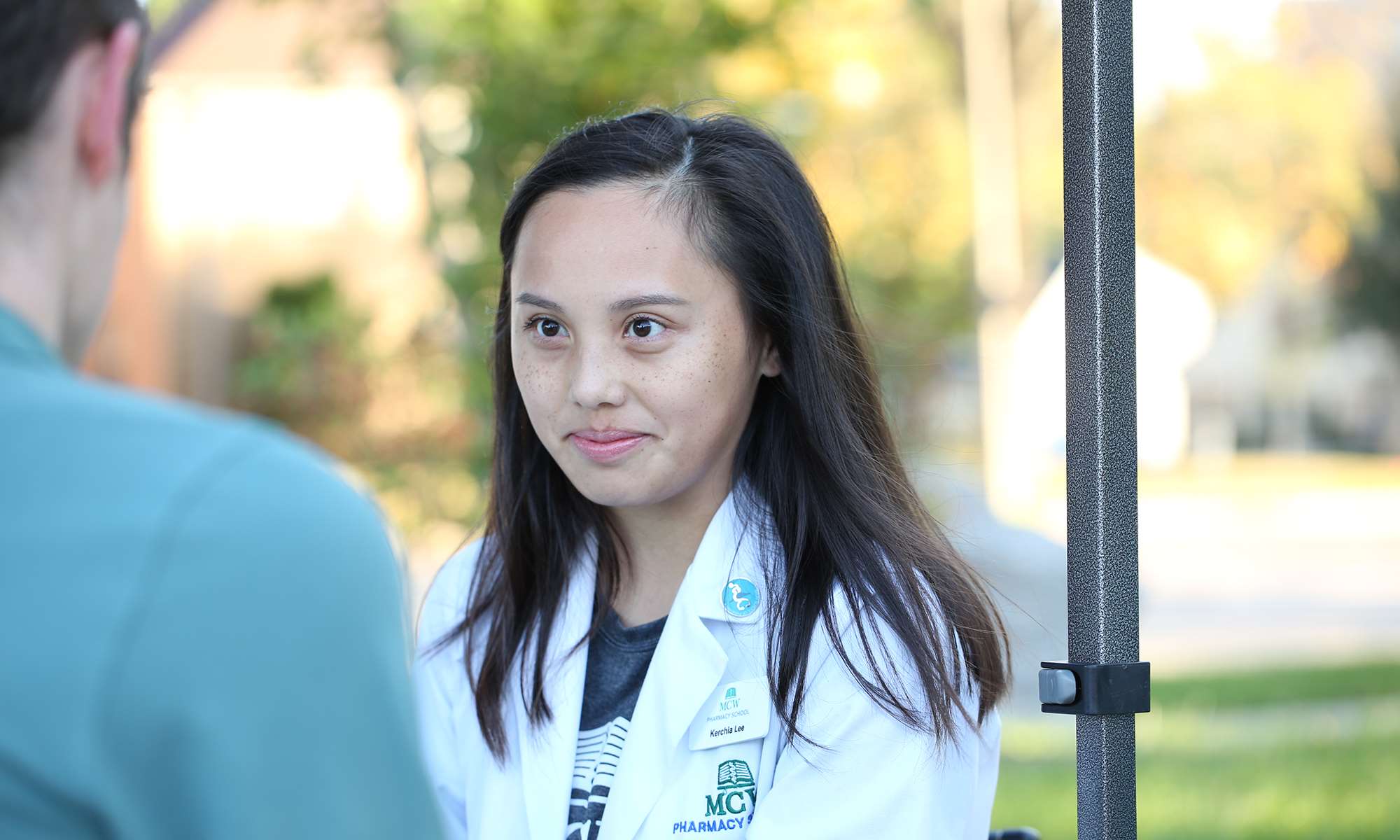 Third-year MCW pharmacy student Kerchia Asia Lee, a first-generation Hmong-American and Milwaukee native, received the inaugural Women in Science Mary Jane Shanks Trailblazer Award, which recognizes non-traditional students who thrive despite barriers to success.
MCW pharmacy student Kerchia Asia Lee is a first-generation Hmong-American and Milwaukee native. Growing up, Lee always saw a disconnect between the elders of her community and Western medicines. This led her to pursue a career in pharmacy to be a bridge for that gap.
"I want to be able to help those within my community – whether it be Hmong or non-Hmong patients – understand the importance of Western medicines and the impact they have on our health. I had the opportunity to shadow various healthcare occupations during my junior year of high school. When I shadowed the pharmacy unit, there was an instant spark igniting my interest," shares Lee.
Lee currently is completing her third and final year of the MCW School of Pharmacy Doctor of Pharmacy (PharmD) program. She is passionate about pediatrics and caring for children and their families. Following a rigorous application and interview process, Lee was selected for one of only two spots in the Longitudinal Advanced Practice Experience (LAPPE) program at Children's Wisconsin. In the LAPPE program, students complete five of their seven APPE clerkship rotations at Children's and complete a longitudinal research project within the hospital's pharmacy department.
In June 2021, during final exam week, Lee gave birth to her first child. Only a few short weeks later, she started her first clerkship rotation of the LAPPE program. "The staff and faculty of the MCW PharmD program have been a great support system throughout and after my pregnancy. Everyone believed in me and helped me through my pregnancy with balancing the workload. It has definitely been difficult juggling being a new mother and completing schoolwork, but I also would not be able to fulfill my duties without the support from my family and husband. I am still thriving today because of my support system," Lee shares.
This past fall, Lee was the inaugural recipient of MCW's Women in Science Mary Jane Shanks Trailblazer Award, a memorial scholarship which was established by the family of Mary Jane to recognize the strengths of nontraditional students who thrive despite barriers to success. It is their hope that this award can provide both financial relief and well-deserved recognition to the other "Mary Janes" who are poised to make great contributions in their careers.
"Throughout her time at MCW, Asia has excelled in the classroom, served as a trailblazing leader of the Student Society of Health-System Pharmacists and conducted research exploring health disparities and inequities in the Hmong population," says Brianne Bakken, PharmD, MHA, assistant professor with the MCW School of Pharmacy. "As her faculty mentor and LAPPE rotation preceptor, I have been so impressed with Asia's fortitude and continued work ethic."
Lee plans to pursue additional postgraduate training in ambulatory care after graduation. "Long-term, I want to work in an ambulatory care clinic helping underserved patients optimize their health and wellness," she shares.
"MCW has taught me how to be an efficient individual as well as excelling as a professional. Not only has MCW's program enhanced my knowledge, it also has enhanced my skills in interacting with patients through our Patient Care Labs," she adds.
– Michelle Schaefer