Securing the Health of Our Communities: A Special Message from Dr. Joe Kerschner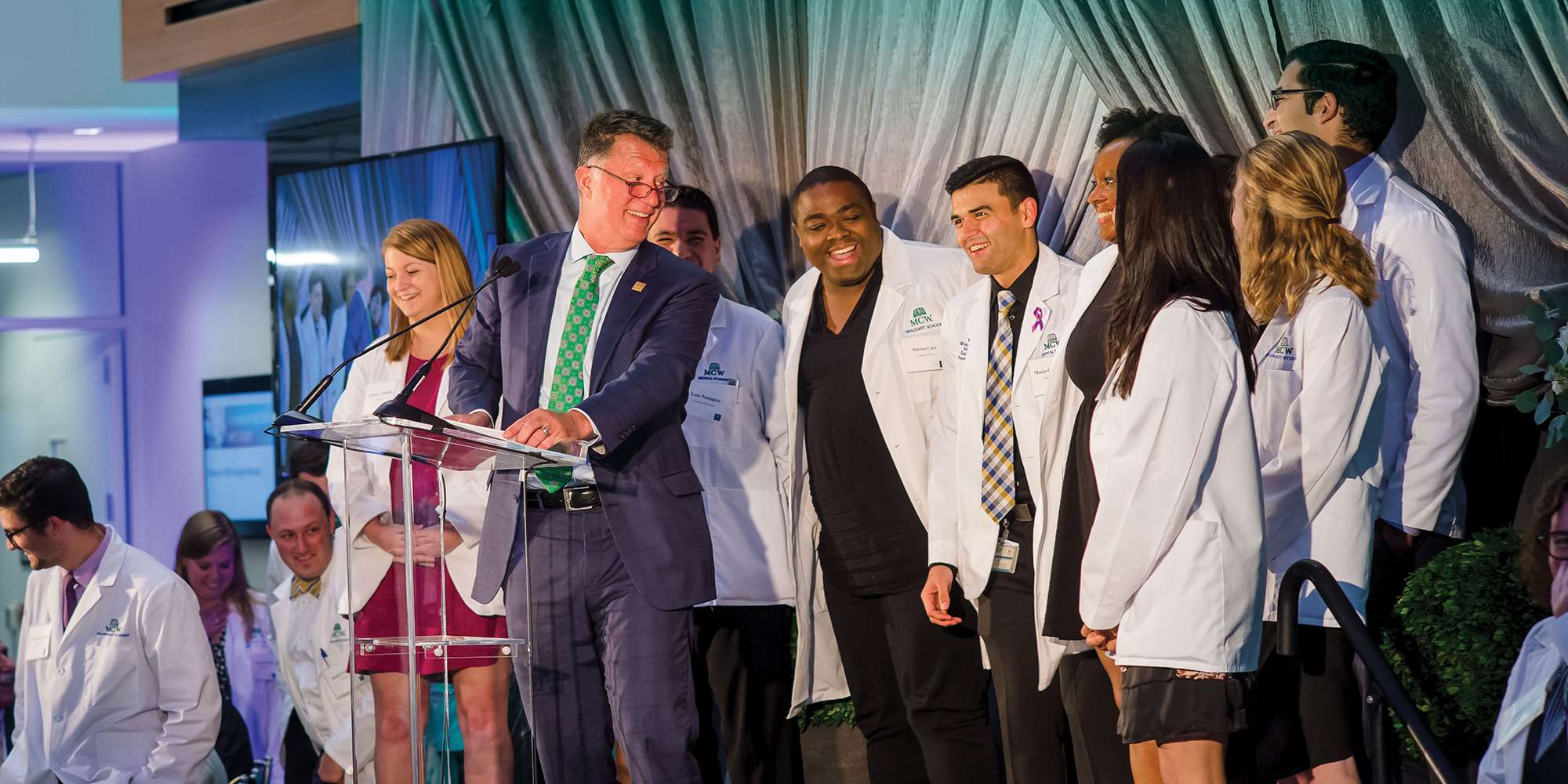 Across the entire academic health system, the spring and summer months are a time for fond farewells to graduating students and warm welcomes for a new generation of learners aspiring to serve in the fields of medicine and science.
In May and June, the Medical College of Wisconsin held Commencement ceremonies for 229 medical students, including graduates from our campuses in Green Bay and Central Wisconsin. We also celebrated the graduation of 38 students from the School of Graduate Studies and 41 from the School of Pharmacy.
All of us at MCW and our healthcare affiliates – Froedtert Hospital, Children's Wisconsin, and the Zablocki VA Medical Center – played a role in working with these fine students – and it was a great pleasure to see them develop and mature as the physicians, pharmacists, scientists and healthcare professionals of the future. Together, they will serve with other leaders in their fields whose application of new knowledge leads to the improved prevention, diagnosis and treatment of human disease and injury.
What's even more gratifying is the impact our education programs are having on the state of healthcare in Wisconsin. Among all MCW medical students entering residency, 54 (the single largest cohort), were enrolled in programs in Wisconsin.
The majority of all MCW students entering residency programs enrolled in the specialties of Family Medicine, Internal Medicine, Obstetrics and Gynecology and Pediatrics – all areas in which patient needs are the highest. In fact, including the residency programs at Froedtert Hospital, MCW trains more than 50 percent of Wisconsin's physician workforce.
These numbers point to our success in fostering students who will stay and work in Wisconsin, serving patients and families and putting down their own roots in a state that so many of us are proud to call home.
And while our recent graduates advance in their careers, July, August, and September are the months during which we welcome new learners to our three campuses who are pursuing their own journeys in science and medicine.
What does all this mean for patient care in our community?
Developing leaders in academic medicine is an urgent concern due to the direct impact they have on the health and well-being of patients, the development of medical discoveries though research, and opportunities to improve public health through partnerships in the community.
Academic medicine is central to the American healthcare system, providing the training grounds for emerging physicians, creating the birthplaces of new discoveries, and ensuring the most complex life-saving care. And, as the COVID-19 pandemic has revealed, academic medicine is a critical component of our public health response.
Froedtert & the Medical College health network is the only source of academic medicine in eastern Wisconsin. Here, we translate new findings from scientists into the latest treatments. Here, observations in our clinics are shared with our researchers for new avenues of discoveries. Here, highly skilled faculty teach the pharmacists, researchers and physicians who will serve as the healthcare leaders of the future.
I speak from firsthand experience. Throughout my years in leadership positions with MCW, I have continued my pediatric otolaryngology practice at Children's Wisconsin. My work with young patients and their caregivers truly inspires my service in education and science.
I remain exceptionally grateful for everything you do to support healthier communities and to ensure that quality academic medicine is available to more families throughout Wisconsin.
Thank you, and please accept my best regards.
Joseph E. Kerschner, MD
Provost and Executive Vice President
The Julia A. Uihlein, MA, Dean of the School of Medicine