Taking a Stand for Equity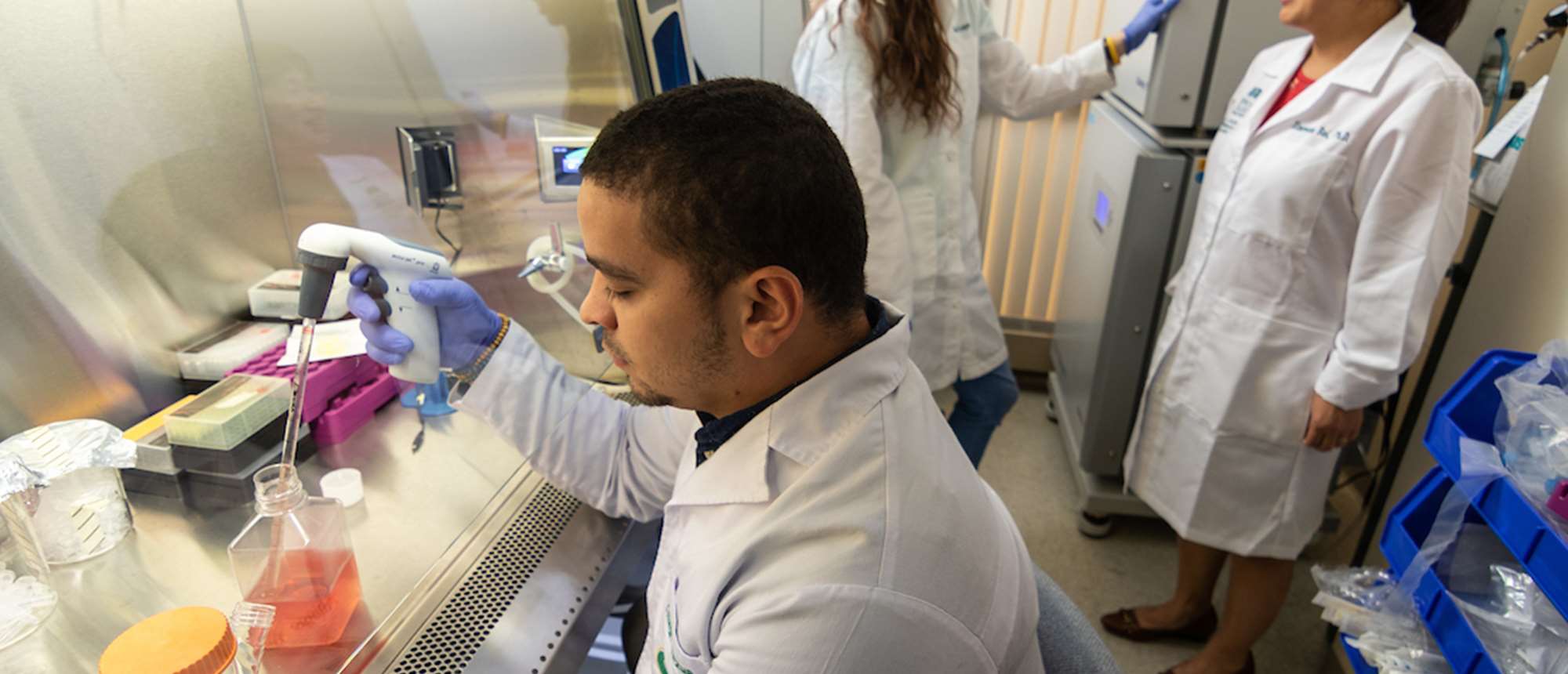 Thiago Arzua is an MCW graduate student in cell and developmental biology.
When calls for racial equity reverberated across the US in 2020, inspiring people across the nation, fourth-year MCW student Thiago Arzua took action. Arzua, a native of Brazil and advocate for social justice across racial/ ethnic, gender and LGBTQ platforms, helped launch a new movement, sparked by a well-publicized confrontation in New York's Central Park in May 2020 involving a woman who was walking her dog and unnecessarily called police on a Black birdwatcher.
That incident, which went viral, sparked a chain of events that led to the creation of "Black in Neuro," a celebration of Black excellence in neuroscience-related fields. Arzua, who doesn't identify as Black but considers himself an ally, is one of the organizers and leaders of Black in Neuro.
Arzua says the incident also inspired a series of awareness campaigns on the social media platform Twitter to inspire Black youth both to see themselves in STEM fields and to highlight the experiences of underrepresented Black students. These campaigns use custom hashtags, such as #BlackInChem and #BlackInCardio, to enable and encourage users across the globe to engage in conversations on their respective topics.
Arzua's colleague in California used this tactic and tweeted a post using the hashtag #BlackInNeuro. Arzua tagged some friends, retweeted the post, which then went viral – launching an effort to shine a light on Black neuroscientists that quickly grew from a snowball to an avalanche.
"By the following Saturday we had held a meeting during which 20 people expressed an interested in helping," Arzua says.
"Three weeks later, we had $100,000 in donations."
Financial and other support came from organizations and schools across the country and the globe, including from MCW.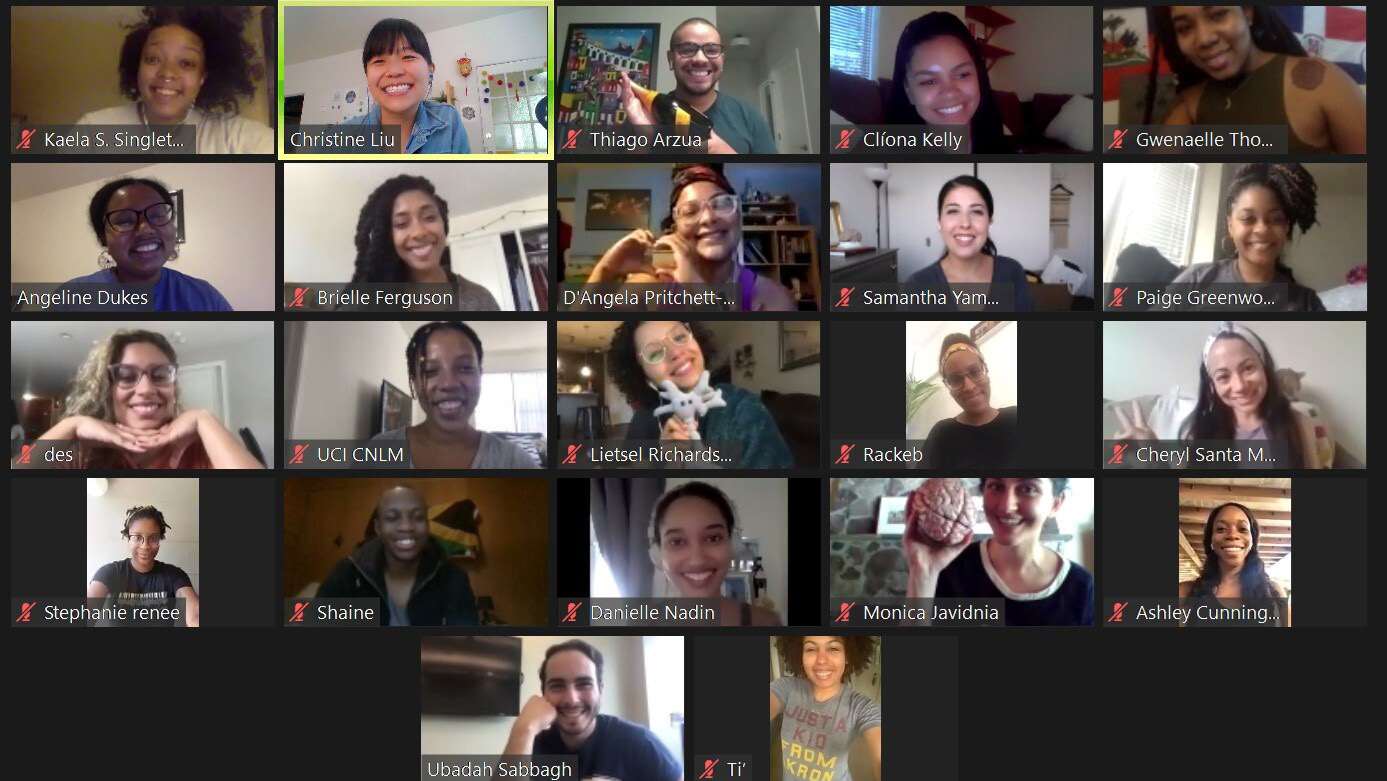 Arzua (top row center) attends a virtual meeting with other Black in Neuro organizers.
Arzua acknowledged that most grassroots efforts don't gain this type of traction so quickly. But, he notes, with George Floyd in everyone's hearts and on their minds, and so much pent-up energy from the pandemic shutdowns, a wave of momentum was created that continues to this day. The group's first event, a "Black in Neuro Mini-Conference," ran from late October to early November 2020 and was a huge success.
The conference featured five days of prominent and diverse speakers (all paid for with donated funds) and an entire day dedicated to discussions about how racism has historically been present in neuroscience research. Other discussions focused on mental health and additional timely issues. "All of those discussions were in the context of neuroscience," Arzua shares.
In addition, 500 students, postdoctoral fellows and faculty members of color in the neuroscience field were profiled on the group's website. "Now we have a nice resource where people can go to and find more diverse speakers," Azura remarks.
Another highlight of the conference was the ability to learn about the different types of racism experienced by neuroscientists from different parts of the world, including the US, England and Canada.
Since the Black in Neuro Mini-Conference, the group also has partnered with the Neuromatch Conference, a three-week intensive course/conference that features competitions among scientists. Though things have slowed down recently, Black in Neuro is still in motion – as the group hopes to create an endowment that would fund scholarships and launch the organization as an official nonprofit.
Arzua's current role with Black in Neuro is to support community engagement and help the group further expand its scope. He is hopeful that the movement serves as a model for how organizations – some of which are limited or delayed in their response to real-life issues of concern in the communities they serve – can become more reactive, ramp up their diversity and inclusion efforts, and increase awareness about the racism faced by Black neuroscientists and others.
"At the institutional level, it can be a challenge or take time to react," Arzua says. "I hope that Black in Neuro serves as a model for how to respond."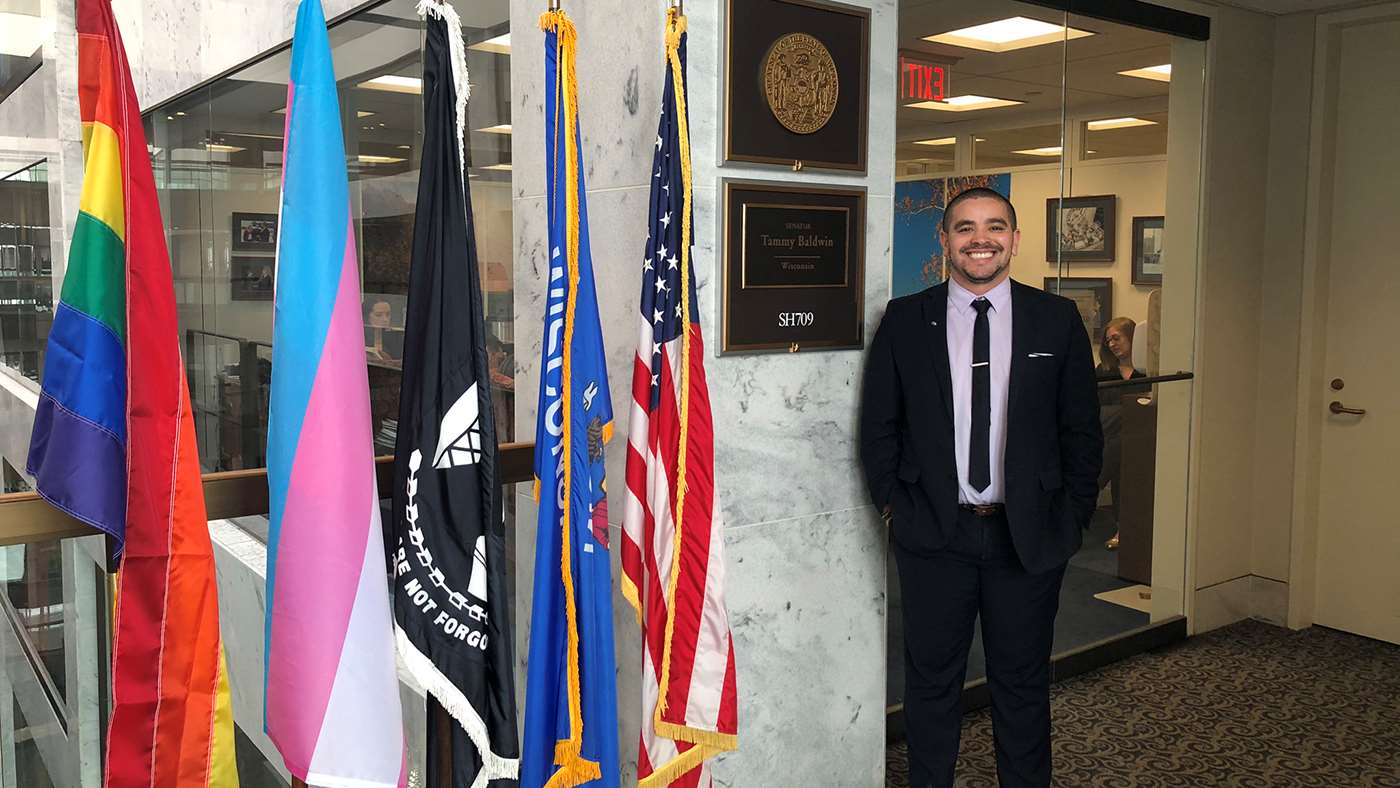 Arzua poses in front of US Senator Tammy Baldwin's office while participating in the "Early Career Policy Ambassadors" program.
Arzua recently was accepted into a competitive Society for Neuroscience (SfN) "Early Career Policy Ambassadors" program in which he meets with lawmakers and other leaders to advocate for policy and increased science funding. He is continuing his work on MCW's Diversity and Inclusion Action Committee while also looking forward to graduation and starting his postdoctoral career, where he hopes to continue his research on brain modeling and examination of certain diseases.
Wherever he ends up and whatever he does, Arzua knows he will continue to advocate for social justice.
"I will continue to study and have these important conversations about race," Arzua confirms.
– MCW Magazine Staff
New Graduate School Programs
MCW continues to expand its educational offerings as it becomes a comprehensive health sciences university.
Starting in the fall 2021 term, MCW's Graduate School of Biomedical Sciences will enroll students in five new degree and graduate certificate programs:
Biostatistics & Data Science (MA)
Genetic Counseling (MS)
Neuroethics (Certificate)
Precision Medicine (MS)
Public Health (DrPH)
The aim of these programs is to expand the knowledge, skills and attributes needed for various health-focused professionals to better understand ways of improving health.
More information about these and other MCW graduate-admitting programs is available at mcw.edu/gradprograms.
– Anthony J. Perez