Tools of the Trade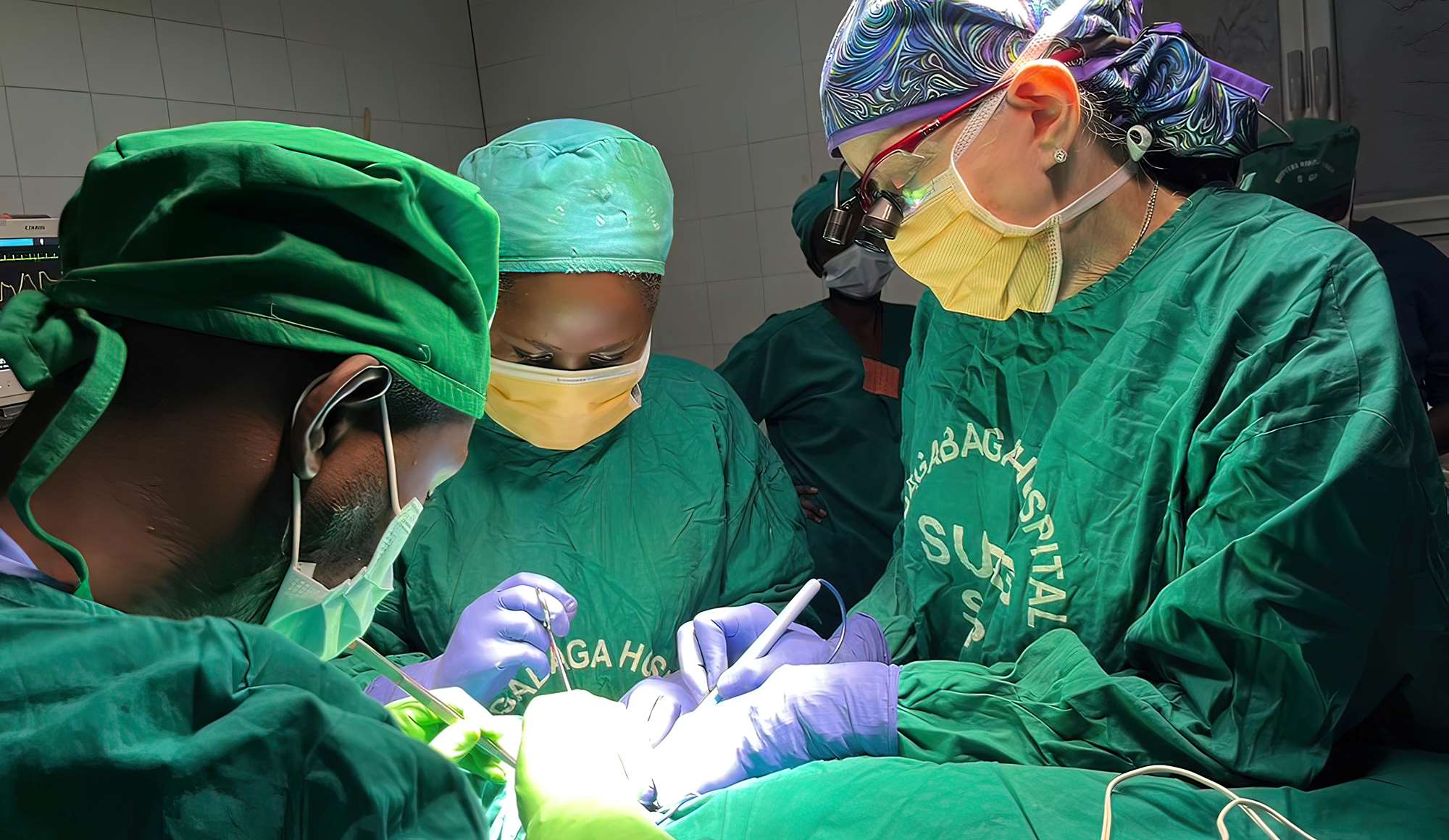 Dr. Merry Sebelik (far right) performs surgery with Dr. Etienne Ndamyiyumva (far left), a local otolaryngologist, at Kibagabaga Hospital in Kigali, Rwanda, October 2022. (photo courtesy of Dr. Ameer Shah)
While her path in medicine ultimately led to a fulfilling career in academic otolaryngology, head and neck surgery and global health, Merry Sebelik, MD '86, GME '91, almost took a detour due to her interest in anatomy.
"I was accepted into graduate school to study gross anatomy," Dr. Sebelik says. "However, there was a downturn in the economy, and the forecast for jobs in anatomy became quite bleak." Dr. Sebelik then switched her focus to medicine and was delighted to be accepted to MCW.
"I was so happy to go to medical school in my hometown, and MCW immediately felt like home to me," she adds.
Throughout medical school, Dr. Sebelik never wavered on her desire to focus on surgery. "My dad was an electrician, and his dad was a carpenter," Dr. Sebelik explains. "My father taught me how to fix things from an early age. I was comfortable with tools and confident in my spatial reasoning skills, which served me well during my brief training in anatomy. In medical school, there was never a doubt I would be a surgeon."
During her third year at MCW, Dr. Sebelik was advised on an otolaryngology rotation that she would be a great fit for the field. She ended up matching for a residency in otolaryngology at the Medical College of Wisconsin Affiliated Hospitals.
"The faculty and senior residents knew me well, so it turned out even better than I'd hoped," Dr. Sebelik recalls. "They were all amazing people and outstanding surgeons, and it was the perfect place to complete my residency training."
In addition to her burgeoning surgical career, Dr. Sebelik was eager to explore an interest in global healthcare that she had nurtured since childhood.
She was thrilled to be able to travel to the Philippines during her early academic career at the University of Tennessee Health Science Center in Memphis.
Dr. Sebelik's contributions to international medicine span from providing direct care to training students, residents and fellows, to developing and running seminars to share knowledge and techniques.
In addition to her work in the Philippines, Dr. Sebelik also has focused on building global health partnerships in Africa, including performing thyroid surgeries with a local head and neck surgeon in Rwanda in October 2022.
Dr. Sebelik has enjoyed sharing her experiences in conversation with her fellow MCW medical school and otolaryngology alumni at reunions and conferences. This year, she participated in Operation: Education, a mentoring program conducted by the MCW/Marquette Medical Alumni Association and the Wisconsin Medical Society, during which she spoke with current MCW medical students about her professional journey.
"I was happy to participate, as I know how important it is for students to have different role models of what their careers could be like," Dr. Sebelik notes. "At graduation each year, I still wear my MCW green and gold proudly, so it is especially meaningful to share with and get to know current students and encourage their dreams."
Dr. Sebelik currently serves as professor of otolaryngology, head and neck surgery at Emory University School of Medicine, where she is an endocrine head and neck surgeon. She also serves as director of head and neck oncology at the Atlanta VA Medical Center.
– Greg Calhoun