Unity MR-Linac Offers Personalized Radiation Therapy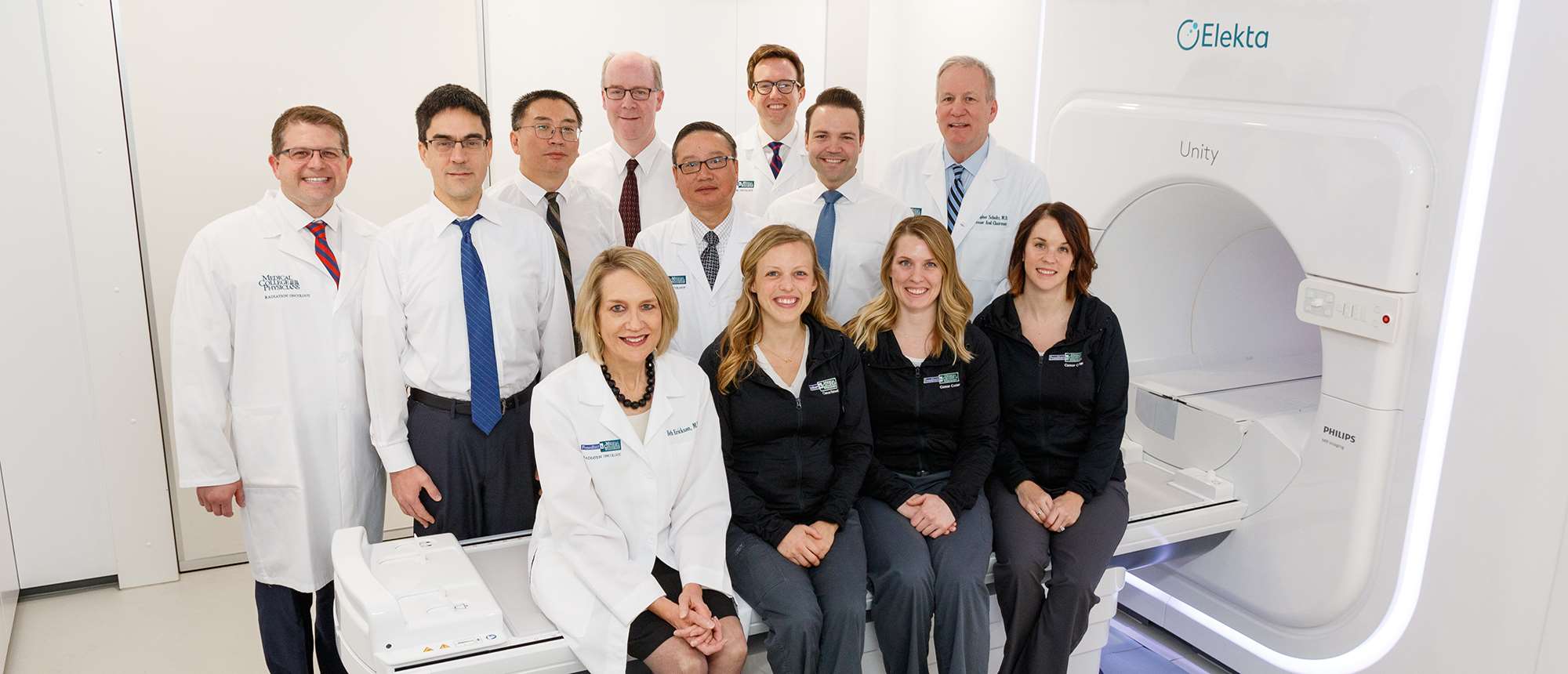 Studies estimate that some 50 percent of cancer patients will receive radiation therapy during treatment. Normally, this is a multiple-step process involving separate appointments for tumor imaging via CT and MRI in between radiation treatments delivered via a medical linear accelerator. But new technology is working to improve this process, and MCW faculty have been among the first in the world to implement it.
Radiation oncologists at the Froedtert & MCW Clinical Cancer Center (CCC) at Froedtert Hospital treated their first patient using the Elekta Unity MR-Linac technology in early 2019, shortly after the technology received FDA approval. Unity MR-Linac is the world's first radiation therapy technology to combine a high-field strength MRI scanner with a linear accelerator in a single system. Previously, experts thought it would be nearly impossible to combine MRI and linear accelerator devices because the powerful MRI magnets could interfere with radiation beams.
The Froedtert & MCW team is part of the MR-Linac Consortium, which has brought together global thought leaders to investigate what could be addressed through the integration of these two technologies. With philanthropic support from private donations like the Michael & Jeanne Schmitz MR-LINAC Research Fund in Honor of J. Frank Wilson, MD, the CCC became only the fifth site in the world to install Unity MR-Linac. Christopher J. Schultz, MD '85, Bernard and Miriam Peck Family Professor and chair of MCW's department of radiation oncology, already is seeing its great promise.
"Unity MR-Linac offers the potential to fundamentally transform how radiation therapy regimens are developed, implemented and adapted to achieve optimal outcomes for our patients," he says. "With the ability to image tumor tissue more clearly, we can adapt the radiation dose while a patient is being treated. It allows us to tailor therapy in a much more precise way for individuals with many different types of tumors."
For patients, even a simple benefit – convenience – can make a huge difference. Mary Hollis was diagnosed with pancreatic cancer in 2016 and underwent surgery, chemotherapy and radiation. But then a follow-up scan found a tumor in a lymph node that was hard to spot deep within her organs. Her radiation oncologist, William Hall, MD, an MCW associate professor, suggested using Unity MR-Linac for this round of treatment.
"It was more convenient because it was all in one," Hollis notes. "Otherwise I would have to go for scans first and then go separately for radiation. It was so much easier."
Dr. Hall is one of four principal investigators leading an international database for evaluating different ways to use Unity MR-Linac over the next five years and has strong hopes for the technology. "The goal of the study is to understand how patients do when treated with this device and to understand how to potentially improve their outcomes," he explains. "My hope is that the combination of these two tools into one device will truly enable personalized radiation therapy."