Walking the Walk: Building a Culture of Giving Back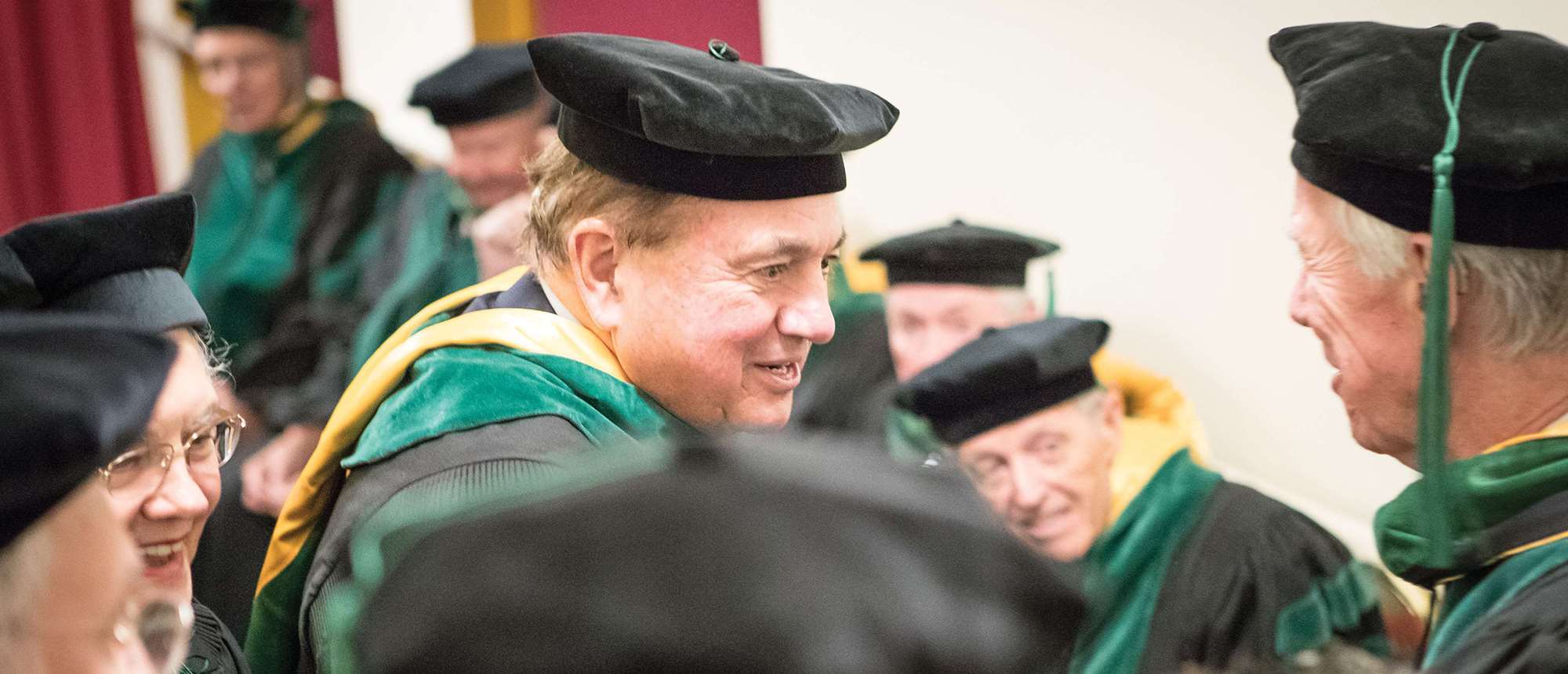 When the late David S. Haskell, MD '67, GME '72, spoke with his fellow alumni of the Medical College of Wisconsin and the orthopaedic residency program about the importance of giving back to their alma mater, they listened closely. They deeply respected him as a role model about the importance of philanthropy, which he demonstrated in word and deed throughout his career in many ways – including as a mentor, philanthropist and leader of MCW's Alumni Association.
Thomas G. Kempken, MD '65, GME '73, recalls, "It was a day of great fortune when I reported to [Dr. Haskell's] orthopaedic service as a junior resident at the VA hospital in Milwaukee…surgical excellence was paramount with David. To be successful, he believed you must commit to a lifetime of learning."
Dr. Haskell felt that participating in the annual meeting of the American Academy of Orthopaedic Surgeons was a critical piece of lifelong learning. He attended this and other related meetings with MCW residents and alumni each year, and brought them together in the evenings to discuss advances in the field and instill his belief in giving back to medicine, orthopaedic surgery and MCW. Dr. Haskell showed his colleagues how they could make a difference through the donation of time, talent and resources.
Through his generosity, he became a member of MCW's Walter Zeit Fellowship. He also established the David S. Haskell, MD, Endowed Chair in Orthopaedic Education in 2013, about which he said, "As a graduate of the MCW orthopaedic residency program in 1972, I want to ensure that the program can continue to have financial support in its effort to recruit, reward and retain the best faculty for the program and to attract the best and brightest students to one of the top programs in the country." Carole Street Vetter, MD '93, GME '98, MCW professor of orthopaedic surgery, was appointed to hold this Chair in 2014; she enhances graduate medical education efforts in the department with support of the endowment funds.
This gift reflected Dr. Haskell's career-long interest in education. He served as an associate clinical faculty member at MCW for many years to stay connected to the teaching of medical students and resident physicians. In addition, Dr. Haskell, who died on July 6, 2018, demonstrated the significance of alumni involvement and leadership in the MCW/Marquette Medical Alumni Association, including serving as a past president of the Association, the alumni representative to the MCW board of trustees from 1999-2002 and chairing his 40th, 45th and 50th reunion committees. In 2001, the Association recognized Dr. Haskell with its Distinguished Service Award.
As part of MCW's 125th anniversary, many alumni took advantage of the opportunity to "honor a mentor" with a gift and a written testimony. The Kempkens embraced the Honor a Mentor program – and then raised the bar higher by creating The David S. Haskell, MD, Endowed Scholarship Fund established by Dr. Thomas Kempken and Ms. Susan Kempken in honor of Dr. Haskell's commitment to teaching and learning. The Fund, which received additional support from friends, family and peers, will provide need-based scholarship awards to medical students at all three MCW Medical School campuses.
Dr. Kempken says that the goal of the fund is to "honor our dear friend and colleague, so that his commitment to learning can inspire and assist students and residents at MCW for years to come.