A Pharmacist's Role in Cancer Research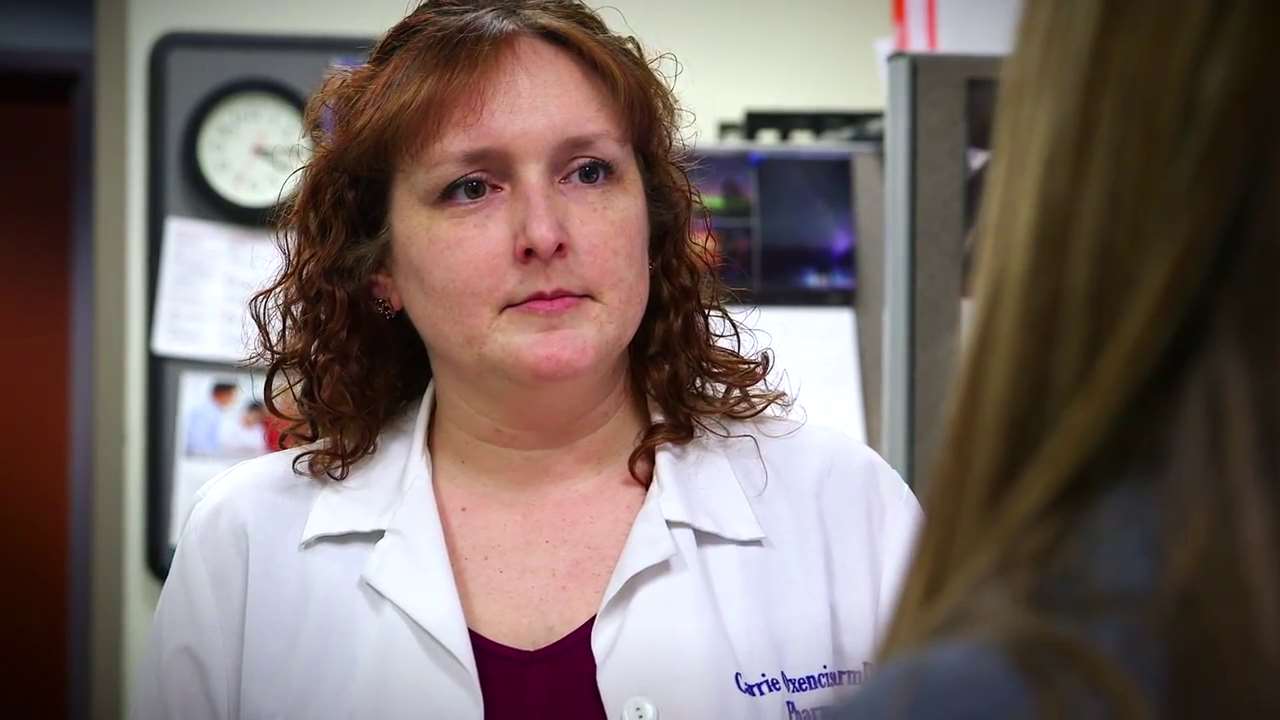 The word "pharmacist" might bring dispensing medications at a retail pharmacy to mind, but pharmacists are able to help patients in a variety of different settings, including in the clinical setting. Clinical pharmacists in specialties such as oncology fill critical roles on the healthcare team. While they work in screening patients for drug interactions, helping patients with medication access, and in providing patient education, clinical pharmacists can also work as researchers that help to improve the way that healthcare teams serve their patients.
Carrie Oxencis, PharmD, BCPS, BCOP, Clinical Assistant Professor in the Department of Clinical Sciences at the Medical College of Wisconsin (MCW) School of Pharmacy and oncological pharmacist at Froedtert Hospital, currently serves as a co-investigator on a pilot study of a pharmacist intervention to improve adherence to breast cancer hormonal therapy. The study is a multi-disciplinary effort with funding from the MCW Cancer Center and involvement from the MCW Center for Advancing Population Science faculty, including Aaron N. Winn, PhD, Assistant Professor of Pharmacy Administration and the Department of Clinical Sciences at the MCW School of Pharmacy. The research team included physicians, pharmacists, statisticians, clinical research staff, and a medical student.
Hormone therapy for breast cancer is a type of personalized medicine that takes the tumor's biological makeup into account. Patients who are diagnosed with breast cancer can either test positive for hormone receptors or negative. If the tumor is found to be positive, then hormonal agents are able to bind to receptors on the tumor and can help treat the cancer.
However, cancer patients can stop taking their oral hormonal medication for a variety of reasons. "The number one reason is probably side effects. As you can imagine, taking medication that interferes with your hormones can cause all sorts of things like hot flashes, muscle pains and aches, and mood swings. It's not fun. It's hard for patients and they need to take these medications for a long time – five to ten years," says Dr. Oxencis.
Cancer patients are encouraged to reach out to their healthcare providers about side effects, but many don't. "A lot of times patients don't tell you if they're doing poorly or have side effects and I think that part of that is the verbiage of fighting your cancer and being a warrior. Many patients try to push through side effects and don't think they're that serious. So oftentimes side effects progress to a point where they don't need to be that bad," says Dr. Oxencis.
Patients can also stop refilling their medications for financial reasons. "Even though we have generics now, medication cost and access can be an issue if a patient doesn't have insurance. Many cancer patients lose their jobs or are unable to work. The costs from their other treatments can be so much that many cancer patients don't have any money left at the end of their treatment," says Dr. Oxencis.
If patients are nonadherent, there is a risk that their cancer could reoccur. This results not only in health issues for the patient, but also in increased costs for the patient and the health system.
Oncological pharmacists like Dr. Oxencis work to make sure that patients understand the oral medications that they are sent home with and are able to manage the side effects. When cancer patients are prescribed a new medication, the oncology pharmacists at Froedtert Hospital counsel them in clinic and call them once a week for the first month. However, pharmacists often call patients who don't need to be checked up on, which is one of the issues that the pilot study sought to solve.
The study focuses on using Patient Reported Outcomes (PROs), which are self-reported measurements of a patient's well-being. "A lot of times when patients see their physician or advanced practice practitioner (APP), how they feel gets transcribed in a chart and APPs might assign a different number than the patient would themselves," says Dr. Oxencis. PROs can provide a clearer picture of the severity of a patient's symptoms.
"Now that that we can use PROs online, it has become easier to collect the data and get results in a quick and efficient way," says Kathryn Flynn, PhD, Associate Professor in the Department of Medicine, Division of Hematology and Oncology and one of the principal investigators of the study. "PROs also take the burden off of the patient to contact the provider. When a patient reports something severe, you call them instead of them having the responsibility to call you," she says.
Patients in the study are prompted to monitor their symptoms weekly for the first month of their medication and then monthly for five months afterwards using an electronic device. Patients who are found to have severe symptoms are contacted by pharmacists for intervention.
The study finished enrollment in April and there are currently plans to expand the pilot to a multi-site study. "We're very interested to see how this strategy would work in conditions that are more symptomatic, such as rheumatism or lupus," says Joan Neuner, MD, MPH, Associate Professor in the Department of Medicine, Division of General Internal Medicine and one of the primary investigators of the study. "We are exploring lots of other options where clinical pharmacists can enhance multi-disciplinary teams, such as with the complexity of medication regiments and de-prescribing," she says.
Dr. Oxencis became interested in research when she began working in oncology. "I was surprised at the number of patients that were on clinical trials, which was different from where I was practicing before." She focuses on research projects that show how clinical pharmacists are able to help patients, prevent readmissions, and save costs. "We know that the pharmacist can help patients understand their medications and help with adherence. I was interested in how that can be translated to oncology. I became a pharmacist to help patients and I work every day with helping them to feel comfortable with their medication, advocate for themselves, and prevent and manage side effects."
Dr. Oxencis recommends that students who are interested in pursuing research as part of their future career get involved as early as possible. "The Scholarly Pathways project at the MCW School of Pharmacy is a really good way to do that," she says. Scholarly Pathways is a longitudinal course that MCW School of Pharmacy students take in their first two years alongside medical students. Students choose to focus on one of five different areas, including Molecular and Cellular Research, Clinical Translational Research, Quality Improvement and Patient Safety, Health Systems Management and Policy and Urban and Community Health. In all Pathways, students can elect to complete a short research project. Dr. Oxencis also recommends that students get involved in small research projects while on their Advanced Pharmacy Practice Experience rotations in the final year of their education.
"Getting that experience as a student puts you so far ahead in the game," Dr. Oxencis says.