Colleen Trevino, RN, NP, PhD, Awarded the Community of Innovators Award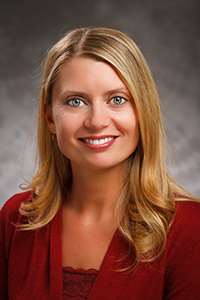 Colleen Trevino, RN, NP, PhD, was awarded the Community of Innovators award at the 2022 MCW Convocation Ceremony. This award acknowledges the extraordinary passion, leadership and efforts of MCW's faculty. Dr. Trevino is an Assistant Professor and Nurse Practitioner in the Division of Trauma & Acute Care Surgery. She will receive a $10,000 award to support continued excellence in innovation. The award is provided to further novel ideas that align with MCW's mission to develop the next generation of health professionals, translate new knowledge in health sciences, provide cutting-edge patient care, and improve the health of the community.
Nominees for the award were selected with review from the Community of Innovators Award Committee, President John Raymond, MD and Dean Joseph Kerschner, MD.