Undergraduate Pathways to a Pharmacy Career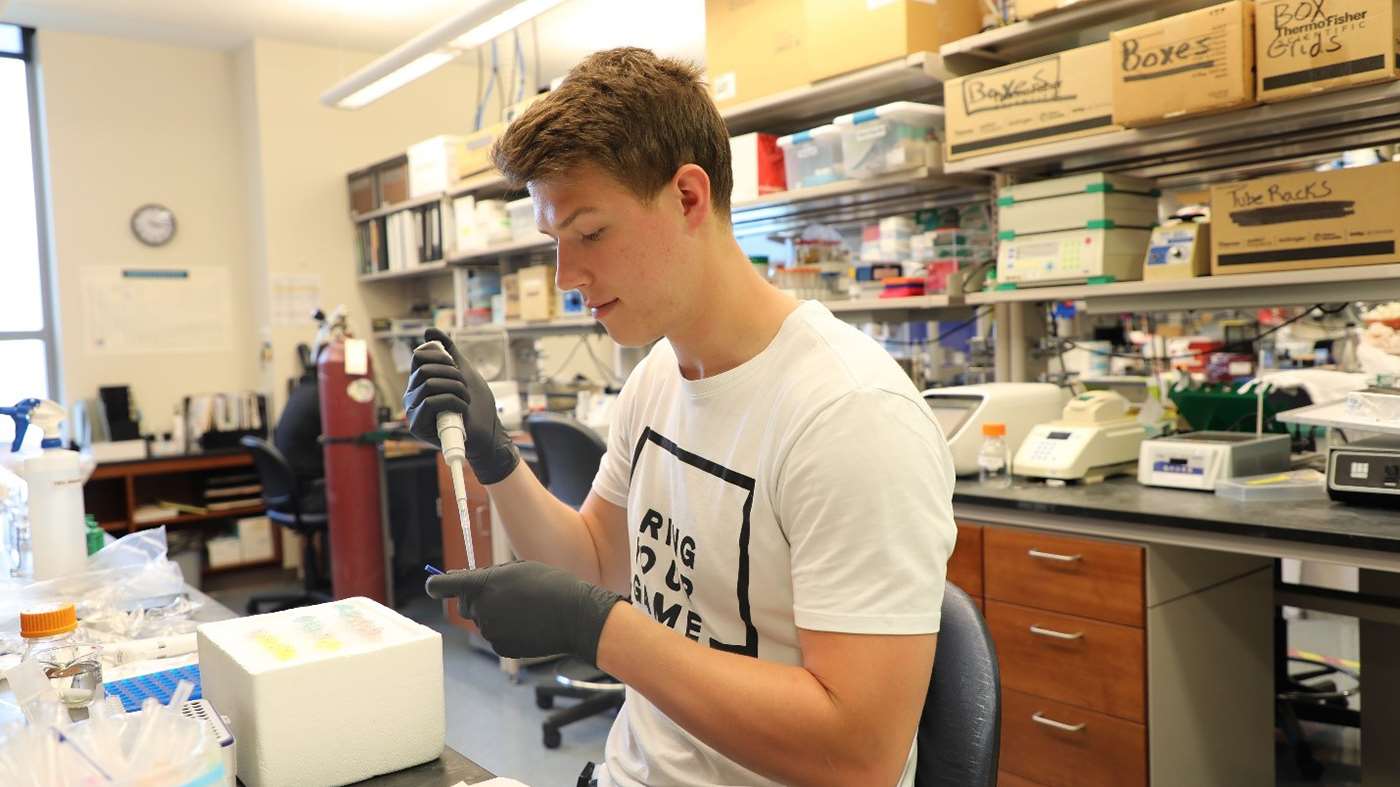 Andrew Yetka is achieving his career goals with unique opportunities at the Medical College of Wisconsin (MCW). He spent the summer diving into pharmacology research at his future graduate school as part of the Summer Program for Undergraduate Researchers (SPUR). Yetka, currently a junior at St. Norbert College, has already received early assurance admission into the future class of 2023 at the MCW School of Pharmacy as part of the dual degree program that it offers in partnership with eight private Wisconsin colleges and universities.
The dual degree program offers accelerated, cost-saving tracks to a Doctor of Pharmacy (PharmD) degree that students can apply to after their first year of undergraduate study or during their senior year of high school. The programs allow students to finish their undergraduate and PharmD education in either six or seven years instead of the traditional eight. This novel programming allows students to save the money that they would spend on the extra years of tuition and enter the job market sooner.
"I initially wanted to go to medical school but getting out of school in six years as opposed to eight seemed like a smart and easy decision," says Yetka. "I'm most excited about being able to be in an accelerated PharmD program. I will be able to get my education done faster and more efficiently."
Students can also get an introduction to various disciplines of science and get a head start building academic and professional networks by participating in the SPUR program. Yetka decided to pursue his interest in pharmacology through the program. The SPUR program is a ten-week summer opportunity that brings undergraduate students who are interested in pursuing graduate studies in science to the MCW-Milwaukee campus to work in a lab as a researcher. Participants gain research experience and gain critical thinking skills. Yetka's advisor for the SPUR program, Nashaat Gerges, PhD, BPharm, Associate Professor of Biopharmaceutical Sciences and Chair of Biopharmaceutical Sciences at the MCW School of Pharmacy, is also one of his future professors in the PharmD program.
"I wanted to do SPUR because I knew that I had a slight interest in research. Now, I think it could be something I find myself doing later in my career," says Yetka. "The experience has been great."
Yetka's project in Dr. Gerges' lab focuses on trying to identify molecules that can regulate neurogranin using biochemical techniques. Neurogranin is a protein that plays an important role in learning and memory in the brain. "Drew is gaining experience in the pharmacology and the neuroscience worlds," says Dr. Gerges. "He is also getting exposed to an innovative research environment."
"It's interesting to see the research process. I've learned various methods and techniques like fractionation and Western blots. I'm learning how to connect ideas and how details from each test can help form the bigger picture," says Yetka.
Dr. Gerges has hosted several SPUR students over the years. "SPUR exposes students to research and helps them decide upon their future career. Students are very enthusiastic and learn a lot in the process," he says, "The program gives a unique opportunity to undergraduate students to fall in love with science, thus helps developing young scientists."
"Overall, I think both the 3+3 and SPUR programs are good opportunities," says Yetka. "The SPUR program to help get you experience in something you may find interest in and the 3+3 program because it is accelerated and can be helpful to people at many different undergraduate institutions."
"The thing I like best about pharmacy is that it's an evolving field," says Yetka. "There are various routes you can go with a Doctor of Pharmacy degree from a school like the MCW School of Pharmacy. You're not limited to just being a retail pharmacist – there are other avenues that you can pursue."
This year, pharmacy students can now select a pathway for research along with medical students, as part of the Scholarly Pathways, a longitudinal course where students directly select a preferred topic of study to focus on skills that will ultimately make them a better healthcare provider.
The MCW School of Pharmacy's PharmD program focuses on developing primary patient care skills such as physical assessment, point-of-care testing, chronic care management, and telehealth. Some skills that students learn include how to administer vaccines, conduct rapid HIV tests, and help patients manage diabetes. These skills allow students to pursue pharmacy careers in clinical settings where pharmacists have increased responsibilities working as part of the healthcare team, as well in specialty settings such as oncology, precision medicine, or pediatric pharmacy.