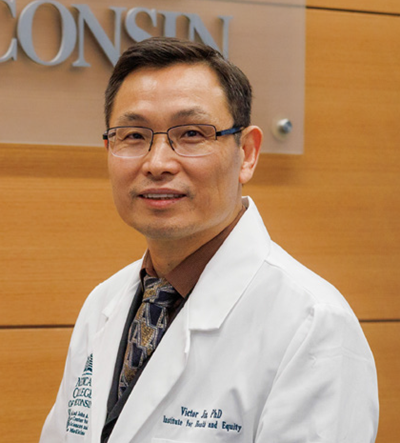 Victor X. Jin, PhD
Linda T. and John A. Mellowes Endowed Chair of Bioinformatics and Data Analytics; Professor, IHE/Biostatistics
Locations
Biostatistics
8701 Watertown Plank Rd.
HRC-H5145 (office)
Milwaukee, WI 53226

Contact Information
Research Areas of Interest
1) Developing genomics and computational approaches for the identification of three-dimensional (3D) chromatin interactions from the various omics-seq data.
2) Functionally and mechanistically characterizing the roles of epigenetic marks in cancer development and progression using novel techniques such as 3C/ChIP/RT-qPCR, 3D-FISH and CRISPR/Cas9.
3) Adapting/applying genome-wide omics-seq techniques in patient tissues to identify epigenetic-driven therapeutic targets and biomarkers.
Research Experience
Dr. Jin has extensive experience in developing computational and genomics approaches for analyzing various omics-seq data, and runs a systems biology lab with a balanced dry and wet components.
Leadership Positions
Director, Bioinformatics Shared Resources